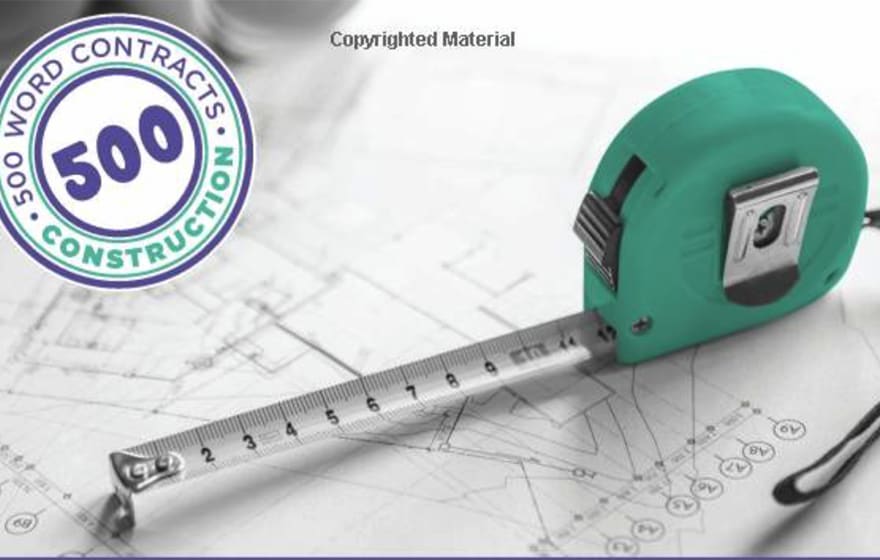 Analysis
Three cheers for plain English contracts
25 April 2018 | By Chris Hallam
Not every consultant appointment can be or should be contained to just 500 words, but Sarah shows it is possible and in most instances a shorter consultant arrangement will be a huge improvement. – Chris Hallam
Chris Hallam celebrates the ultimate in a jargon-free approach to contracts.
As a construction lawyer in an international law firm, I have drafted, negotiated and reviewed a wide variety of consultant appointments – including those published by the professional bodies and from other sources. These are often poorly put together, unclear, poorly worded and both overly onerous and riddled with inappropriate caveats and limitations.
Sarah Fox's book How to write simple and effective consultant appointments in just 500 words, is a welcome change from the wordy, jargon-filled back-covering documents so prevalent on UK construction projects.
Perhaps that's not surprising in that Sarah is a forthright campaigner for plain English, and has written on this site about the "impenetrable jargon" that fills the world of BIM.
In her book she clearly describes the purpose of a consultant appointment – to allow a client to get specialist expertise and to solve a specific problem.
These fundamentals are often overlooked with the use of standard documents which try to be an "all singing, all dancing" panacea intended (but usually failing) to cover every project from a simple home extension to an iconic football stadium.
Rather than the cobbled together mish-mash of stolen and borrowed clauses, Sarah guides consultants through a fool-proof process of creating a bespoke client appointment – separating the clauses which always change (services, fees, people, aims) from those which require a little tinkering (copyright, cancellation and confidentiality) from the more hum-drum.
I really like the use of vignettes from real projects and cases which explain how others have got it wrong. It is so much more cost-effective to learn from the mistakes of others than learning from your own. The book has clear guidance, as well as a checklist, to ensure you haven't missed anything. Anyone can now create a simple, uncluttered, easy to use and legally robust appointment.
Not every consultant appointment can be or should be contained to just 500 words, but Sarah shows it is possible and in most instances a shorter consultant arrangement will be a huge improvement.
Sarah's drive for greater clarity, simplicity and straightforwardness in contract drafting is to be lauded. As are her calls to make BIM a little less impenetrable.
Priced at £15 – or just a fiver in Kindle version – this book is a snip and is highly recommended.
For more details of How to write simple and effective consultant appointments in just 500 words click here.
Chris Hallam is head of infrastructure, construction & energy, North – CMS UK