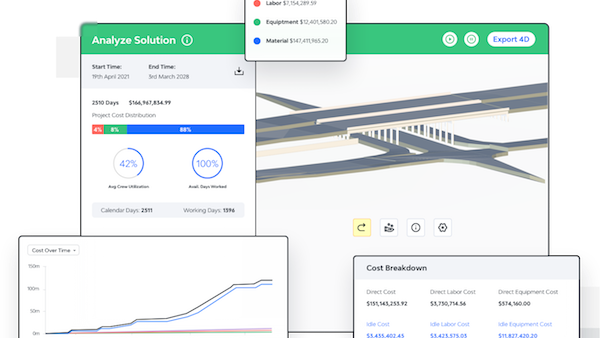 ALICE is an AI construction sequencing platform that's already found success in the US and the Far East, and it's now being introduced in the UK. BIM+ caught up with ALICE Technologies founder and CEO René Morkos to answer that headline question and a few more.
"ArtificiaL Intelligence Construction Engineering, or ALICE as it's better known, is construction's first artificial intelligence platform and was born out of my PhD in artificial intelligence applications in construction.
"During my time in the field as a civil engineer, the inefficiencies of construction projects were clear: space usage (only around 3% of the construction site is worked on at any one time) and mismanaging labour and resources. These shortcomings were costly, and for projects with an already low margin, they were eating into profits.
"My PhD aimed to find an algorithm for the link between space usage on a construction site and sequencing schedules. And effectively, what has been created is a construction simulator – and a very accurate one at that.
"ALICE is all about making construction more efficient – building faster, better and at lower cost and reduced risk, through better management of labour and resources. If used at the earliest stages, it also makes for more accurate and confident bidding, and helps protect and enhance profit margins."
What does your technology do and how?
"ALICE optimises project schedules by applying our algorithms to information on project resources and constraints. The technology simulates thousands of options in seconds, and the more information that can be provided, the better the results.
"In working with ALICE, users create 'recipes' that define how core elements of a project are built. These are specific to the organisation. They can be reused or adapted for future projects. Each time a user plans with ALICE, the work therefore becomes quicker and easier.
"Once you have created your chosen, fully-loaded 4D schedule with ALICE, you have a visual reference to use while managing the project. And if something changes or there is a delay, you can resequence the job in ALICE to get you back on track."
Parsons won a $2.6bn light rail project in Canada because of the comprehensive schedule it was able to pull together with ALICE.
René Morkos, ALICE Technologies
Can you tell us about a case study that highlights the benefits of using your technology?
"ALICE is currently being used on two infrastructure projects in the UK and we're already seeing results. We'll be announcing more on these soon. Elsewhere, ALICE has been used on a range of significant infrastructure and commercial projects. Some have used ALICE to create more competitive, accurate bids, some for its scheduling ability and some for managing a project. Some have used it for all three.
"Parsons, the major engineering firm, won a $2.6bn light rail project in Canada because of the comprehensive schedule it was able to pull together [using ALICE]. A smaller workforce and less equipment will be needed, which means direct savings for the taxpayer.
"In Japan, a contractor shaved off 10% of the programme to deliver a new airport by using ALICE to improve the original schedule. Consequently, the savings are in the millions and minimising crane time reduces risk too."
"It's an exciting time to be breaking into the UK market. There are so many major infrastructure projects in the pipeline and those leading on projects, particularly government-funded ones, want to deliver on time and on budget. They know how infrastructure project delays can impact the public, from both a cost and convenience perspective. By using ALICE, they can constantly re-evaluate timescales, manage expectations and anticipate constraints, whether budgetary, equipment, labour or materials.
"For a typical $500m project, the project duration reduces by 15% and there's an average cost-saving of $30m. With those kinds of savings, it begs the question: can you afford not to use ALICE?"