Social distancing and self-isolation measures have increased uptake of video conferencing and cloud collaboration tools. Is the logical next step a deeper dive into immersive virtual reality (VR) and augmented reality (AR) technologies, which can increase the sense of physical connection and improve communication without the need to be in the office or on site? Stephen Cousins asks three tech experts for their view.
Andy Thomas, head of visualisation and VR for EMEA at Aecom
The coronavirus outbreak has the potential to cause a number of behavioural shifts within society that could affect us much longer than the duration of the outbreak itself. These long-term trends will be heavily impacted by the technology we use and innovative ways of thinking.
Andy Thomas, Aecom
Physically meeting clients and other key stakeholders has become more difficult, but thanks to technological innovation the ability to collaborate, communicate and review our projects has become a lot easier.
This could pave the way for more widespread use of VR/AR within AEC. One of the main barriers to VR uptake has been the cost of hardware needed to enable high-end experiences, but over the next few months I expect to see a big shift with more businesses using immersive technology on existing equipment, such as phones or tablets.
Web-based 360-degree VR and AR apps do not require additional hardware and are quicker to develop than a fully immersive VR experience. For example, last week my team used the technology to hold an immersive meeting to discuss ongoing projects, we all met "virtually" in a digital twin of our London HQ using phones, tablets or laptops to join.
We are already seeing increased interest in online services that give immediate and remote access to project data, reports and 3D models. Interactive websites and VR apps developed over the last few months have changed the focus from a nice-to-have to essential ways of communicating project proposals to the public and stakeholders.
In a social distancing and self-isolation world, it's important that people can still meet virtually to review and discuss planning proposals, and the impact they might have.
James Bowles, founder of 4D consultant Freeform
The challenge of working in isolation is especially acute for the construction industry. As we try to understand the impact on our sites, many non-physical activities have transferred to remote, dispersed teams.
There has been an immediate surge in the use of video conferencing and information sharing platforms, but what comes next will be very interesting, if this period of isolation is sustained, or repeated in future outbreaks.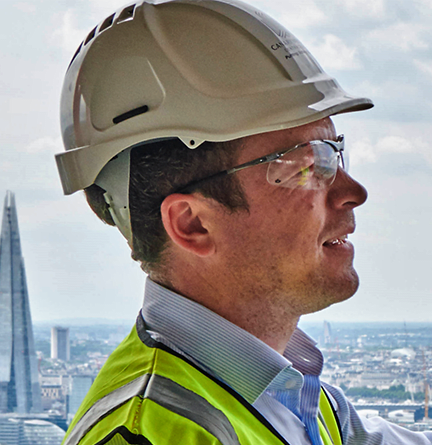 James Bowles, Freeform
The natural step beyond video-conferencing is meeting in VR / AR and currently available tools are far better than video-conferencing for interactive working. The feeling of being together in a virtual space can be similar to real life which has added benefits in terms of staff wellbeing when in isolation.
I expect the adoption of VR/AR to increase as senior management listens more actively to champions within their organisations. Project teams will want to reduce risk and improve their projects by upskilling and setting out methods when working with the technologies. In addition, applications and hardware providers will respond to increased demand with more intuitive and affordable tools.
In practical terms, we'll see greater adoption of applications that enable teams to progress design, procurement and construction without needing to be on site or co-located. Already available tools allow dispersed teams to meet in VR, walk around and interact with design models and make changes in real-time. The same is true of site visits – drones and site cameras can capture projects in 3D, which teams can then walk around using VR/AR headsets.
Necessity is a powerful driver for innovation and improvement. The depth and permanence of adoption of immersive technologies will depend on how long the coronavirus measures are in place and how frequently over the coming months and years we must return to isolation.
Dr Dragana Nikolic, lecturer in digital architecture at the University of Reading
VR has always allowed physically disconnected or remote users to transport into a virtual world. The current situation will accelerate thinking around how much work can be shifted into an immersive realm.
The industry can learn how to take advantage of such technologies and create new value by looking at the experience in e-learning, e-sports, virtual tourism and entertainment sectors that utilise VR to democratise access to otherwise traditionally held experiences.
Dr Dragana Nikolic
We are being compelled to fundamentally rethink the way we work, meet, view and share information, which should result in a definite upward trajectory in VR adoption for tasks such as project and design reviews.
It should also reveal gaps in our knowledge in terms of the infrastructure, technology and information needed to enable this kind of working and reveal what ultimately works for end users to ensure seamless experiences.
VR and AR offer a huge opportunity to revolutionise how project teams engage with information in the quest for better design and delivery, but for the technology to work end users must drive this process and become more attuned to and vocal about what they need the technology to do for them.
Image: Lightfieldstudiosprod/Dreamstime.com
Further reading