UK consulting engineer Arup has released an app that tries to explain the forces shaping the built environment and predict their effects on the world of tomorrow.
"Drivers of Change", available free for Android and iOS devices, is intended to help communities and companies shape their surroundings.
It works by providing structured information on 10 megatrends that are shaping the physical and social environments of the planet: climate change, convergence, shifting demographics, energy 2.0, food, oceans, poverty, urbanisation, waste and water.
The user chooses a category and is then presented with five "lenses" to view it through, being the social, technological, economic, environmental and political aspects of the issue.
Arup says the aim is to provide fresh insights and present all-round views of the subjects by tapping into Arup's knowledge base, which has been supplemented by "interviews, research and workshops".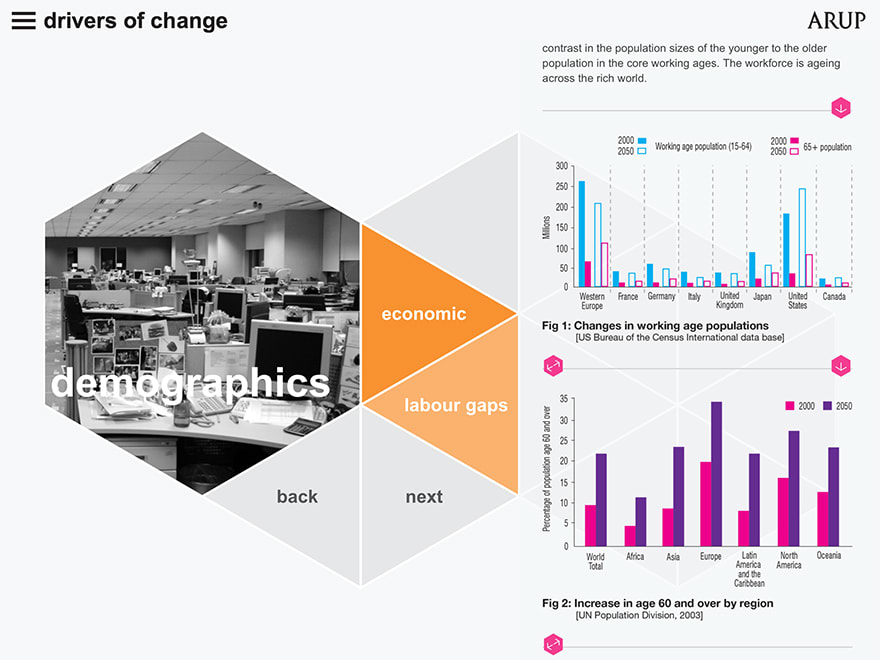 Although there is not a huge amount of content yet, the app succeeds in combining the very general with the very specific.
An example query might go: oceans > social > aquatic protein, after which we learn that humans ate an average of 100 tonnes of seafood in 2001, and are forecast to eat 137 tonnes in 2030. This is a problem given that "more than 90% of species at the top of the food web have already been decimated" leading to overfishing of species further down the chain, and the rise of aquaculture, which now provides us with 50% of our seafood.
The topic of demographics leads to a discussion of genetic editing and "designer babies".
The unseen impact of waste reveals that the industrial processes required to produce a 3g diamond generate 3 tonnes of waste, and a toothbrush 1.5kg of waste.
According the Arup, the app will be regularly updated and, consistent with its open source philosophy, users will be able to shape the content of the app by crowdsourcing their own scenarios for the future.
The app was created by Chris Luebkeman, Josef Hargrave, and Mark Pearsall, members of the Arup Foresight, Research, and Innovation group, in collaboration with Ojingo Labs, a creative technology firm specialising in creating digital platforms.
Download the app here.
Image: The app's menu of the "climate change" megatrend (Arup)