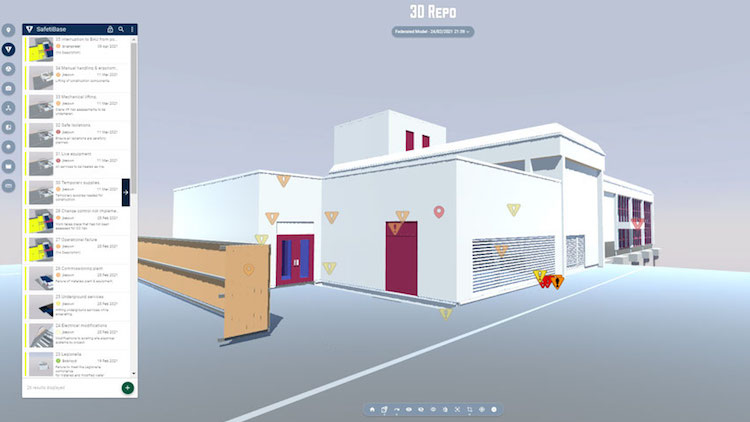 AstraZeneca identified 40 construction risks on an extension project at its Macclesfield site using 3D Repo's SafetiBase platform and ultimately designed out working at height risks.
As part of its ongoing developments and improvements, AstraZeneca needed to add an extension to an archive and quality assurance building, where samples of medicines are kept in a secure and environmentally controlled area and regular testing is carried out to ensure ongoing safety and compliance
Work started on the design for the extension in January 2021. A detailed risk register was drawn up and kept continually updated throughout the project. Typical risk elements included working with live services, excavation, asbestos; confined spaces, and working at height to name a few.
Alongside its established protocols, the company deployed 3D Repo's SafetiBase platform.
Project manager Philip Shaw explained: "When carrying out our construction risk analysis there were some issues that we found much earlier with the help of SafetiBase. We would have picked them up later, but this would have cost us time and money. To date we have identified 40 risks on this project, which would not be obvious to the people doing the work."
The development of the 3D model in the SafetiBase platform also highlighted the opportunity to design out the risks with a fundamental design change: in the original plans, the plant for climate control was designed to be located at roof level; however, with the help of the 3D model, the team saw that this was going to cause a number of potential risks around working at height.
Shaw said: "It encouraged us to question whether we needed to put the plant on the roof. The answer was no and instead we installed it on the ground floor. Without SafetiBase, we would have found out much later on in the process, which would have cost time and money. Our duty is to find the best way, and the safest way to do something."
He concluded: "As the project goes on, we expect to see even more benefits of using the system. We work with restricted access for bringing materials onto site and the chambers are shipped in modules to provide flexibility. With SafetiBase and the 3D model, we will be able to look more closely at how they are brought in and potentially make some efficiency changes to our processes.
"We plan to use SafetiBase on another project shortly. Now that we have the register in place within SafetiBase, we won't need to start from scratch for the next project – we can update our existing risk register."