3Squared, a software development company already working on Crossrail trials of wearable technology, has revealed it is nearing completion of a pilot project to integrate Google Glass with Autodesk's BIM 360 Field software.
The trial is being conducted with several unnamed construction contractors, and Autodesk's offices in Sheffield and San Francisco.
The news comes just two weeks after Google announced that it would be withdrawing support and investment from Google Glass. But 3Squared said it would continue the trial, with the aim of completing an app that could be used to allow other "wearable tech" devices – such as the Daqri smart helmet – to link with Autodesk 360 Field.
Tim Jones, managing director of 3Squared, told BIM+: "It's sad news about terminating the Glass programme. We had been trialling Google Glass from an H&S and snagging perspective, you would have been able to say 'okay Glass, get me all the snags in my location' and it would have pulled down the relevant data.
"The Explorer edition [of Google Glass] has been terminated, but wearables, as in 'heads up displays', will come to the fore in 2015 – such as the Daqri helmet, which has just been launched. So whilst Glass might be dead, heads-up display wearables are very much here, so we're completing the Glass pilot to work out the challenges."
The trial is being conducted in Autodesk's offices in Sheffield and San Francisco
Jones said that 3Squared and Autodesk were working with "a number" of contractors in the UK and across Europe, and that the pilots began six months ago and will run for another two months. The pilot is exploring how wearable devices could deliver project documentation directly to construction managers on-site, and to capture video and pictures and other field data during the commissioning and handover of a building project.
The forthcoming app for wearable devices could either be a standalone app or integrated with the BIM 360 Field suite, Jones said, adding that the company was "evaluating" the US-produced Daqri smart helmet (pictured).
"We're trying to get trial units over here this year, to integrate them into the pilots. From a demonstration we saw [at the Autodesk university last year] we think they might be a little bit more practical for the construction industry than Google Glass."
Other "heads-up display" devices that could come to the fore are Facebook-owned Oculus Rift, currently being trialled by Atkins and others, and Microsoft's HoloLens.
Meanwhile, 3Squared is also working on H&S applications for iBeacon technology, which can send messages to any smartphone and/or wearable device – such as a wristband – that comes within a certain range. 
At the Crossrail trial, the technology is used to alert people on site to hazards or restricted areas. "It can push out alerts, such as 'you're entering a hearing protection area'," Jones explains.
3Squared has offices in Sheffield and London. Established 10 years ago, it has been more focused on the construction and logistics sectors in the past two years.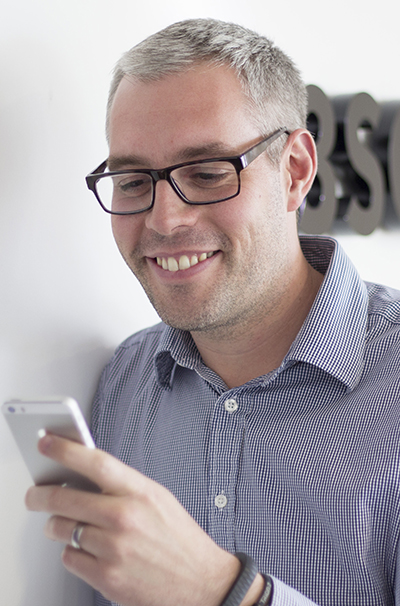 The Explorer edition [of Google Glass] has been terminated, but wearables, as in 'heads up displays', will come to the fore in 2015 – such as the Daqri helmet, which has just been launched. So whilst Glass might be dead, heads-up display wearables are very much here.– Tim Jones, managing director, 3Squared