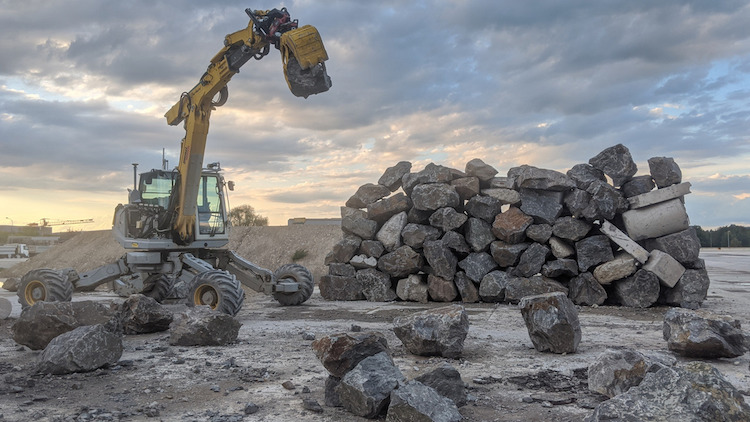 An autonomous walking excavator has successfully been demonstrated by the robotics lab at the ETH Zurich university.
The Hydraulic Excavator for an Autonomous Purpose – HEAP for short – was developed by Robotic Systems Lab, part of the public research university in Zurich.
In an open access paper published in the September issue of Automation in Construction, the team behind HEAP's development reveals that the excavator successfully completed embankment excavations and the assembly of dry stone walls.
HEAP is based upon a commercially available Menzi Muck M545 walking excavator. It is armed with an array of sensors, including a Leica iCON iXE3 with two GNSS antennas and a receiver used for localisation, and two LiDAR sensors for perception (picked because they "outperform camera-based sensors in heavy dust environments and they provide more accurate and dense measurements compared to radar-based sensors").
To achieve active chassis balancing, all 14 stock hydraulic cylinders in the chassis were exchanged with new cylinders with an integrated control module that allows for precise control of cylinder position and force.
The chassis controller guarantees a stable stance of the machine for high-precision excavation. In the tests, HEAP was able to create a two-faced embankment with 0.03 m average error and a more complex s-curved embankment (30 m3 of soil displaced) with 0.05 m average error.
As well as a standard excavator bucket, HEAP also features a two-fingered gripper, which was used to build dry stone walls from stones with irregular shapes. The stones are mapped by the machine itself, which picks them up and moves them in front of the roof-mounted LiDARs. A task-specific planner provides grasping poses for the stones and a final pose in the wall with a feasible approach trajectory. HEAP built a 4m tall, 10m long and 2m wide wall with 109 stones from a collection of 131 scanned stones. The stones were a mixture of natural stones and concrete blocks. They had an average weight of 1,030kg (varying from a minimum of 445kg to a maximum of 2,425kg) and were placed with a mean error of only 0.128 m.
The HEAP paper authors conclude: "Although autonomous excavators already show higher absolute accuracy in many tasks compared to human operators, there are still things it cannot do as well. When a task needs constant adaptation and shows many unexpected events, a human operator can still reason and leverage his experience to solve the problem where a robot would simply be stuck. Repetitive and well-controlled tasks, eg. digging a many kilometre-long pipeline trench through a desert, will be autonomously executed by robots soon, but as the research in this article is developed further, autonomous walking robots will begin to be able to tackle more and more sophisticated excavation and construction projects."