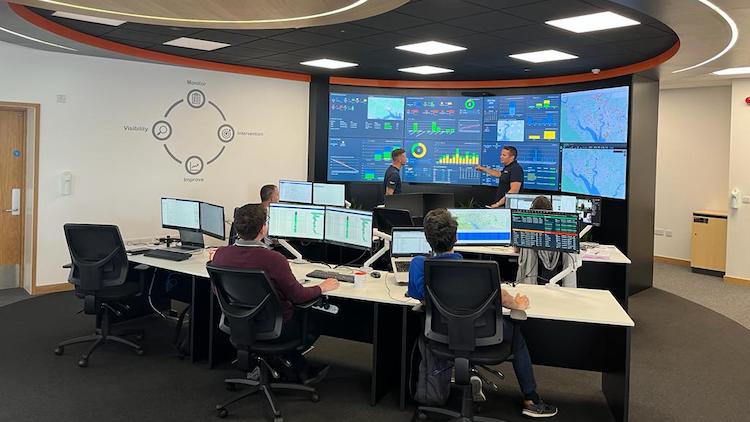 Balfour Beatty's highways maintenance arm, Living Places, has opened a new operational control hub at its depot in Millbrook, Southampton.
The hub is focused on Living Places' contract with Southampton City Council. It uses the latest technologies and systems designed in-house to provide a single source of visibility. It can monitor all activities in real-time, track progress of works and enable data-driven decision-making to drive efficiencies.
The hub includes eight screens and allows operational teams to prioritise works based on the location of the vehicles and operatives. It can also capture when work has been completed and intervene when required to keep outstanding work on track.
The hub will also react to issues on the network by plotting works in a digital live environment. This will enable the effective planning of reactive and emergency works and defect reporting.
This is the second Balfour Beatty Living Places hub. The first, in Herefordshire, has seen over 1,900 emergency responses resolved and 41,544 reactive jobs completed in its first year. Balfour claims its performance resulted in a 16% increase in productivity. A total of 61% of reported defects and issues were actioned and completed ahead of schedule.
Steve Helliwell, MD of Balfour Beatty Living Places, said: "We are delighted to introduce our second state-of-the-art facility, which is now set to drive efficiencies and productivity throughout the city of Southampton.
"Our investment into new technologies, such as the operational control hub, further demonstrates our commitment to going above and beyond for our customers to ensure that we can continue providing a best-in-class highways maintenance service for the council and local community alike."
Raising the bar for new tech
Councillor Eamonn Keogh, cabinet member for transport and district regeneration, added: "It's inspiring to see our highways partner Balfour Beatty raising the bar for new technologies. The new control hub will benefit not Balfour Beatty Living Places, but also residents and visitors to Southampton.
"The increase in productivity will help us to drive efficiencies in our transport improvement schemes, making it more accessible and safer for people to travel around the city."