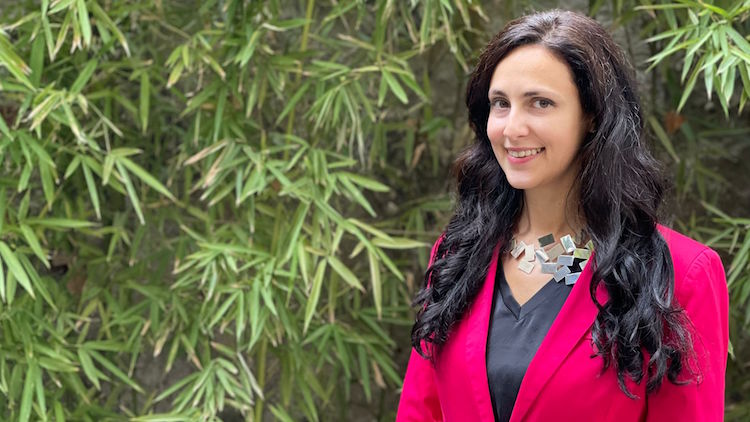 Can a flurry of awards elevate the profile of a career in digital construction and inspire other women to work in the field? Denise Chevin reports.
Anyone who has worked in the field of BIM for even a modicum of time knows that Dr Marzia Bolpagni, head of BIM International at Mace, is one of the sector's stars. Since her days as an engineering student in Italy, Bolpagni has been looking at how clients can get more out of BIM.
Her interest in simplifying digital processes took her to Finland, which was in the vanguard of client studies, before joining the Massachusetts Port Authority in Boston. She moved to London for a digital role at the Ministry of Justice (MoJ) in 2017, where she reported to the department's head of BIM, before joining Mace as strategic BIM advisor while she completed her PhD at the Politecnico di Milano in 2018. She is an honorary lecturer at the Bartlett School of Sustainable Construction at University College London, is a member of the BIM Excellence Initiative and assistant editor of the BIM Dictionary, ambassador of the UK BIM Alliance and task group leader at the European Committee for Standardization.
The impressive CV, coupled with an equally impressive ability to communicate the importance of BIM, has earned her wide respect in the sector and well beyond. In July she was named Young Engineer of the Year by the Royal Academy of Engineers.
The same month she was named as one of the 50 most influential women in tech by accelerateHER – Bolpagni was the only woman from the built environment to feature on that list – and she is a finalist in the Women of the Future Awards.
Naturally, Bolpagni is pleased to be showered with such recognition for her work, but not just for reasons of personal satisfaction. In addition, she says: "The awards are important because they provide motivation and help attract talented and motivated people into the sector, many of them women, who might not have thought about working in construction."
'Digital transformation is an opportunity to get a younger and more diverse workforce, not just women'
Dr Marzia Bolpagni
According to the Construction Industry Training Board, women make up only 14% of the industry's workforce – and people from a BAME background 4%-5%. There are no statistics on diversity in BIM and digital construction roles specifically, but they'd be unlikely to buck this trend.
"There's so much to do in in the industry – tackling climate change, dealing with health and safety and then the whole fire safety agenda, and we need a diverse workforce to solve these problems, but talented people can earn much more working in technology and finance," she says
"Digital transformation is an opportunity to get a younger and more diverse workforce, not just women. But we need to work hard to change the perception of the construction sector that is usually associated with men working on site.
"When software developers come into the sector, they often find it more rewarding in areas like finance or IT, because they like the challenge of fixing all the problems that need solving."
Do digital skills mean career progression?
It's one thing attracting people into digital roles but what sort of career progression might they expect? Does having digital expertise open the way for senior positions, for those who want to choose that path? Or will the digital technology expert always be the digital technology expert?
"I see several digital experts gaining more senior and leadership positions, but of course you need to have not just strong hard skills but also soft ones," says Bolpagni.
"Technology is usually seen as a 'hard skill', and to progress you need to also advance the soft ones.
"I really believe that digital construction should not be a silo within organisations and Mace is supporting this view. Hopefully in few years, we will not have 'BIM experts' anymore.
"In the book I am writing with other collaborators, Industry 4.0 for the Built Environment, we discuss this topic in detail, especially the need to upskill/reskill the current workforce and have a dedicated section on soft skills for working in Industry 4.0.
"For myself going forward, I hope to support different parts of the business empowering sustainable, digital and ethical methodologies – and continue to teach. For me it is incredibly important establishing those links between academia and industry."
Still not business as usual
Bolpagni acknowledges that BIM is still not "business as usual" and that having a technological skill is no passport to progression or career fulfilment within the sector.
"I would say that you need to make sure you are in an organisation that recognises your passion and talent," she says. "A lot of organisations don't necessarily recognise the importance of BIM and these skills are not always valued. You could be in a toxic environment, in which case if the company isn't ready for embracing what you have to offer, then you have to be brave and look for something different. You need to be yourself.
"But you also may need to ask yourself, am I explaining what I'm doing in plain language? You may be good technically – but are you explaining it well enough and demonstrating the benefit and relevance?"
Vicki Reynolds, chief technology officer at i3PT Certification and global vice chair and UK lead for Women in BIM, also picks up on this point: "There are two types of people who come into BIM. One solves problems – and they tend to be good communicators and can explain things well. The other type just tend to love tech and digital tools – and want to blast everything with tech, even though the people they need to take along with them don't tend to understand what's going on.
"Those BIM managers who solve problems and make life easier for everyone else are like gold dust – and they are the ones who move around and have transferrable skills."
Reynolds graduated from drama school and got into the sector through office management, and then document management, becoming a document controller at Battersea power station development for Turner & Townsend and digital manager at Multiplex.
She adds: "Most successful BIM people are those that want to work themselves out of a job – because they want it to become business as usual. But there are plenty of transferrable skills in BIM – like design – if you have the mindset to lead other teams."
'Helping the firm transition to a digital environment is at the heart of my fast progression'
Sarah Davidson, Nottingham University
Sarah Davidson, an associate professor and director of education and student experience for the Department of Architecture and Built Environment at Nottingham University, recalls her own experience. She became a director and head of research and development at Gleeds, having trained as a quantity surveyor. She says her career went through a big trajectory over a short space of time, which was down to the interest she took in digital transformation.
"Firms are looking for the opportunity to work smarter and be more efficient, so an interest in technology is a differentiator, because it brings a different perspective. Certainly, it doesn't have to be the preserve of the few. It's about being able to appreciate data and data transformation.
"Certainly, helping the firm transition to a digital environment is at the heart of my fast progression."
Although they may be few in number, there are certainly a number of women leading the field in BIM and playing an important role in transforming the sector. But this can bring its own pressures, says Reynolds. "The women who are in BIM are exceptional and very quickly learn to persevere. So it can be intimidating sometimes for women in this field who are scared that maybe they are not going to be among the best."
There is clearly some way to go before it's as natural for women to enter work in BIM as become a lawyer or an accountant, but having role models, especially those who sit alongside women working for the likes of tech giants and retail start-ups, provides a great calling card for the sector.