The annual Construction Manager BIM survey, in conjunction with BIM+, reveals steady growth in the uptake of BIM Level 2 among private clients, as the use of other digital technology gathers pace. By Neil Gerrard.
Private clients are embracing the use of BIM Level 2 in growing numbers. That's one of the key findings from the annual Construction Manager BIM survey, conducted in conjunction with BIMplus.
The survey of over 300 built environment professionals, now in its fourth year, recorded a four-percentage-point increase in the number of respondents who said they had encountered BIM as a contractual requirement on over 50% of private sector work when bidding for new projects.
In the public sector, some 27.3% of respondents reported encountering BIM as a contractual requirement on over 50% of central government-funded work – though this is almost exactly the same proportion as last year, when the figure was 27.2%.
Meanwhile, the proportion of respondents who reported encountering BIM as a contractual requirement on over 50% of public work outside central government projects fell slightly to 14.8%, down from 16.3% in the year before.
Nearly 19% of all clients said they asked for Level 2 BIM as a contractual requirement on 100% of their projects, which was an increase of nearly five percentage points on 2018, when 14.3% reported doing so.
The number of clients not requiring BIM at all dropped from around half to just over 40%.
Emerging technologies
There was marked progress when it came to other digital technologies, with the survey demonstrating certain tools, once considered innovative, were now becoming indispensable to construction businesses.
More than half of respondents (52.2%) reported tablets being used "routinely" to access or record project information. That was up from 34% last year. By contrast, only 27.8% said their organisation was "just beginning to use" the devices, down from 43.4% last year, suggesting that the technology is now considered much more mainstream in many firms. However, the proportion who said the projects they were involved with weren't using the devices at all was 20%, down only slightly from 22.6% in 2018.
Those who witnessed the routine use of drones and augmented and virtual reality technology on projects they were involved in also increased, to 13% and 16.8% respectively, while there was a slight rise in those who reported their projects as "just beginning to use" the technologies, at 41.8% and 36% respectively (up from 39% and 32.9% last year).
There was also a marked rise in the number of respondents who said projects they were working on were "just beginning to use" design for manufacture and assembly (DfMA) to 45.5% in 2019, up from 36.1% last year, suggesting that the practice was on the verge of entering the mainstream.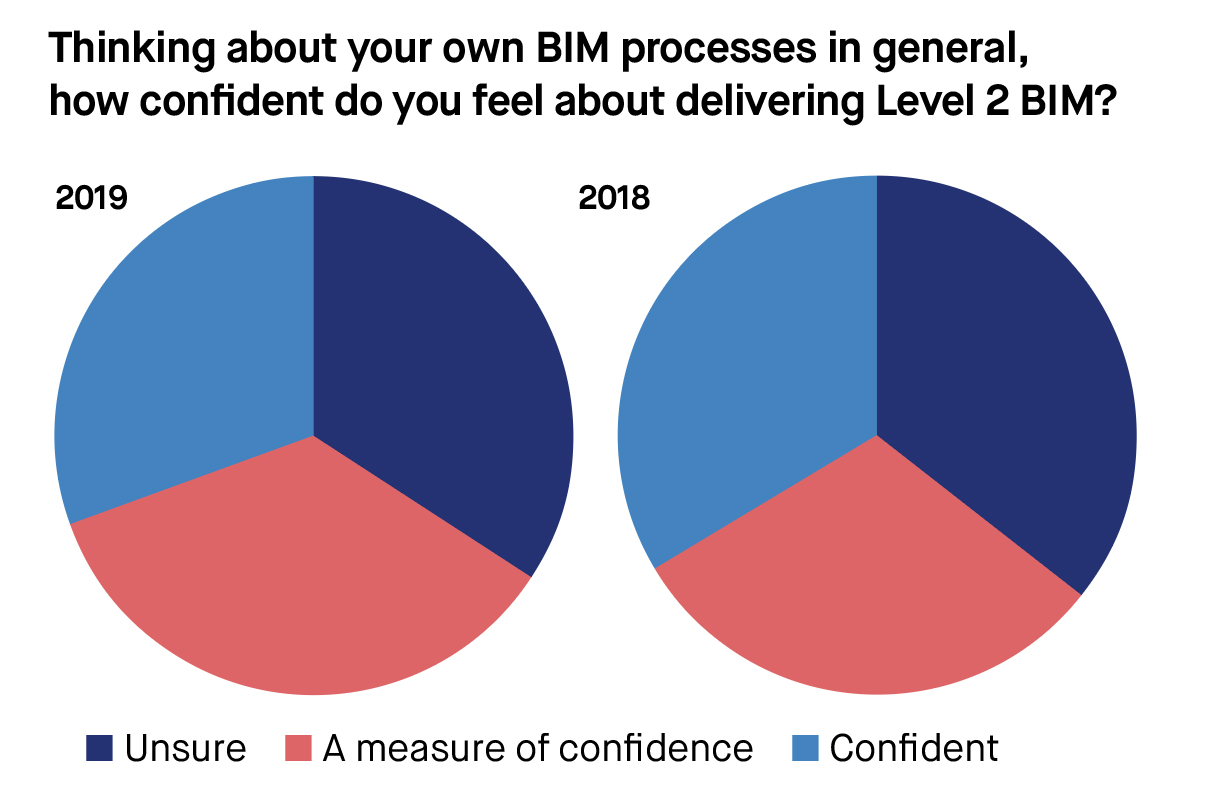 Routine use of DfMA was reported by 17.6% of respondents, slightly down on the 19.7% reported last year.
Those results tallied with the prediction from the 78.2% of respondents who said they regarded it as "highly likely" that DfMA would have a significant impact in driving improved performance in the industry (74.5% in 2018), compared with a mere 2.8% who said it was "highly unlikely".
BIM was second most popular option to be chosen as being "highly likely" to have a significant impact on the sector, at 70.9%, with virtual and augmented reality in third at 63.3%.
Confidence falters
The proportion of respondents who regarded themselves as unsure about how to deliver BIM Level 2 remained broadly the same in 2019 as it did the year before at 34.3%, down slightly from 35.8%. But those who considered themselves confident also dropped slightly, from 33.5% in 2018 to 30.5% this year. That meant that those feeling a "measure of confidence" increased to 35.2% in 2019, up from 30.7%.
When it came to embedding BIM within organisations, there was encouraging news, with the majority (38.7%) of respondents saying they had adopted the PAS 1192 suite and either planned to adopt or already had adopted ISO 19650.
Another 13.8% said they had adopted or planned to adopt ISO 19650 but never adopted PAS 1192, while 12.4% said they would continue to use PAS 1192. However, a significant 30.7% said they had not adopted nor planned to adopt either standard.
Benefits with BIM
There was little change this year in terms of users' experience of the benefits of BIM. They were asked about the impact of the technology in a number of areas, including benefits in saving time and cost during the pre-construction and construction phases.
More than a third (36.4%) said they had seen good results when it came to BIM promoting collaboration and reducing silo working, while 29.9% also saw good results as far as saving time in the construction phase was concerned, with 23.6% also seeing good results in pre-construction design. Some 23% agreed they saw good results in saving cost in the construction phase, slightly above the 18.8% who saw good results on cost savings in the pre-construction design.
But worryingly, considering that some see BIM as key to providing the "golden thread" of information throughout the life of a project – called for by Dame Judith Hackitt in her independent review following the Grenfell Tower disaster – only 13.2% saw good results from BIM when it came to promoting safety and regulatory compliance.
That was compared to 42.8% who said they saw "some positive signs" and 44% who saw no evidence at all. Similarly, only 13.1% saw good results in reducing a project's carbon footprint using BIM, with 59.9% reporting that they saw no evidence at all that it helped.
The respondents and their work 
Of over 300 respondents, 11% were clients in a public sector organisation and another 7% were clients in the private sector. A further 11% said they were project managers.
Twenty-six per cent of respondents worked for tier 1 contractors. Of those, 20% worked for a tier 1 contractor with an annual turnover of £100m+ and 6% worked for a tier 1 with an annual turnover below £100m. Another 5% of respondents described themselves as working for a tier 2 or 3 specialist subcontractor.
A total of 32% of respondents described themselves as design consultants working in the architecture, structural or M&E fields. A further 8% were cost consultants.
As with last year, the most popular sector was commercial, including offices, retail and leisure (52.6% of respondents). The next biggest was residential – private sector housing (41.4%), then infrastructure projects (road, rail, water, utilities) where 30.9% worked.
The most popular total estimated value of projects respondents expected themselves to be involved in over the next year was the £10m-£100m bracket (31.1%). Another 19.5% expected to be involved in projects worth £100m-£500m, and 11.6% described themselves as involved in the £1bn+ bracket.