BIM+'s recent research found that a large number of public and private sector clients are being asked to pay a premium, by consultants or contractors, for delivering project information in BIM.
This premium is viewed as a major barrier to BIM adoption. If project sponsors are only partially committed to BIM, or need to make the case to higher powers, an inflated bill could easily mean that BIM aspirations are shelved or watered down.
Is BIM worth paying a premium for – https://t.co/AtsjoCCVQJ

— BIM+ (@CMBIMPLUS) May 5, 2016
Trina Ratcliffe-Pacheco, building design manager at the University of the West of England estates department, comments: "The more mature we get as a client, the more extra fees we face for asking for special things in BIM. It's because designers and contractors see it as an extra risk, so they cover that with extra fees and use the money to outsource the work, for example appointing a BIM manager.
"It is hard to justify to my bosses why we are implementing BIM to save money if we are simultaneously paying extra fees to deliver it. It doesn't make sense."
At Wokingham Borough Council, capital programme manager Arnab Mukherjee is very familiar with the phenomenon, saying: "Despite all the rhetoric, there is an upfront cost element to BIM Level 2 for everyone involved and eventually, one way or another, that gets paid by the client.
"It starts with the architecture services – to transfer their Revit work to Level 2 compatibility it's going to cost you X pounds extra, Mr Client. And if you want to use it as a tender document and issue it to the contractor then we have to tick certain boxes in terms of contractual obligations and liabilities, so we need Y pounds extra to cover that.
"For a £20m job, the premium attached might be an insignificant percentage of overall costs, but for a £5m job it could be a very high percentage. There needs to be an incentive and willingness, from all parties concerned, to use BIM otherwise the aim of reducing the cost of projects will not be realised. Part of the problem is everyone is thinking in terms of their own costs, but not the cost to the overall project."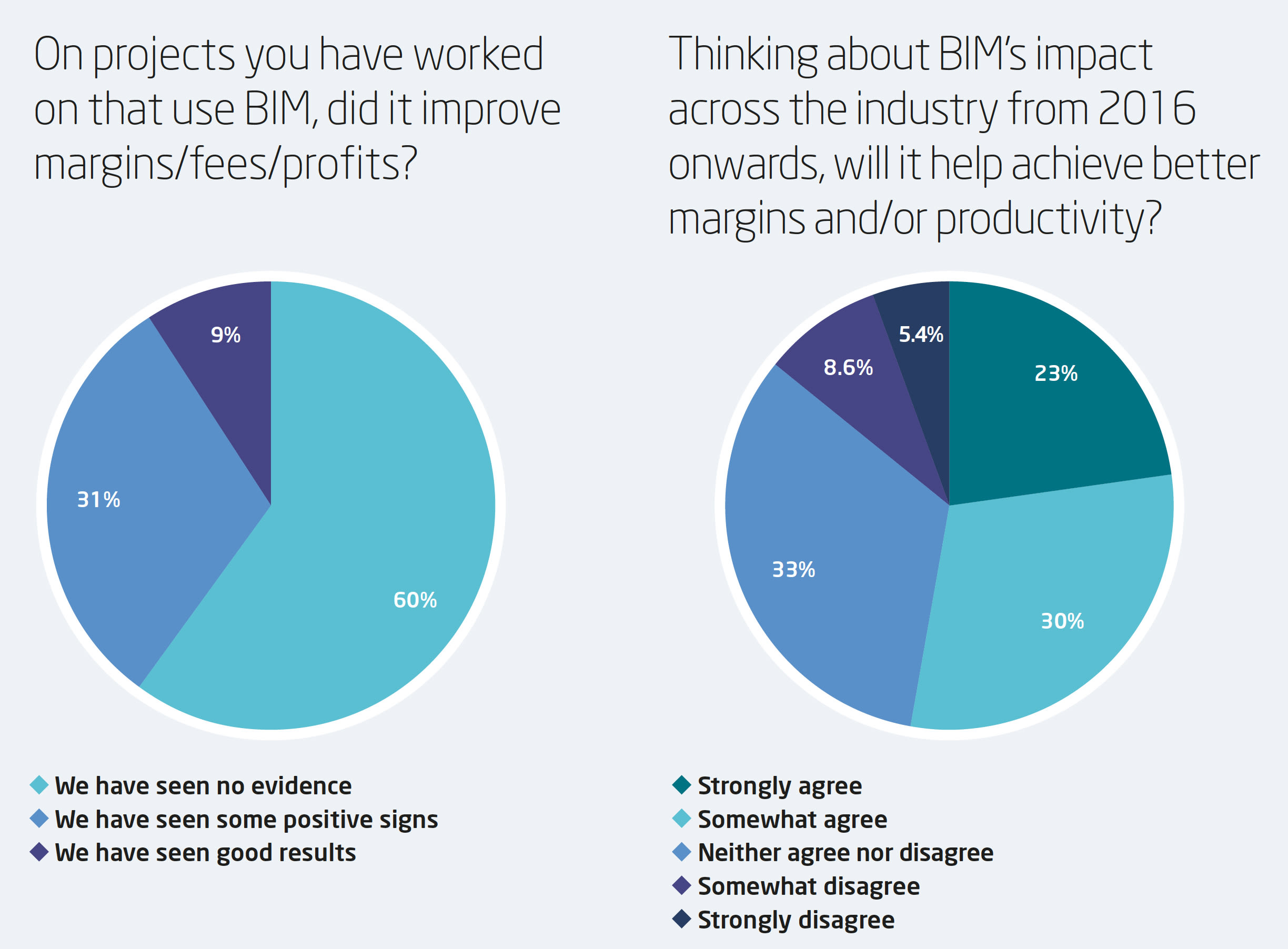 BIM+ research showed that many see BIM improving margins in future
In one case, a university client said main contractors had offered savings to not have to deliver some aspects of a project in BIM, such as an as-built BIM model embedded with construction data relevant to asset management. As a result, the client hired an external consultant information manager to do the job for a lower fee.
Other clients have been able to rebuff requests for higher fees to cover BIM costs, but have still been surprised that the suppliers viewed BIM as an add-on cost, rather than an R&D opportunity and a learning journey.
Karen Alford, BIM and GSL programme manager at the Environment Agency, adds: "Some have tried to charge us, but we knocked it back. We have made it clear we are not picking up the charges for the supply chain's learning requirements – we are happy for them to work with us to learn how to implement BIM on projects, but not to pick up the cost."
And Alastair Gourlay, director of asset management at Guy's and St Thomas' NHS Foundation Trust, also summed up clients' overall attitude: "Paying a premium isn't justified if consultants and contractors are keeping up with modern methods and technology they have to make those investments and include the provision in their pricing."
At Transport for London, John Downes, head of engineering governance and services, and Paul Carr, business change manager, said that higher charges would exclude bidders from projects.
"If people see BIM as an opportunity to charge more they will almost inevitably not be a successful bidder for work London Underground is offering up. Because we often we will go to marketplace with a view to securing through competitive bid, we like to think those who understand what this means in terms of where money can be made will not be looking to increase prices, but genuinely increase value through collaboration, savings and efficiency."
Opportunism
The reasons for loading extra charges on to the fee ranged from simple opportunism to real concern over the cost of technology, training and perceived extra workload. Some may be attempting to cover the costs of implementing BIM technology and processes they had no plans to implement before the mandate.
Brian Churchyard, senior manager for construction design standards at Asda, comments: "There is a lot of noise around the higher level of detail you are asking for and the extra man-hours required to complete it. It harks back to when we moved to Revit in 2007 and people said they needed more money to upgrade hardware to run it and invest in training."
But there was also evidence that a lack of standardisation in manufacturers' BIM objects and building component libraries could be increasing the burden on designers who feel compelled to develop them from scratch. There may also be challenges related to overhauling legacy systems and procedures.
Despite these concerns, there was a general consensus that extra fees related to BIM will disappear once the industry gets to grips with the mandate and the process becomes "business as usual".
Churchyard comments: "As we move to true Level 2 BIM, my gut feeling is we will start hearing the same types of noises around extra costs, but after a while it will bed in and become the normal way of working. Then there will be rich databases construction businesses can feed off, reducing duplication and effort, and therefore cost."
At Waitrose, Andy Smith, general manager for future planning, is seeing attitudes start to shift, saying: "I can't see massive cost reduction at the moment. Some consultants and contractors are trying to charge a premium on projects, but most forward-thinking suppliers and consultants are starting to say it is more expensive for them internally to use AutoCAD or other non-collaborative tools rather than Revit, or equivalent software."
Main image: Dreamstime