Software service provider 3D Repo is partnering with design consultant Bryden Wood to develop 4D sequence visualisation features for its database driven Digital Construction Platform.
These features will allow users to visualise 3D construction projects, over time, directly from their existing BIM models. Outputs will be viewable not only in 3D Repo's web-based platform, but also by loading them from the cloud and viewing via virtual reality headsets, such as Oculus and HTC Vive. 
4D modelling refers to the fourth dimension of time, so a 4D schedule is a 3D model that includes the construction sequencing. This enables teams to analyse events on a time-line and visualise how long it takes to complete tasks within the construction process. 
Phil Langley, director of Bryden Wood, said: "We are delighted to work with 3D Repo and we see 4D as a key component of digital transformation, especially in the design for manufacture sector when applied to construction.
"Combining this with the latest technologies from 3D Repo will make for a powerful solution to benefit the industry as a whole. This is pioneering work – putting 4D into virtual reality – a first in construction we think." 
3D Repo, a spinout from University College London, is a multi-award-winning company offering a software-as-a-service (SaaS) platform for BIM in the cloud.
Instead of architects, consultants and contractors sharing huge proprietary files in a costly and time-consuming manner, they can simply point their web browser to an encrypted knowledge base to examine each project stage virtually, even on mobile devices.
Jozef Dobos, CEO of 3D Repo, said: "When developing tools for the construction industry 3D Repo has always partnered with industry experts to guide our development. In Bryden Wood we have found not only experts in design for construction but also partners who really understand the power of innovation and how it can help the construction industry."
Bryden Wood was founded in 1995 and has grown into a 150+ strong integrated design and operations consultancy for the built environment, whose activities span from analysis and business strategy, through architecture and engineering.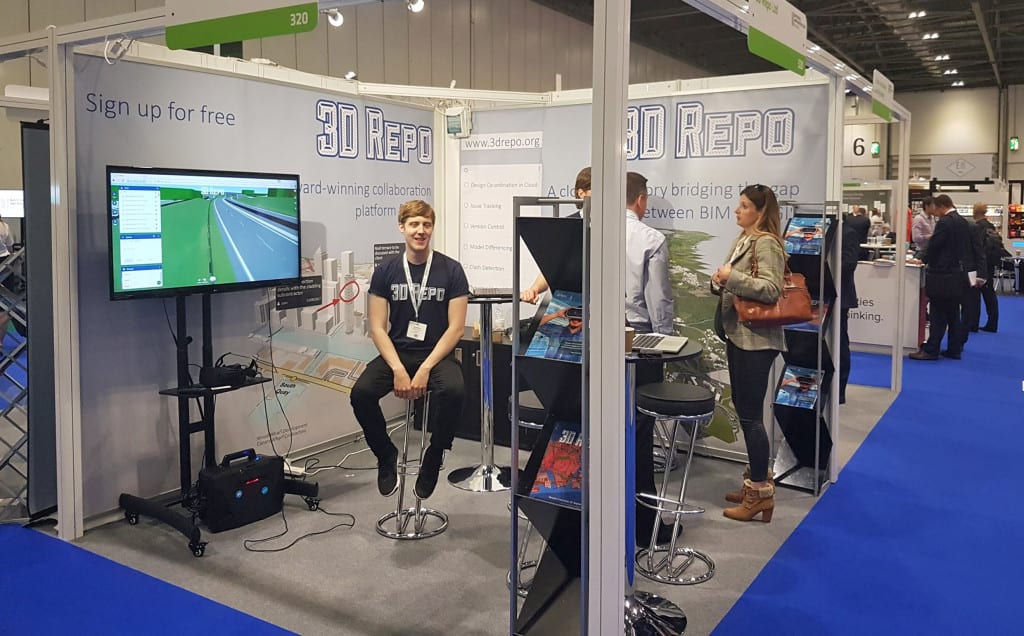 3D Repo and Bryden Wood will be launching this new development at the upcoming Digital Construction Week (18-19 October) where visitors will be invited to try out the solution for themselves at 3D Repo's VR workshop. 
The free exhibition runs alongside the DCW thought leadership conference, which has been co-curated by the UK government's Digital Built Britain Strategy, and boasts five themed seminar streams covering: visualisation, geospatial, industry 4.0, tech and BIM.
In addition to the free seminar content, visitors will be able to meet the "teams behind the tech" in each themed area, with experiential exhibition stands offering demonstrations on how these innovations can revolutionise the way you work, with hands-on demos, advice and real-life project insights.
Exhibitor highlights include:
The newly opened Construction Scotland's Innovation Centre, which will be showcasing the expertise and equipment available at its 35,000 sq ft prototyping and training facility in Glasgow. The team from the "Innovation Factory", which is available for industry-wide collaboration projects, will be demonstrating technology including their AR/VR kit, Sawyer Collaborative Robot and 3D scanner, as well as showcasing a WikiHouse structure.
More developments in robotics and automation will also be on show via The Design Computation Lab – a new research laboratory at The Bartlett School of Architecture, University College London. The most current work of the postgraduate students involved in the lab will be presented, alongside demos of an industrial robot fabricating the building elements of an assembled structure live at the show.
For those interested in visualisation, stepping into the VR/AR Lab will offer a chance to focus on the business case and practical application of AR & VR in the built environment, using HTC Vives headsets and several mobile VR systems to try out advanced applications used on real projects. While HP will be revealing its pioneering VR project "HP Mars Home Planet" at the show and offering visitors the chance to try out their fully immersive and untethered VR solution – the Z VR Backpack.
More details can be found at www.digitalconstructionweek.com/home
We see 4D as a key component of digital transformation, especially in the design for manufacture sector when applied to construction. Combining this with the latest technologies from 3D Repo will make for a powerful solution to benefit the industry as a whole.– Phil Langley, director, Bryden Wood