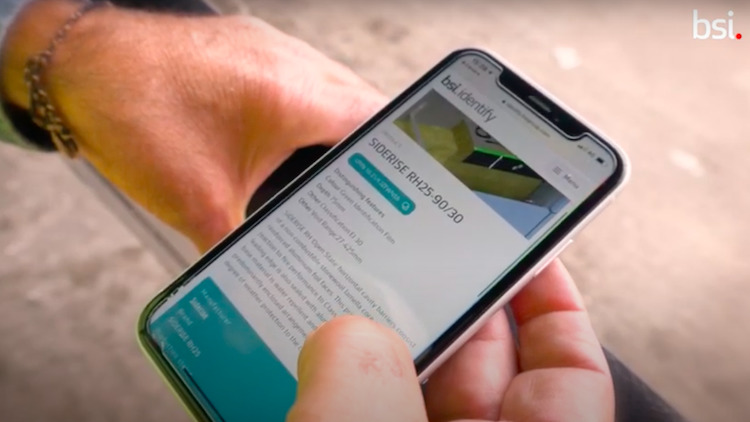 The BSI has launched an identification system for construction products in response to Dame Judith Hackitt's call for "an identification system that could provide every component in a building with a unique and persistent identification code".
Known as BSI Identify, the system uses digital object identifier (DOI) technology to deliver a unique, constant, and interoperable identifier, called a BSI UPIN (Universal Persistent Identification Number). It can be assigned to products to help UK manufacturers to directly manage information about their products in the supply chain.
The new DOI system allows product information to be identified and accessed with certainty and preserves a persistent record, the BSI said. It supports decisions at any point in a products' life cycle, from manufacture, specification, procurement, installation, use, to de-commission or reuse.
The UPIN directs users to a free, enduring and searchable registry where they can access all relevant product information, controlled by the manufacturer.
Dan Rossiter, sector lead for built environment digital transformation standards at BSI said: "BSI is proud to bring the identification technology to the built environment to drive good practice around traceability and safety. It should have a transformative effect on how product information is exchanged by providing a robust and permanent solution for product traceability and information accountability."
The Construction Products Association (CPA) and representatives from across the supply chain were involved in the development of the new system.
CPA chief executive Peter Caplehorn said: "Digitalisation of the construction industry is essential to drive productivity, improve performance certainty, and ensure the robust verification of products and their information. The deployment and use of DOI in the product sector is long overdue and will inevitably lead to a step change in efficiency for construction and maintenance across the built environment."
Manufacturer data on BSI Identify will be automatically linked to the Barbour ABI's Barbour Product Search platform.
1. Manufacturers receive a unique, enduring and traceable DOI called a BSI UPIN for every product that's specified and incorporated in a building structure.
2. BSI Identify holds these UPINs in a permanent, accessible and searchable registry. The technology used ensures that the index cannot be broken, so that the link persists forever.
3. The manufacturer can then mark or tag their products with the UPIN. They can be included within QR codes, NFC or RFID tags.
4. The BSI UPIN acts as a smart link that can signpost users to a page, controlled by the manufacturer, where they can quickly find all the most up-to-date information on a product – from specification, installation and maintenance, to replacement, CE and recall/safety information. All queries about the product can be routed back to the manufacturer.
Development and expectations
Will Johnson-Marshall is head of operational delivery at BSI; BIMplus asked him about the development of BSI Identify and the expectations for it.
How long did it take to develop?
The work to bring us to this point has taken a number of years. We started through an Innovate UK funded research project that ran for two years with the funding awarded to projects supporting the digitalisation of the built environment. BSI and the CPA then committed to take the outputs and develop these into a service for the industry in early 2020. We completed the development of the production system at the end of May this year and we have been in a beta phase for the past five months. We expect to continue to develop the platform in response to market feedback.
How many manufacturers and projects tested Identify?
During the various phases of the work, we have tested the system with both manufacturers and users from other parts of the supply chain who will be using UPINs, such as designers, specifiers and asset managers. We have pushed thousands of product records through our various development test systems, but as UPINs are designed to be persistent, we have had to be careful not to push test data into the live system.
What did you learn during the development phase and the tests?
That manufacturers have different levels of maturity with how product data is managed: this means that we will need to effectively support the on-boarding process. We have responded by creating three different methods for providing data to Identify: a web user interface, an Excel data-load tool or directly through an API. We also provide full on-boarding support to help manufacturers as and when needed.
How many manufacturers and/or products are already listed on Identify?
We have worked with two manufacturers during the beta test phase to test that the system works as it is designed to, and develop our on-boarding support processes. We expect this number to grow rapidly now that we have launched the product more widely. You can see one of these manufacturers talk about their experience in the video [below].
What are your expectations or targets for take up of Identify?
We want the Identify service to become a de facto tool used across all manufacturers. We expect that products with safety-related considerations may be likely to adopt Identify sooner than others, but there is no reason why all manufacturer types can't join up now. We also believe that Identify is well timed to help manufactures respond to changing industry expectations around product information such as the Code for Construction Product Information and upcoming changes in regulation.
Does Identify need to be mandated?
No, we are not expecting Identify to be mandated and we want to work with manufacturers to demonstrate value of the service. We have seen from our beta customers that Identify can deliver value to them from the off. That said, as the power of Identify becomes recognised by asset owners and other supply chain influencers, demand for products to have a UPIN idea is likely to grow.
This story was updated at 3.45pm on Tuesday 16 November.