The world is waking up to the speed, quality and environmental benefits of cross-laminated timber, but what are the limitations and is it really an alternative to concrete or steel? Stephen Cousins reports.
When cross-laminated timber (CLT) first hit the UK scene, back in 2003, it was a little-known, niche material – but its environmental credentials and rapid speed of erection soon grabbed the headlines.
But it wasn't until around five years ago that engineered timber really started to take hold and, thanks in part to falling prices, it has now become a vital component in shaping our cities.
CLT is a proven solution for low and medium-rise residential buildings and schools, but it is now also being applied to other building types, such as office blocks, swimming pools, gymnasiums or light industrial buildings.
Architects and contractors are pushing creative and technical boundaries to build increasingly challenging CLT structures. The world's largest timber building, by volume, is Dalston Works, a 33m-high, 121-unit residential block at Dalston Lane in east London, which was handed over to client Regal Homes in December.
And there are now increasing examples of CLT being used to construct skyscrapers, with Norwegian timber specialist Moelven claiming the material can be used for high-rise buildings over 150m tall, as well as large-area "groundscrapers".
CLT has many advantages over steel or reinforced concrete alternatives. The prefabricated panels are quick to install – some projects can be completed six times faster than a standard build, and require drastically fewer lorry deliveries and workers on site. The structure is lightweight, minimising the size of foundations and site preparatory work, and its low embodied carbon ticks boxes on sustainability.
Engineered timber was used for the swimming pool at Freemen's School at Ashtead in Surrey
There is also a human side to working with the system that should not be underestimated, says Christiane Lellig, director of timber industry campaign group Wood for Good: "This is a material that can make your builders happy, they really seem to like working with it. A project manager on site at the Yoker building, a seven-storey housing project recently built in Glasgow by contractor CCG, looked at the finished structure with tears in his eyes and talked about it as if it was a beautiful woman."
But CLT does have some limitations. Long uninterrupted spans are difficult to achieve and questions have been raised over the long-term recyclability of the panels, which are bound together with polyurethane adhesive. Then there are the broader concerns regarding how the requirement for early specialist involvement in design impacts on project procurement and tendering.
Timber time?
CLT is a mass-produced timber product comprising multiple layers of softwood timber laid across each other and glued at right angles. The lamination process reduces sensitivity to moisture content and therefore warping and distortion, and provides each panel with exceptional dimensional stability. 
The inherently high strength-to-weight ratio enables it to perform more like steel than regular wood panels or beams. The production process is highly automated and can provide ready-to-use CLT elements with lengths up to 16m and widths up to 3.5m.
Construction has suffered numerous false dawns around offsite and Modern Methods of Construction, now sometimes labelled Design for Manufacture and Assembly (DfMA). Could CLT be the first methodology to deliver projects faster with higher quality and greater cost certainty?
"A useful reference is how well CLT fits in with the targets the industry set itself under the 2025 construction strategy," says Adrian Campbell, director at engineering consultant Changebuilding who has been working on sustainable building projects for over 20 years.
"It is partly about faster construction and lower emissions – embodied carbon is becoming more important as people look at overall carbon scoping. The system is probably cost neutral at the moment (compared to other materials), but when you take into account the speed of erection and lower preliminary construction costs there is possibly a cost advantage on the right project."
Speed, sustainability and cost benefits were realised at Dalston Works, where the entire structure, including the stairs and lift cores, was built from CLT. The project required just 111 deliveries to site, versus an estimated 800 deliveries for the equivalent concrete frame, according to its architect, Waugh Thistleton.
Above: Now under construction, Waugh Thistleton's office building at Orsman Road is a hybrid structure of steel and timber. Below: CLT panels with window openings are used at Waugh Thistleton's Dalston Works building in east London
The lightness of the structure made it possible to build safely over the top of Crossrail, in the process fitting in an extra 35% of homes, while removing the need to drill piles.
Waugh Thistleton has been on a long journey with CLT since completing Murray Grove in Hackney in 2009 – the first ever tall urban housing project built from 100% prefabricated timber.
Shifting targets
"For us the whole narrative of 'can we be more sustainable?' by using CLT has turned into we can do it quicker, make it lighter, to better quality, and simultaneously create a nicer environment for people to work in," says David Lomax, senior associate
with Waugh Thistleton.
"The Farmer Review of the UK construction labour model recently highlighted how not enough people are entering construction and we are losing staff overseas. Nobody wants to work in the rain and mud anymore, they want to be engineers working with high-tech machinery like at Rolls-Royce or Boeing," he says.
CLT's focus on DfMA and clean, quick assembly on site underpins that possibility.
The environmental and aesthetic merits of engineered timber appear, in some cases, to have been eclipsed by the structural benefits of the technology. CLT panels used to build the seven-storey block of affordable rented accommodation attached to Highpoint Tower in Southwark, south London, are entirely concealed from view behind facade cladding and interior finishes.
The developer for the scheme, Mace, is one of a number of firms testing the waters with the material. Others include Lendlease, Willmott Dixon and housing developer Swan Housing.
Adam Coleman, who project managed the use of CLT for Mace on Highpoint, tells CM: "The original driver was to use engineered timber to achieve Code for Sustainable Homes criteria, but other benefits emerged as the project progressed. The cladding came up very fast behind the live CLT floor compared to using traditional concrete frame which requires two floors of back-propping on the floors below. CLT lightened the loads, the slabs were thinner, the foundations didn't need piling."
Although the system required more upfront design work and involvement from the CLT supplier and installer Eurban, and also the M&E and facade specialists, once the team pushed the button for manufacture, the eight-week lead time made it possible to focus on completing the ground floor slab.
Guy Hunt, Mace's project director for Highpoint, adds: "CLT goes up so quickly and cleanly compared to concrete. We had just eight guys installing on site, compared to a concrete gang of about 25 and an army of steel-fixers, concrete formwork chippies and back-propping gangs."
Overall, Mace has calculated that using CLT saved the project around £500,000, compared to concrete frame.
No magic bullet
But before we get too doe eyed about CLT, as with any material, there are technical limitations. The frame may go up fast, but some developer clients have expressed concern about the time required to line internal walls and floors.
Floor slabs must often be thicker than concrete to achieve the same strength and may require a screed finish for acoustics. For example, the Highpoint block required a double skin of plasterboard to meet acoustic performance criteria.
Timber must be kept dry, so tight envelope and waterproofing systems are a prerequisite, while the Grenfell Tower tragedy has underlined the need for clear and appropriate fire protection strategies, especially when building high with timber.
Precut CLT sections are craned in at Mace's Highpoint, south London
Protecting the installed product should be a key consideration, says Kevin Mallon, project coordinator with Gilbert-Ash for the Freemen's School project in Ashtead, Surrey, which features an engineered timber swimming pool.
"We erected exclusion zones to protect the frame," he explains. "We also avoided wrapping the product in protection as we understand from our experience that this affects the moisture levels on the timber surface and subsequently causes the surfaces to change colour due to the exposure of external elements."
Examples of 100% CLT structures for high-rise building are still comparatively unusual, and most towers above nine storeys are hybrids using a concrete core for stability and sometime additional steel structure.
It can also be tricky to achieve long continuous spans, says Change-building's Campbell: "If looking to do 12m to 15m floor spans, it is probably not your first choice. Beyond 9m the material's lightness starts to impact on the strength and dynamic performance of the floor."
However, architects and specifiers are increasingly using CLT in combination with other wood technologies, such as laminated veneer lumber (LVL) or glulam, to achieve bigger spans and new spaces. The recently completed factory headquarters building for Vitsoe in Royal Leamington Spa, Warwickshire, is the first structure in the UK made entirely of a newly developed beech LVL.
Other innovative timber systems on the market include Kielsteg, a form of hollowcore timber deck designed to achieve long spans, and a glue-free form of CLT, produced by German firm Thoma, that uses super-dry wood dowels to bond the laminate together.
CLT does have proven eco credentials. Wood is sourced from sustainably managed EU forests, the adhesives are non-toxic and comprise just 2% of the product. But more could be done to research its long-term impact on the environment, says Campbell.
"The industry hasn't quite taken it to the next logical step of a full product lifecycle, detailing what happens at the end of life, whether that means dismantling buildings and reusing the product or using the material for biomass energy release," he says.
Bigger picture
A change in structural material is always a challenge for contractors, but perhaps more significant are the implications for project procurement and construction methodology. The advance of the offsite agenda and closer integration with BIM make CLT an attractive option, but this places a focus on early design and integration; if a project team tries to shoehorn in engineered timber at RIBA stage 4, it is likely to miss the value available in stages 2 and 3.
Eurban has been working in 4D BIM with developers, creating animations of work sequences to help them align the programme with the high speed at which the structure is erected.
"Changing the methodology changes the way you have to procure and sequence the following trades," says director Jonathan Fovargue.
"Those that get that are the ones who will really get the maximum benefits out of CLT as a structural system. If you just think of it as the same as a concrete frame and flood the project with workers doing the fit out, you're not going to capture the full value."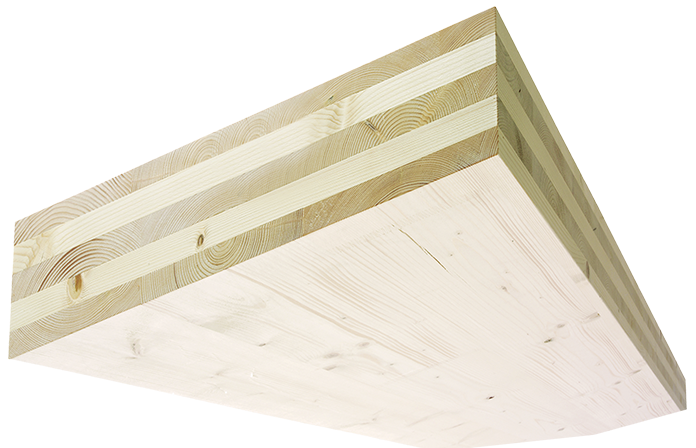 Why use cross-laminated timber?
CLT frames offer a number of advantages through the life cycle of a project, writes Christiane Lellig, campaign director at Wood for Good.
Design stage
Simplicity of design and BIM integration
Low carbon form of construction
Lightweight, which minimises foundations
Improved air tightness
Strong thermal properties, reducing cold bridging
Resource efficient, as the exposed structural timber reduces finishing costs
Construction stage
Speed of construction
Less weather dependent than traditional forms of construction
Minimal trades required during erection of the frame
Waste minimisation through offsite manufacture
Cleaner working environments
Operational stage
Exposed timber has warm and tactile properties
Energy efficient