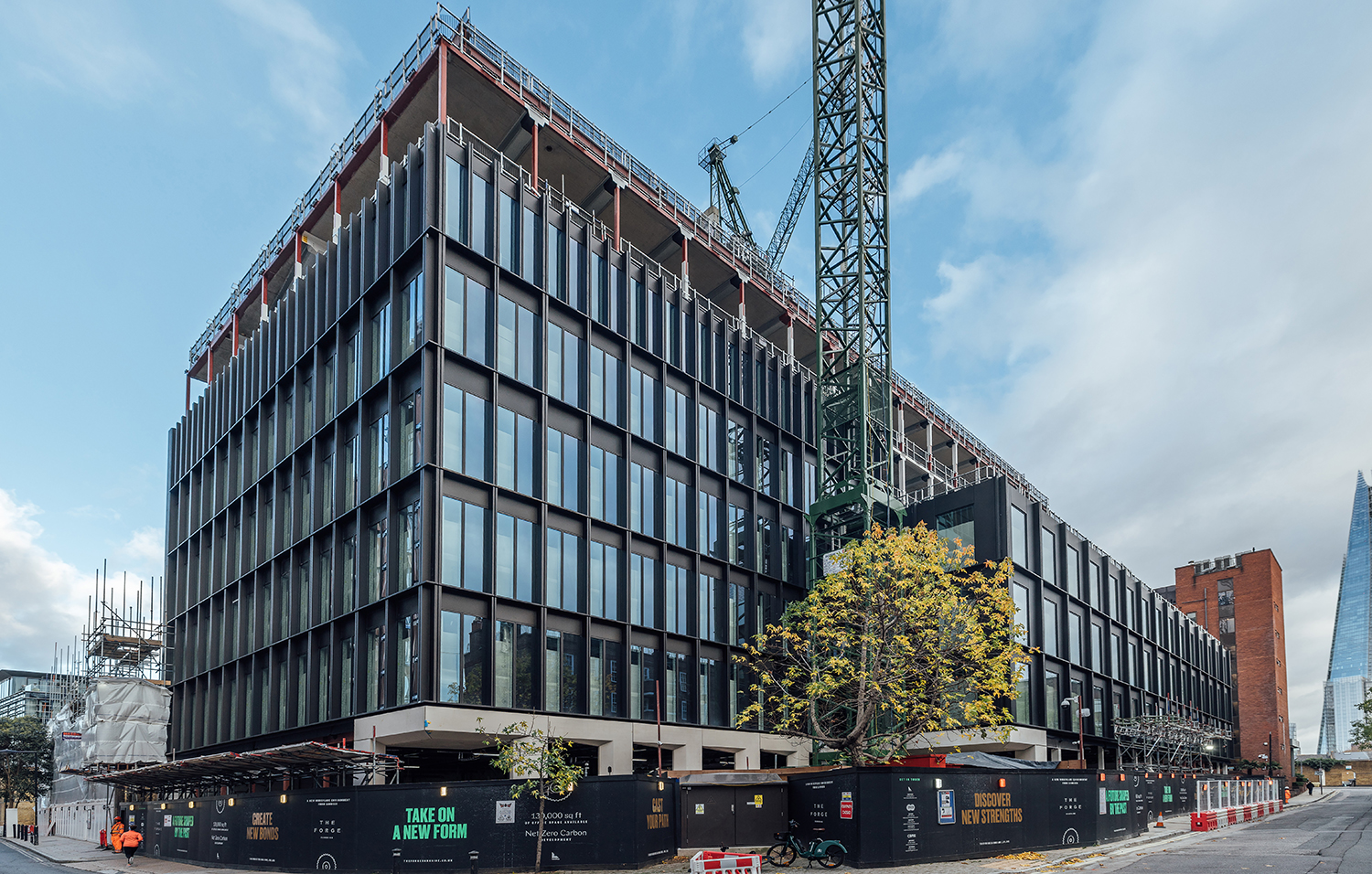 In October, the Construction Innovation Hub announced it had received another six months' funding after its four-year contract had come to an end. Denise Chevin caught up with chief executive Keith Waller about priorities for this new phase, his reflections on achievements to date and why the Hub will be around for some time to come.
BIMplus: How will this next six months be different?
Keith Waller: Our first four years were a research and development programme. Now it's about how we deploy those solutions and diffuse them at scale and pace. So our next six months is about transitioning from a research-led programme to a deployment plan. We intend to take three of the key outputs from our programme to date and see how we can accelerate how they're embedded into future projects. The first key output is the work we've done with the Value Toolkit.
We're working closely with government to embed the toolkit more centrally. There are more than 300 industry partners and government clients working with us on its development, so we know it's something that clients want, and we know it's something that aligns very closely with government's policy ambitions.
"Our first four years were a R&D programme. Now it's about how we deploy those solutions at scale and pace."
Keith Waller
Having got the technical basis right, it's now all about making sure we can put a non-technical wrapper around it, and demonstrate to organisations like the Treasury that this will really support their ambitions for delivering better performance and better services.
The third area concerns working with two or so government departments to embed platforms into their future buildings much more quickly.
Can you say more about the roll out of the Value Toolkit?
It's already in use, and we now want to accelerate its deployment and broaden its reach as much as we can. It's being trialled on 140 projects worth billions of pounds, but infrastructure project trials can take a long time to complete and get results. We will be helping central government to incorporate the Toolkit it into their modus operandi, so that it becomes business as usual.
For example, we're working with the Infrastructure and Projects Authority, which has that reach across departments such as Health, Education, Justice, and others. I think this is one of these areas where you can effect change by concentrating on a single project that then permeates outwards and downwards.
What do you think have been the biggest wins over the last four years?
There's been so many individual things that we've produced. But if I was to pick one thing, it's the fact that we've had such strong engagement and collaboration with our industry partners. We are now seeing our stakeholders and industry partners talking about the Value Toolkit, and talking about the product platform rulebook on our behalf.
Many of the things funded through the wider construction sector deal by UK Research and Innovation (UKRI), including specific tools and products – Keltbray's HIPER pile, for example – then move on to become a commercial product or solution that can be sold. [HIPER Pile is a suite of piling innovations that can deliver embodied-carbon savings of up to 94%. Compared with traditional, bored piling, HIPER Piles contain a central void that can be used for energy storage and generation to give operational carbon savings, helping buildings to be self-sustaining.]
We're creating the environment where these sorts of solutions can thrive.
Do you think the pace of change in the sector has been faster or slower than you had expected?
It's been faster than I expected. But I'd also say it has not been fast enough. Over the past four years of the programme, there has been a number of strong headwinds the sector has had to battle through. These include covid and lockdowns, materials and labour availability, price, inflation, energy costs, and an uncertain political environment. We are now on our fourth prime minister since the programme started.
We have far exceeded the contractual targets set for us when UKRI was established. But we have a lot to do to enable that longer-term transformation, so we can support faster delivery of better services and better outcomes.
What do you think you've personally brought to the Hub?
"There is a risk of retrenching. It's very difficult to drive transformation and support those longer-term outcomes if we're just focusing on how cheaply we can buy the next school or how cheaply we can buy the next hospital."
Keith Waller
I've always been a big picture person. I spent about 10 years seconded to government in the Treasury and in the Cabinet Office. One of the best bits of advice I got early on is that working out what to do is easy, working out how to get it done is hard. So while we've got some brilliant technical teams as part of the Hub, that transformation, as I said earlier, is not just about the technical solutions, it is about creating the right appetite in industry for change and the right environment for that change to happen, in terms of policies and regulations.
The sort of experience I have, of not only looking at big picture stuff, but also navigating some of that complexity around how decisions are made and how you affect change, is what I have brought to the Hub.
As we're heading into a recession, is there a risk transformation may falter?
There is a risk of retrenching. It's very difficult to drive transformation and support those longer-term outcomes if we're just focusing on how cheaply we can buy the next school or how cheaply we can buy the next hospital. Government has a real responsibility. It's got a £65bn-a-year programme, investing in economic and social infrastructure – if you include utilities and transport.
We do risk retrenching and industry racing to the bottom. And we would lose some of that momentum that has built up over the last four years where we've seen a huge amount of collaboration, not just between industry players, but between industry and government.
We are going to see constraints on the public purse. So it's up to us to demonstrate how we can deliver better solutions and more value without just trying to build the same thing cheaper, and expecting to get away with it. We need to have that proper joined-up thinking. And that's really what the government's policy ambition for the construction playbook and the Technology and Innovation Roadmap is all about.
How different do you think the industry will be in five years?
What I'd like to see in five years is an operating model for the built environment that is different from today's. It would deliver world-class buildings and infrastructure that demonstrably improves service, reduces carbon, and boosts growth and opportunity throughout the UK. And innovative, sustainable, and productive businesses would deliver these buildings, not just the construction sector we see today.
So we need to consider how we bring in that expertise from manufacturing and from technology to help deliver the built environment.
I want to see digital tools.
I want to see advanced manufacturing solutions being deployed at scale that can strip out waste, that can deliver real added value, and accelerate how we can create lower-cost, faster solutions for our schools and hospitals.
So it is not about incremental change. I do not really want to do the same thing a bit better. I think we should be doing a far better thing altogether.
What do you think are the barriers obstructing that?
"What I'd like to see in five years is an operating model for the built environment that is different from today's."
Keith Waller
There's a number on both the demand side and the supply side if we're going to unlock the innovation we need. The opportunity to do so lies with the Construction Playbook and the Technology and Innovation Roadmap, and what government does to try to join up how the public sector specifies, procures and contracts.
If you're a business that's keen on innovating, and you have multiple clients who are all asking for the same thing in a different way and value it differently, it becomes very difficult to build a case to invest in developing more capability, or more capacity to do it. So there is a big push on the demand side. And that's really part of that future operating model.
On the supply side, again, we've seen huge collaboration from industry over the last four years in the programme. And we have tried to create this environment where industry can come together to collaborate on the rules, so it can compete in the game.
If we lose that collaboration, we'll end up with every designer, every contractor developing their own approach, which won't talk to each other, which won't be interoperable, and which will only be usable on a limited number of projects or programmes. So we will lose that cross-sector opportunity.
We'll go back to 'over-bespoking' solutions on a project-by-project basis, rather than coming together to work out how do we deliver £65bn worth of investment in the built environment in a way that supports it.
After this latest funding comes to an end, what happens then?
It will not be extended through UKRI in the current form. The Transforming Construction Challenge funding has finished and the latest funding at the end of March 2023, but the Hub's programme won't.
We've just received bridge funding into a new mode of operation. We're looking at two or three options, either working through the catapult network, in terms of driving this forward, or working through somebody that's funded by government, but outside the Transforming Construction Challenge.
So we don't know exactly what the funding mechanism is, as there are several options we're having conversations about at the moment. But we do know the Hub will continue beyond this programme.
And you will still be at the helm?
You won't be able to get rid of me! I really believe we can make a difference by working with government and with industry. So I want to be here to help drive that forward.