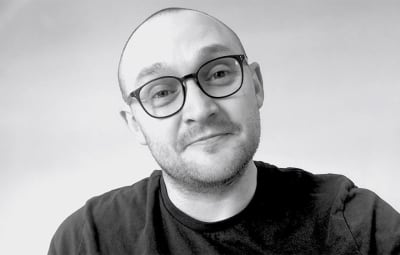 'The real-world benefits of digital twins will be best uncovered through collaborative research and innovation, but themes are already starting to emerge.' John Adams
John Adams, digital construction strategist of GliderBIM, outlines the opportunities for digital twins.
For those who believe that digital adoption can deliver a construction industry ready for the future, we live in exciting, yet sometimes frustrating times. One of the best examples of this juxtaposition is the concept of the digital twin. Emerging evidence from other industries has shown that creating digital twins is now reality. However, we risk trying to run before we can walk.
Many believe a data rich as-built 3D model is a digital twin, but a digital twin is significantly more than a copy of what was built at a point in time. The digital twin adds value to its physical twin, supporting better decisions by combing data sources and providing feedback analysis. Through monitoring activities and environmental conditions, it will be possible to test scenarios and fine-tune built assets to function at their maximum efficiency.
There is no accepted industry definition of a digital twin, although there is increasing study in this area. In 'Gemini Principles' the Centre for Digital Built Britain (CDBB) suggests what differentiates a digital twin is its "connection to the physical twin".
Rather than creating a replica of a built asset, the purpose is to obtain new insights and improve outcomes by using the unique properties of a digital model, in ways not possible with a built asset. New ways of understanding how people use our built environment can be uncovered by connecting, dissecting and analysing these digital twins.
The real-world benefits of digital twins will be best uncovered through collaborative research and innovation, but themes are already starting to emerge.
Building performance
There is a performance gap between how built assets are designed to perform and the actual performance, closing this gap will help build a better image of our industry. The tricky issue here is understanding how the gaps form because buildings are increasingly complicated and diagnosing issues is costly.
The ability to understand these performance gaps has been greatly improved by the recent proliferation of sensor technology. The Internet of Things (IoT) will allow this enhanced monitoring capability to inform the digital twin to create unprecedented insight into building performance. Expect a new wave of sustainable building solutions to emerge.
Improved maintenance
Preventative maintenance, the idea that components can be replaced before the end of their expected life when convenient, is significantly better than waiting for things to break. However, preventative and reactive maintenance are no longer the only options. Predictive maintenance combines machine learning and sensors to allow components to notify the facilities management team that they are reaching the end of their lifespan based on actual usage data.
As ideal as this sounds, buildings and infrastructure can't always be closed off at the will of a failing component. Proper planning which considers the health and safety of all must be considered fully, and by using the digital twin these maintenance plans can be devised and rehearsed with no need for site visits.
Strategic alternation
Buildings, especially offices, are being designed with an unprecedented amount of flexibility. Open plan is giving way to co-working, board rooms are becoming scrum command centres, and all those noughties ball pits are being viewed as an unhygienic alternative to biophilia-strewn mental wellness zones.
Whilst the flip-flopping between home working and office-based human interaction is set to continue for some time, the requirement to adjust our workspaces to further support wellness and productivity is becoming more complex, and more frequent.
Design planning of this depth can only be achieved through internal climate studies and habit analysis. This increased level of workplace understanding will be based not just on the data from the current layout, but from previously saved iterations and data from other similar spaces. Digital twinning may eventually lead to the reprogrammable workplace in which new layouts can be achieved with minimal manual effort and zero demolition. New paradigms of responsive and automated interior solutions may be just around the corner.
The big picture
The National Digital Twin (NDT) initiative, being led by CDBB, is not a master model of the entire UK, (and not only because it would be wildly unachievable and would generate disproportionate risk). NDT is creating the framework for securely sharing data across an eco-system of digital twins.
Combining the eco-system with information like social data, weather forecasting and any other datasets can deliver societal, economic and environmental benefits. One outcome of this convergence is the idea of smart cities, where travelling and using a city will become a more predictable, improved and data-rich experience.
Although the UK is looking to take a leading role in the field of digital twins there is an unhelpful buzz around the terminology. With flatlining productivity and wafer-thin profit margins, we have undertaken a massive project in adopting BIM and the rush to talk about digital twins before fully adopting the principles of Level 2 is proving a distraction.
Without the baseline digital consistency provided by achieving BIM Level 2 as business as usual, selling digital twins to our clients lacks wisdom.
The team at CDBB is inviting others across the industry to join them at the start of the UK's journey to define how we use digital twins for the public good. Before jumping into this exciting subject, it is perhaps sensible to ensure that your business is genuinely doing BIM Level 2 properly.
If we've learnt anything from MMCs, BIM, VR, IoT, AR, and Blockchain, it is above all else, we must stop selling things to our clients before we've made them work for us.