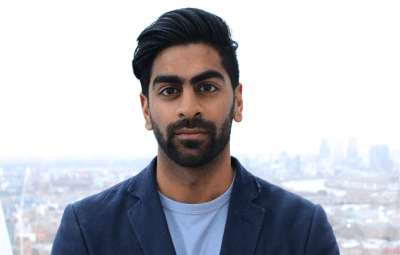 'We have seen several acquisitions over the last few years and this trend will remain strong in 2020. For large software companies, it may be more time and cost-efficient than to develop the solution in-house.' Arnie Sriskandarajah
Arnie Sriskandarajah, managing director of pan-European proptech venture capital firm, Round Hill Ventures, shares his predictions on the investment trends and construction tech outlook for 2020.
Will we continue to see investor interest in technology to transform construction and the built environment?
The construction industry is among the least digitised – the technical challenges, fragmentation and heterogeneous nature of projects have all been barriers to innovation. It's difficult for a solution to be rolled out across construction sites in different geographies for multiple sectors.
Nevertheless, the industry is worth over $12trn and accounts for close to 13% of global GDP – the market size and demand is big. In the past year, the growing interest from investors was matched by a wave of start-ups aiming to capitalise on existing opportunities – tech companies looking to streamline processes and improve operational efficiency.
It is undeniable that leveraging technology can unlock value and a better use of existing resources. There is a greater understanding among key stakeholders across the value chain of the societal benefits innovation in the sector can bring.
As a venture capital firm, Round Hill Ventures sits in the middle of this ecosystem and helps to connect the dots in the process – with funds, expertise and a targeted network of contacts.
Are many investors looking to invest – and do you know what has been invested so far?
The amount of money poured into construction tech has increased greatly over the last decade. In the US alone, this amount surpassed $3.1bn in 2018 – an increase of more than 320% compared to the year before.
The statistics show North America as a market leader, but Europe is catching up. We've witnessed a new level of openness to innovation from traditional real estate/construction companies and large corporations, which are investing in new technologies, alongside venture capitalists.
As noted by KPMG, the construction and engineering industries are made up of three segments – innovators, followers and behind the curve. Although making up only a fifth, the innovative contractors and owners, who look to optimise performance through technology, are instrumental in driving the mentality shift change and the industry forward. The increase in corporate awareness with regard to the risk of inaction has been one of the drivers for the high amount of funds invested into construction tech.
We have also seen several acquisitions over the last few years and this trend will remain strong in 2020. For large software companies, it may be more time and cost-efficient than to develop the solution in-house. Last year, Autodesk paid $1.15bn to acquire two start-ups – BuildingConnected and PlanGrid. We have noted M&A movement from the start-up side – construction tech unicorn Procore bought three companies in 2019 and the expectation is for this trend to continue.
What areas specifically are investors interested in?
Construction technology is a broad sector with many sub-domains. The two largest categories within can be identified as construction and productivity platforms.
The use of drone technologies and spatial mapping has been on the rise – tools used for data collection and analysis, which help to conduct site surveys and build predictive models.
SenSat uses geospatial technology and artificial intelligence to create virtual representations of real-world locations for infrastructure projects. Its product Mapp allows offline industries – such as infrastructure – to interact with their workplaces digitally for the first time. Using AI and spatial technologies, Mapp enables automation of manual workflows and make better, more informed decisions based on real-world data.
The start-up can save an average of £8m per project by reducing measurement errors and speeding up the mapping process.
By being able to access remote or hard-to-get areas, drone technologies help improve worker safety in construction. The concept has moved further from testing feasibility to wider implementation. It is important for an industry standard to be discussed and a regulation framework to be put in place.
This relates to a broader trend, which I expect to be even stronger in 2020 – the need for cross-collaboration between the different players the built environment ecosystem. Corporations, investors, proptech start-ups and the public sector working together will foster purposeful innovation and a move towards a more sustainable built environment.
We are interested in the technologies, transforming how companies design, plan and execute construction projects. Autonomous, self-driving machinery and robotics are no longer viewed as futuristic concepts, but are increasingly being brought into the industry to automate labour-intensive, repetitive tasks. For example, using affordable onsite robots, Semblr reduces manual work by 90% – decreasing the overall time for project completion, as well as mitigating risks related to quality, costs and safety.
Investors also consider the wider societal and economic developments. The growing urbanisation, increased population growth and high house prices calls a more efficient way of planning and building 'buildings'. Modular or prefabricated housing can be one of the solutions, which even at design stage speeds up the process by up to 50%.
A platform such as Modulous reduces the time needed to meet a client's brief from months to minutes. Featuring a fully integrated supply chain, digitised procurement and logistics, the company is able to deliver its "kit of parts" worldwide, which can later be assembled in hours.
The construction industry accounts for up to 39% of the world's total carbon emissions – a big contributor to global warming. There is a growing demand for more environmentally sensitive solutions, which also relate to the sustainability of building materials.
A product such as Airlite, an innovative, toxic free paint technology, purifies the air and can reduce a building's cooling costs by up to 30%. Another innovative material solution, Physee, develops glass facades which can self-generate electricity, thus lowering energy consumption by up to 20%.
What start-up is seen as successful?
Success is a relative term – so is progress. Successful at raising funding or successful at solving an industry challenge? The growing demand for innovation enables early-stage construction tech start-ups to raise investment easier than ever before. Round Hill Ventures invests in late seed to series B companies – once the product market fit is found, regular customers established, and a market niche developed.
The nature of the traditional construction industry influences why many start-ups fail to meet these metrics. The contracting environment, long sales cycles, market fragmentation and slower pace in adoption of newer technologies are some of the barriers. We look at the founding team – it is good if founders can demonstrate an industry understanding and experience, as well as the scalability of their product or service.
Our fund's unique background (incubated within multinational real estate firm Round Hill Capital) allows us to facilitate the growth of our portfolio companies through close networks in local European geographies and facilitate 'sandbox' testing of their solutions.
What advice can you give a company looking for investment?
It is estimated that over $57 trillion globally should be spent on infrastructure in the next 10 years in line with the global GDP growth. There is a big opportunity for innovators. My advice touches upon the following:
Solve an actual problem in construction;
Focus on developing a scalable, easy to comprehend proposition;
Timing – being at the right place in the right time;
Collaborate with decision-makers on your journey to innovation.
Take our portfolio company Spacemaker as an example. The start-up uses machine learning to help users maximise the potential of a building site, leading to a reduction of up to a year in planning time and up to 25% of costs. It is a solution to a real industry problem that is scalable – and can be adapted to any set of regulatory guidelines from any local municipality.
Being at the right place at the right time is very important too. Co-innovation would be my final piece of advice.