Costain site engineers have been pioneering a digital mobile site diary, which provides a clear audit trail of work.
An important part of a site engineer's job is keeping track of progress and issues on site. Site Diary provides a way of recording information on site electronically and then seamlessly integrating this with other evidence such as photographs, location and weather information.
This provides a clear audit trail and improves the quality and detail of the information that can be recorded on site. It also provides a vital historic record in the case of any disputes that might arise.
Traditionally this is done by recording a daily diary on paper. Increasingly it is written up in electronic form but usually in the office at the end of the day based on recollection and handwritten notes that were taken on site. This is a time-consuming and error prone method that is hard to integrate with other evidence such as photographs. 
With the advent of digital cameras an additional problem with paper-based site diaries emerged. How can you link a written account to supporting evidence, especially when such evidence is electronic? Photographs can be an extremely valuable source of information, particularly in the case of disputes. However, proving when and where a photograph was taken and associating it with a particular entry in a site diary can be difficult, particularly if a lot of photographs are taken. 
Making the whole site diary process electronic is one way of addressing these problems. For this reason in 2012 Costain and COMIT got involved in the EU-funded MobiCloud project to develop a platform to support mobile applications that could capture and display data stored on cloud-based servers in near real-time.
Importantly, all of the information relating to the diary entries is stored in the same place – a secure cloud-based repository.
Information from other online sources can also be incorporated into the records. For example, the prevailing weather conditions are automatically linked to each entry courtesy of the Met Office online services. Engineers can also access entries that have been recorded by other engineers on the site.
In addition to the basic need for recording diary entries Site Diary also includes basic site management functions – such as the ability to record/track the plant and labour in use on site.
Implementation
Site Diary was initially deployed on site by key site engineers who were directly involved in specifying it. The developmental model adopted by the MobiCloud project was Agile, which involves frequent updates based on user feedback. 
By the end of the MobiCloud project Site Diary had been used on a number of Costain projects by several dozen site engineers and managers and had proved itself to be a useful tool. However, it still had some limitations and issues, particularly in terms of ease of use.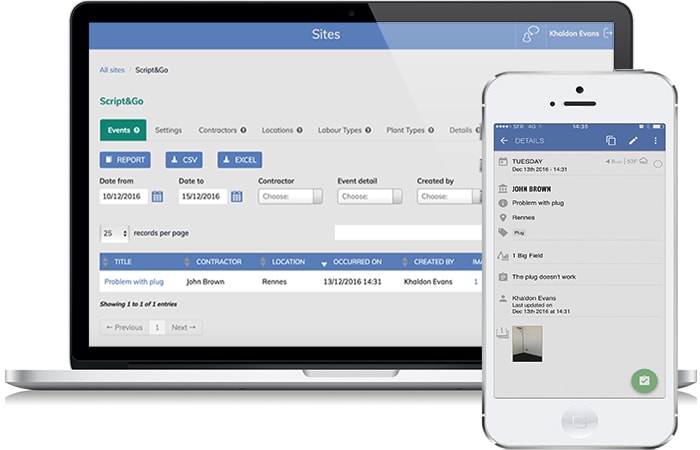 Script & Go has developed Site Diary further, both improving its user-friendliness and adding further functionality
The MobiCloud consortium dissolved at the end of the project in 2015. At that point Site Diary was the only commercially viable application to have come out of the project – a testament to the dedicated effort by Costain. For a time the head of the project, Appear Networks, continued to host Site Diary for Costain. Appear then sold its interest in Site Diary to software developer Script & Go in 2016.
Since then Script & Go has developed Site Diary further, both improving its user-friendliness and adding further functionality such as time sheets. It is now a mature Site Diary solution and is being used on sites across the world, including in the US, Australia and Malta. It is also being used in the UK by a number of companies other than Costain.
The original Site Diary was used on Apple devices, but the preferred operating system now is Android. Although Site Diary can be (and sometimes is) used on a mobile phone, engineers usually prefer the larger screen of a tablet computer. Various sized devices have been used but those which are small enough to fit into the large trouser pocket of standard PPE (about A5 size) are the most popular.
The tablets used are ordinary consumer-grade devices – although cases are used to provide some additional protection fromknocks and rain. The hardware is managed internally by the IT department at Costain but updates to the Site Diary application itself are automatic and managed by Script & Go.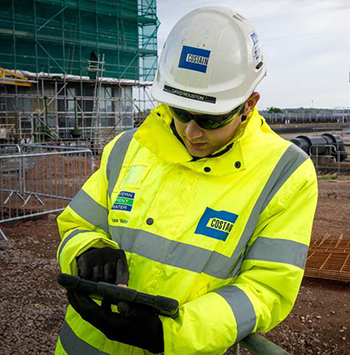 The web app is used to access Site Diary on a PC. The records on Site Diary can also be accessed via a web app from a PC.
The web app is also sometimes used by managers and by engineers to download data into excel format. This is most commonly done to print the records for use in meetings. Otherwise there is no paper involved in the process.
Managers still review completed records at intervals but this is mainly to help ensure that new engineers are familiar with the Site Diary process. Typically for the first month of using it engineer's entries will be checked on a regular basis to ensure they are sufficiently detailed. After that random checks are used as part of a quality assurance process.
As with all mobile devices used on site there are concerns about potential health and safety issues – particularly those due to the user of a mobile device becoming unaware of their surroundings. 
Different sites deal with this issue in different ways but the overall strategy of Costain is to treat mobile devices as another construction tool. All tool use is subject to Risk Assessments and Method Statements and those responsible for sites are required to put in place appropriate control measures to ensure safety.
Where deemed necessary this may involve creating "safe areas" outside of which certain operations (such as using a mobile device) are not permitted.
However, this can unnecessarily restrict the use of valuable tools like Site Diary and there has been a shift away from this approach. The use of mobile devices is still strictly controlled and only allowed for specific purposes, but with appropriate training and oversight they can be safely used more widely.
The primary benefits that Costain gets from using Site Diary are:
Engineers claim to save between one and two hours a day compared to paper-based methods;
Records are more accurate and detailed;
Time and location is recorded automatically;
Photographs are permanently linked with the relevant diary entries;
Diary entries are available almost instantly;
No information is "lost" over time. All data is stored securely in the cloud;
Accessing records and sharing information between team members is easier;
Finding relevant entries and information at a later date is quicker and more reliable;
There is less scope for argument about how contemporaneous the records are if they ever have to be relied on in court.
Site Diary is popular among site engineers at Costain and its use is rapidly spreading across the company.
Return on investment
As with most IT application that have multiple "soft" benefits (like quality and accuracy) it can be difficult to calculate accurate ROI periods. However, Site Diary appears to offer significant time savings of between 1 and 2 hours per day per engineer.
The cost saving from this saving in time is not simple to calculate accurately, since it also depends on the infrastructure necessary to support the use of Site Diary – such as the mobile devices being used, internal IT support, training etc. However, it does provide a rough guide to the likely ROI.
At the time of writing the salary of a site engineer typically starts at £22,000 and may rise to £55,000 or more with seniority and experience. However, there is a predominance of younger engineers working on site.
Taking £30,000 as a representative salary means that Site Diary would save between £250 and £500 per month per engineer (assuming that the time saved is used for productive work elsewhere).
Currently Site Diary is priced at £10.52 (€12) per month per user. Even allowing for the cost of a suitable mobile device and training, ROI is therefore likely to be less than four months.
To find out more about Site Diary visit: https://www.mobilesitediary.com