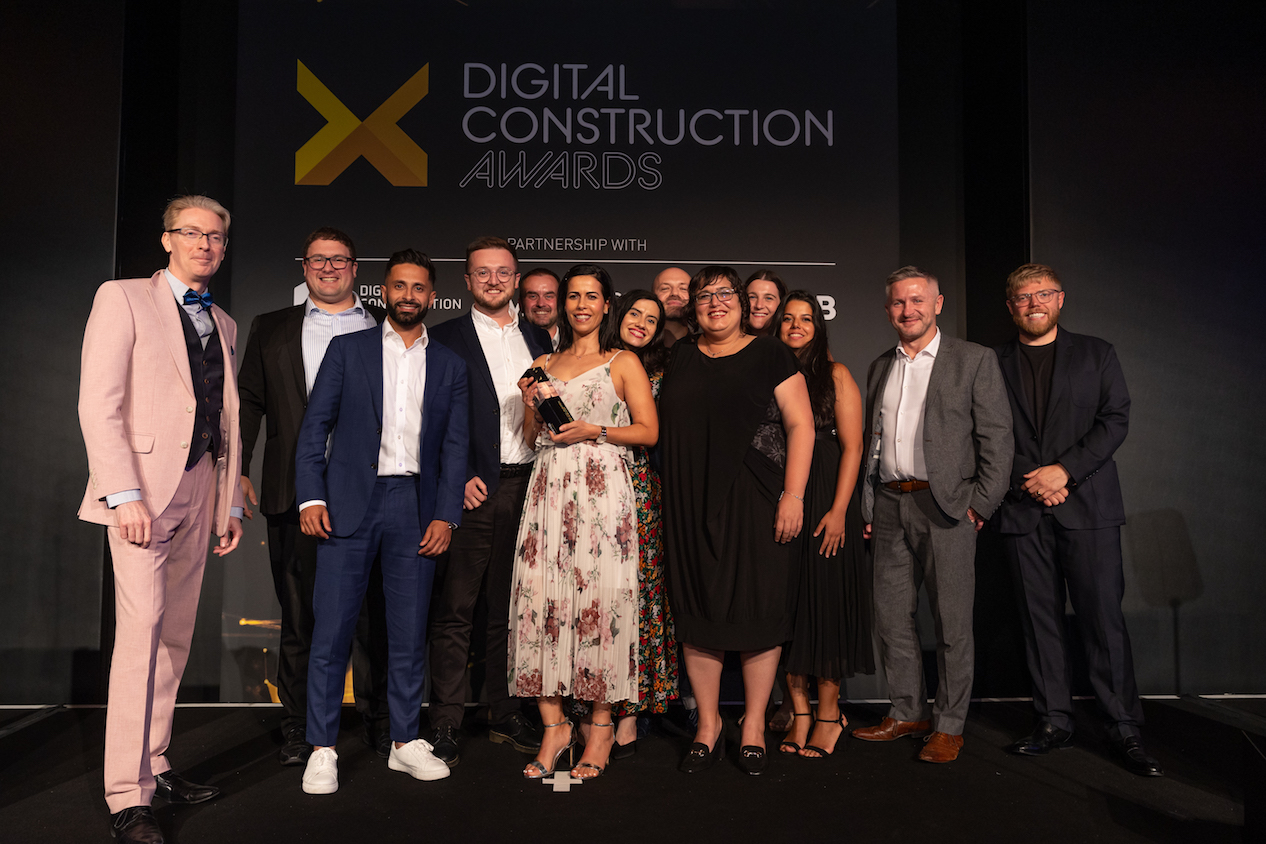 Laing O'Rourke, BDP and Solibri won the Digital Collaboration of the Year, sponsored by Bluebeam, at the Digital Construction Awards last night (4 July).
The construction of Everton FC's new stadium provided Laing O'Rourke, BDP and Solibri with the opportunity to implement a digital solution that has brought together previously fragmented parties.
Category sponsor
During Everton FC's New Stadium project, Laing O'Rourke, BDP and software provider Solibri developed a solution that has bridged the gap between design requirements and installation and given end-users genuinely useful data to maintain their building.
Not only that, the companies believe that their work also has the potential to foster greater collaboration throughout the construction industry.
Laing O'Rourke and BDP worked with Solibri to create an extension to existing technology (Solibri Office) that enhances fire safety.
The application, called Fire Stopping of Service Penetration Checks, has enhanced collaboration threefold:
it unifies responsible parties (e.g., fire engineers, designers and installers) by requiring the latter to adhere to manufacturer specifications;
it encourages ownership by reducing the level of resources required to implement a robust fire safety process; and
it continually provides end-users with safety information that is 100% validated to help safely operate the building.
'A great innovation by a tier one contractor, implementing changes that allowed staff of all levels to track, record and maintain key information. And a great example of how cross-discipline collaboration can achieve a solution that has the potential to benefit the whole industry. This is collaboration at its very best'
What the judges said
The Everton FC new stadium project team has used Solibri's digital solution to capture outcomes from early collaboration in the design process and translate them into installation instructions that subcontractors must adhere to.
Laing O'Rourke, BDP and Solibri are now exploring whether they can continue developing the technology and its application to create a free, industry-wide database that contains system information, such as product capabilities and constraints.
The companies believe that sharing this information has the potential for the industry to work together with the common goal of making buildings safer.
Ceren Evin Erkan, BIM manager at BDP, said: "This project was a first in the industry, we worked incredibly well together and shared everything."
Estefania Alves, lead digital engineer at Laing O'Rourke, added: "Ours was definitely the Digital Collaboration of the Year. We collaborated as a team who are delivering a project, but we always had in mind as well that we were delivering something special for the industry, a solution that could be applied across the sector and not just our project."
Baird Family Hospital and ANCHOR Centre Aberdeen | Graham Construction with NHS Grampian
Component tracking in complex supply chains: HMP Millsike | Kier with PCE, Ministry of Justice and Ynomia
Kidsgrove Station – managing risks from legacy mining | Arcadis and Esri UK with Galliford Try and Network Rail
M42 Junction 6 improvement scheme | Skanska
The People's Project – New Everton Football Stadium | Laing O'Rourke with BDP and Solibri
Water for Life Hampshire | Mott MacDonald with Southern Water, Stantec, Aecom, WSP and Arcadis