The Digital Construction Awards attracted more than 140 entries, 62 of which have been shortlisted. Here we detail the shortlist for the Digital Innovation in Productivity award.
The Digital Innovation in Productivity category, sponsored by Graitec, recognises the use of digitalisation, digital methodologies and/or technologies to enhance the productivity of construction workers on a project or projects.
Six entrants made the Digital Innovation in Productivity shortlist, including BAM, Taylor Woodrow, Laing O'Rourke, Kier and PCE.
Using hardhat-mounted 360-degree cameras, Buildots captures imaging of every detail of an ongoing project. The data is then analysed using AI models to transform visual data into accurate, actionable insights that are then compared with the project's designs, schedule and budget.
As they go about their usual work, project managers wear hardhat-mounted 360-degree cameras to capture every detail during daily site walkthroughs. The data is then uploaded to the Buildots platform and automatically analysed.
Buildots' entry highlighted a number of benefits, including the ability to forecast more accurately. For example, Wates was able to develop a report that gathered activity count and pace analysis data, displaying how long each onsite activity took on average. The report highlighted that one of the major subcontractors was taking significantly longer to complete their work than the other activities. Using the data in this report, planners were able to allocate timescales that are more relevant and realistic to specific contractors and activity types.
Other benefits include saving management time. One Buildots' client, Mace, identified a gap of 4,200 man-hours using automated reports to determine whether tasks had been completed. This empowered project managers to quickly take corrective actions and avoid further delays.
The data and analysis from Buildots can also help combat claims. Through the technology's stored captures, a client team was able to dive into the historic imagery and identify that the subcontractors' monetary claim was worth less than 20% of their initial quote, with the evidence to back it up, resulting in a significantly reduced pay-out, and a substantially shorter timeline to settle the claim.
HMP Millsike | PCE with Ynomia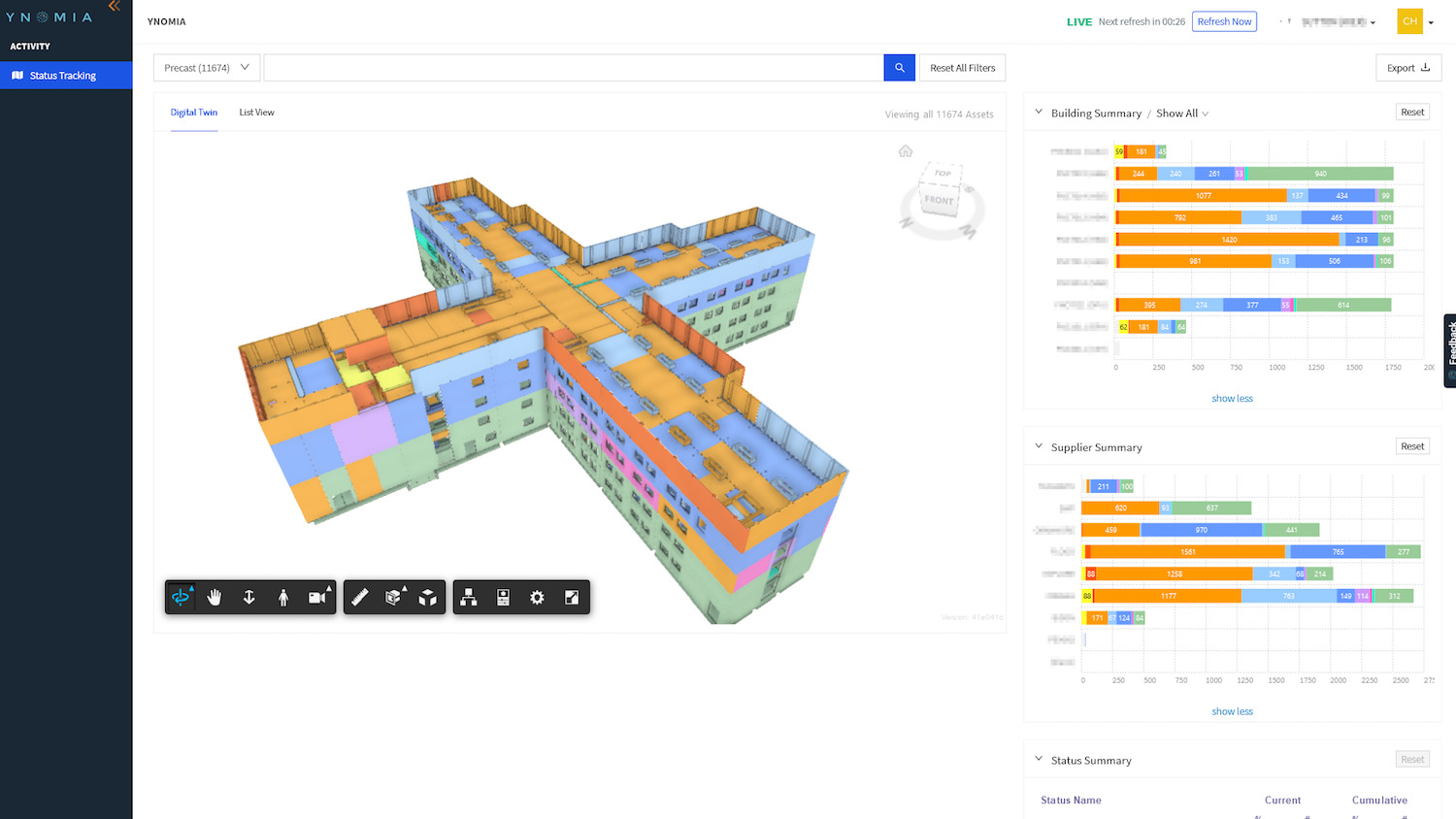 Superstructure and facade specialist PCE and Ynomia worked together to create a platform that integrates real-time design, manufacturing and construction data into a digital twin visualisation.
PCE needed to keep track of which DfMA components were installed in which locations, as well as tracking other stages, such as design. And it became increasingly necessary to find a system that could provide easy access to accurate data, while ensuring access is managed for the right people.
PCE discovered that each team involved in the process had their own existing manual capture processes, leading to a risk of user error and unnecessary delays. To address this, the specialist required a comprehensive tracking solution that would enable it to monitor the design, manufacturing, delivery, and installation of each component. The system would also need to allow for the consolidation of multiple data sources. It was essential to ensure that processes worked with current methods and not against them.
PCE construction managers were impressed with the real-time information the platform provided about loads leaving the factory, which in turn allowed for better management of site resources. They could make time-based decisions, and schedule breaks and other work more efficiently.
The Ynomia field app eliminated the need for delayed manual data entry, as the foreman could enter the information at the time of install, and it was instantly available for others to view. This streamlined the process and eliminated any chance of errors, making the data more accurate and reliable.
Enquiry process improvement | BAM with BidWork
BAM has revolutionised its estimating team by adopting BidWork, an AI-powered tool that can reduce enquiry process management time by 75%.
With BidWork, estimators can now scan tender documents, identify enquiry packages, check bills of quantities, and issue and monitor enquiries with ease. This gives estimators and supply partners more time to focus on finding better ways to deliver projects, ultimately resulting in higher-value and more successful projects.
The BAM team fully interrogated BidWork's system, initially by establishing the extent of the enquiry process by interviewing staff. A small group of BAM staff tested the software and were then interviewed again.
The results were then plotted and an average time per enquiry calculated. The results were clear. The time saved in managing the enquiry process was assessed at between 54% and 74% reduction by all four participants.
Furthermore, all participants enjoyed using the technology and wanted to continue to use it, while others who had not been involved were asking for access too.
Field-derived automated reporting | Taylor Woodrow
Taylor Woodrow's digital engineering team identified an opportunity to digitise a process that no software provider had a solution for at the time: namely to change the way it monitors progress on site.
This workflow was developed and deployed independently by the team, without any company partnerships.
Using structural concrete as the pilot, a steel package as an initial deployment and MEP as a developed offering, the team set out to digitise its then-current paper-based workflows that were outdated, unreliable and inefficient. The existing workflow would often see triple handling of data to get from site to reports.
The first point of data capture would be a note of which package elements were installed per day by subcontractors. The second data capture point was information provided by subcontractors needing to be checked, verified on site and marked up on construction drawings by section engineers/managers. The third data capture point involved project controllers inputting aggregated data into Microsoft Excel to fulfil project reporting needs, which needed to be constantly vetted to ensure information and project vital statistics were accurate and up to date.
The goal was simple: a digital process driven by a single input event, simple in execution on site, that could be carried out without incurring excess costs.
In-house technology was reviewed to establish what software could be redeployed to meet the challenge. The research proved fruitful as multiple current tools could be linked together.
Ultimately, Taylor Woodrow is looking at a potential time saving of 10.5 working hours per week, per work package tracked, for the root activity of tracking progress, accumulating to approximately 500 hours saved per work package per year. There are additional time savings in other commercial tasks.
The People's Project – New Everton Football Stadium | Laing O'Rourke with Trimble, Kashec and FAB Formwork and Reinforcement
During the delivery of Everton FC's new stadium, Laing O'Rourke identified an opportunity to revolutionise reinforcement design, removing paper from the process and replacing it with an intelligent, user-friendly, more certain 3D approach.
Specifically, the contractor's goals were:
improving the speed at which designs were marked up;
enhancing the accuracy of design mark-ups;
and helping people who were reviewing the design to understand it.
The R&D was carried out by the digital construction lead and a reinforcement fixer with 15 years' experience.
Trimble Connect was identified as the best solution and was tested with the reinforcement fixers.
Using Trimble Connect enabled:
a workflow that suited a full 3D reinforcement design review by the structural consultant Buro Happold;
a 3D model that was easily usable by the on-site steel fixers;
a model that required minor resources to prepare, detail and be fixable by the reinforcement detailers Kashec; and
a model that required minor changes to be understood and communicated with the workforce.
Laing O'Rourke was not simply a passive user of the software, developing it further.
Ultimate benefits include a 500% time saving on ordering reinforcement and 30% saving on fixing reinforcement.
Plymouth City Council's new crematorium The Park | Kier
Using drone surveying, point clouds, and data-driven earthworks quantification, Kier Construction optimised construction efficiency, accuracy, and sustainability on the Plymouth Crematorium for Plymouth City Council.
Drone surveying captured high-resolution aerial imagery, which was processed into detailed point clouds for 3D models. These models facilitated terrain analysis, obstacle identification, and efficient earthworks planning.
The drone surveying significantly accelerated the data collection process compared to traditional methods, allowing the project to start more quickly and adhere to strict deadlines. The increased accuracy and precision of the data reduced the need for rework and minimised disputes, ultimately leading to cost savings.
High-resolution cameras and LiDAR sensors mounted on the drones generated accurate and detailed 3D models of the site, enabling the construction team to make informed decisions during the design and construction phases. The data quality also minimised the risk of errors and inconsistencies, ensuring a higher-quality final product.
The integration of drone-generated data with BIM systems facilitated more efficient collaboration between architects, engineers, and contractors. Access to a comprehensive digital representation of the construction site improved communication, reduced the risk of misunderstandings, and streamlined decision-making among stakeholders.
Using drones reduced the need for manual labour in hazardous surveying conditions, enhancing on-site safety. Additionally, the technology contributed to the project's sustainability goals by minimising rework, waste, and the environmental impact of construction activities.
The winners of the Digital Innovation in Productivity category, alongside the victors of the other 11 categories, will be revealed at the awards dinner on 4 July at the Brewery in London.
The Digital Construction Awards celebrate best practice and reward innovation in the application of BIM and digital technology in the built environment sector.
The awards are run by Digital Construction Week, the Chartered Institute of Building, and Construction Management and BIMplus.
Awards sponsors include the Association for Project Safety, BIMcollab, Bluebeam, Everwarm, Graitec, nima, Procore, Revizto and Sir Robert McAlpine.