Skanska's 5D+ BIM tool to achieve net-zero carbon in its projects and supply chain by 2045 won the Delivering Net Zero with Digital Innovation category – sponsored by Sir Robert McAlpine – at the Digital Construction Awards last night (4 July).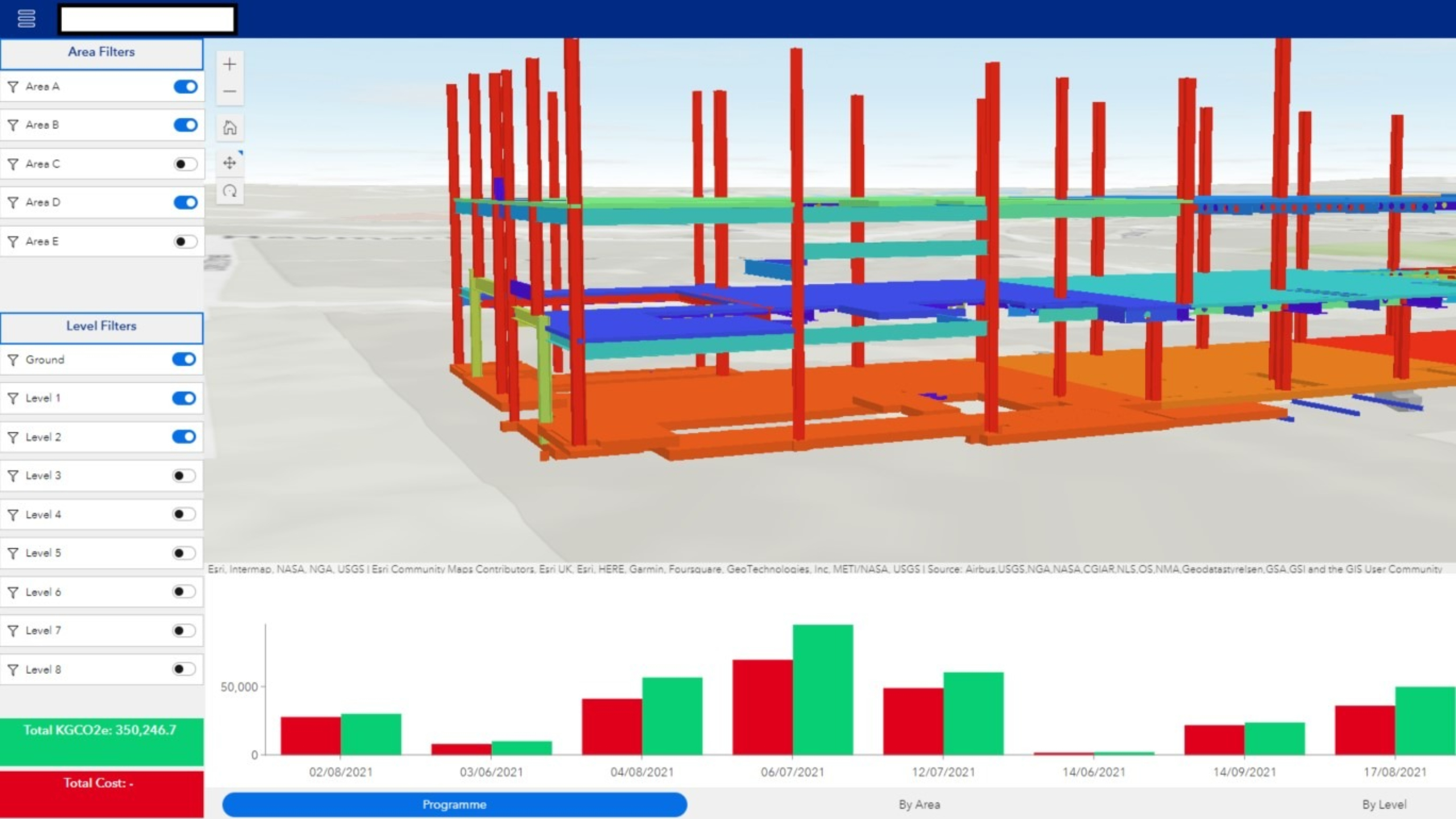 Skanska has developed an innovative digital process that integrates a variety of cutting-edge digital solutions to help it achieve net-zero carbon in its projects as well as its supply chain by 2045.
Category sponsor
An online platform for creating and sharing relational databases collects and calculates carbon factor information, which, through automatic pipelines, is integrated with Skanska's 3D models. This enriches the existing 3D models with carbon data, enabling the company to interpret its project's 5D+ model as a single source of truth and generate a structured database that can be used for data analytics.
"The use of programming and automation, reuse of data and building up layered knowledge of carbon information within typical construction processes and construction manufacturing processes is a real achievement. A good demonstration of how data is knowledge and can drive core decision-making, especially in the drive to net zero."
What the judges said
The outputs of the 5D+ BIM process has helped Skanska to increase the efficiency of modern methods of construction to reduce carbon in projects by up to 17%. It also helps the company to keep track of a project's carbon emissions based on its design programme and cost. It also helps Skanska to build up its data foundations to enable the use of artificial intelligence and machine learning to advise clients on carbon reduction decision-making processes in future projects.
The process has been so successful that British Land approached Skanska to ask if it could publicly release its algorithm so the developer can use it for its projects.
Another of the process's achievements is the development of a 5D+ BIM-led structured database around steelwork.
Skanska UK's Goulielmos Floros, graduate of digital solutions and data specialist, and estimator Daniel Shaw said on receiving the award: "What was unique about our project was the strategy: we used our in-house knowledge to create an in-house tool utilising all of Skanska's intelligence and expertise to create a system that can help the industry become net zero."
AI-based embodied carbon calculator | Winvic
Digital twin modelling for climate-resilient housing | IES
DAISY: early-stage multi-objective optimisation using artificial intelligence to reduce carbon when it matters most | WSP
Skanska's transformational journey to net zero through redefining the 5D+ BIM dimension | Skanska
Solibri Inside | Nemetschek Group (Solibri, ALLPLAN, Graphisoft and Vectorworks)
Transport & logistics | EPD Insulation Group