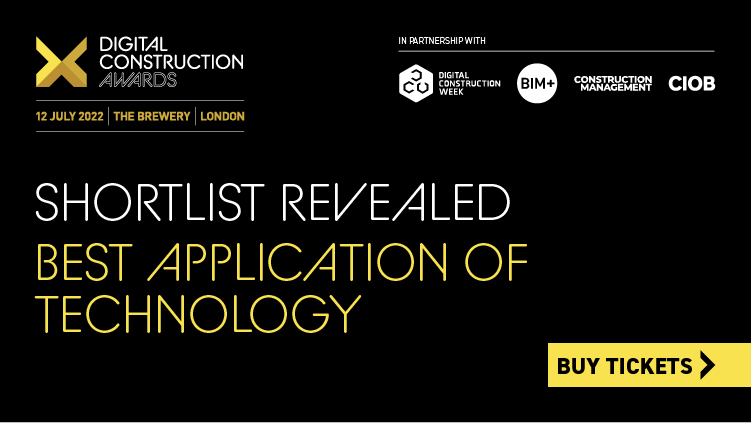 The Digital Construction Awards attracted more than 120 entries, 63 of which have been shortlisted. Here, we detail the shortlist for Best Application of Technology.
This category recognises the application of a specific technology or process that has changed the way businesses work or offer value to clients. Six entries made the shortlist.
ARC – automated cable routing management system | Bryden Wood with Transport for London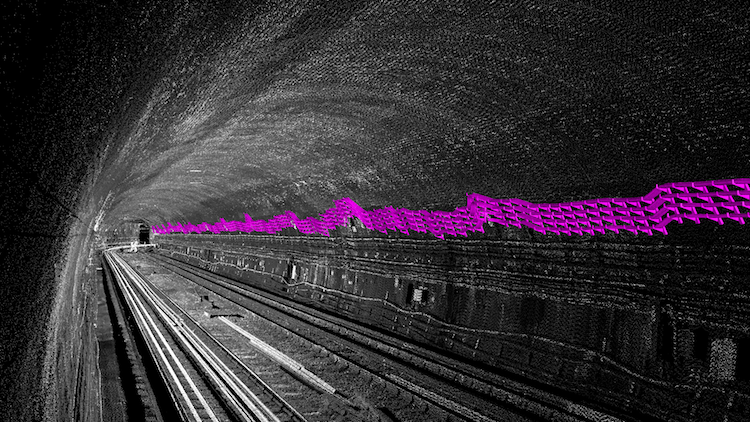 Upgrading cabling in London Underground tunnels used to be time-consuming and labour-intensive. Bryden Wood, working with Transport for London (TfL), has developed ARC: data-driven design automation technology for underground signal upgrades that makes cable routing faster, safer and smarter.
The ARC process starts with collation of as many input variables as possible to establish machine-readable rules. Then comes a point cloud survey of the tunnel, which is analysed. The rules then recommend the optimal routing of cables. ARC also outputs 3D models offering various options for cable installation.
Bryden Wood and TfL successfully tested the process on sections of tunnel, before the software was handed over to TfL.
Cable routing design typically takes months or even years. Results from ARC's tests show that once the point cloud survey is complete, TfL can provide design outputs in less than two days. ARC also reduces network disruption and safety risks for the workforce.
Digital progress tracking with automated reporting | Taylor Woodrow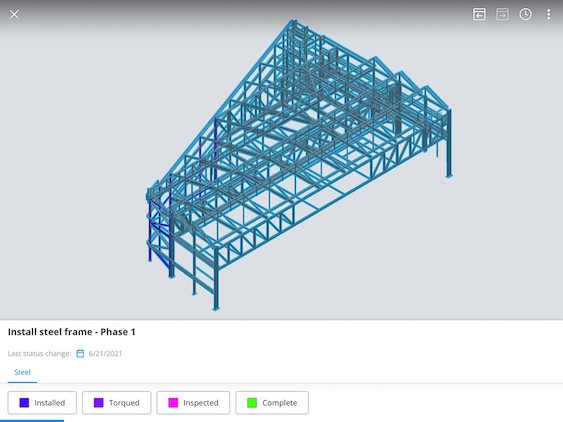 Taylor Woodrow set out to change the way it monitors project progress on EcoPark South, part of North London Waste Authority's £1.2bn waste management hub in Edmonton.
The contractor's existing paper-based workflows would often see triple handling of data from site to office, and the goal was to digitise this process, using the steel frame construction as a pilot.
The project team assigned tablets to site operatives, who recorded the status of components from the digital model in relation to the construction progress, for example, 'installed', 'tested', or 'awaiting inspection'. Each update automatically synced via the cloud and allowed project management to check the status via a Power BI dashboard. This process also updated the model, allowing other project stakeholders to view live progress in Synchro 4D Pro.
The new workflow has eliminated the risk of inaccurate capture of data and reporting and slashed the time taken to collate, assess and report project progress.
It will be implemented across the Taylor Woodrow business later this year.
Improving the operational performance of higher and further education buildings | Integrated Environmental Solutions with the University of Edinburgh and Schneider Electric
The University of Edinburgh wanted to improve its existing buildings to lower energy use, carbon, and improve indoor environmental quality (IEQ). The university had only standard data available from meter readings/fuel bills and therefore was unable to produce an asset that immediately represented how their building performed in reality.
The university's buildings are complex assets and required a digital model to accurately represent them. Integrated Environmental Solutions (IES) developed a digital twin that would identify operational savings across its estate.
The IES Operational digital twin application centralises any time-series data from different buildings and energy management systems, utility portals, IoT sensors and historic files in one platform.
This, alongside a dynamic simulation modelling tool, enabled the team to collate recorded data and perform a model calibration exercise to create a true representation of the building's performance.
The modelling quantified the performance of planned building design measures, predicting that once installed these will successfully lower carbon by as much as 65%.
Royal Free London NHS Capital Projects PMO reporting tool | Royal Free London Property Services, in conjunction with Royal Free London NHS Foundation Trust and Turner & Townsend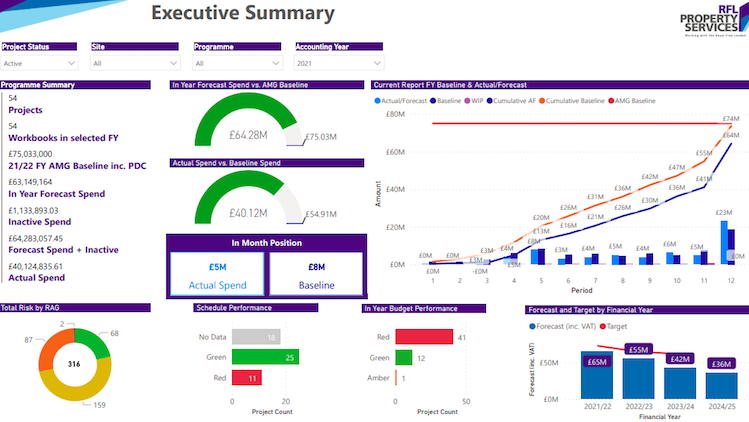 The Royal Free Hospital in London manages £70m of capital and backlog maintenance projects each year, across 70 sites.
Each team worked in silos using different project reporting tools, and there was no automated way to pull project data into one place to see the overall programme position on cost, schedule, risk and planned vs actual spend. Systems relied on manual entry and presented scope for human error.
The Royal Free decided to develop a programme management office (PMO) reporting tool to manage its capital programme: automated and standardised across all teams, easy for staff to use and versatile enough to allow presentation of data from project team level up to the chief executive.
The Royal Free partnered with Turner & Townsend to select the most appropriate technology for the reporting tool. They decided to use Microsoft Excel to develop a workbook as the basis of a monthly project manager's report and Microsoft Power Bi Desktop to transform the data from the Excel workbooks into visual reports.
The automation with Trust finance systems means reports can be turned around in minutes, saving eight hours per week, every month across 25 members of staff, which equates to more than £120,000 per year.
Social Value Digital Hub | Vinci Construction UK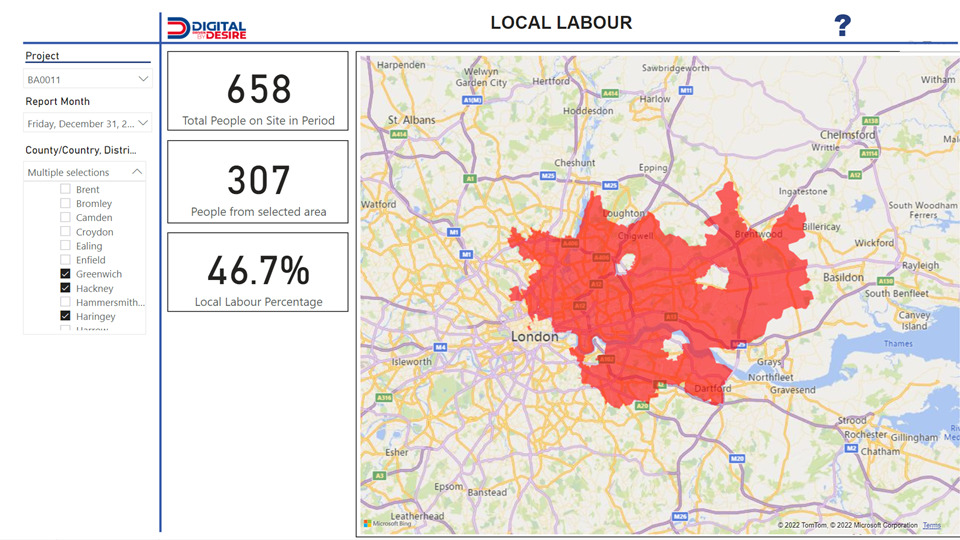 The amount of data and resource required in capturing and reporting social value was growing exponentially for Vinci. Additionally, the approach to delivering and reporting SV varied across projects, leading to duplication of effort and the inability to report and share best practices, with the risk of inaccuracies.
Vinci needed a way of recording and reporting the social value work on its projects in an easy and consistent manner – one that didn't involve people manually uploading existing data into a new system or spreadsheet.
The solution saw Vinci build its own system, the Social Value Digital Hub using Power BI, with more than 30 connections to 10 existing business tools. It is hosted in a Power BI service app that also contains other business reports, so Vinci staff can consume everything they need in one place.
The hub contains simple 'slicers' as well as more innovative visual county and borough 'slicers' to quickly provide whatever definition of 'local' is required by Vinci's clients. All data is pulled from existing sources.
For maximum impact, Vinci trained 80% of its staff on the hub in a fortnight.
Thanks to the hub, Vinci can accurately demonstrate that it has positively impacted 900 people through SV activities, provided 35 work placements, created 245 employment opportunities and 219 apprentice placements, all the while saving more than £140,000 in time alone.
The Living Lab | Ethos Engineering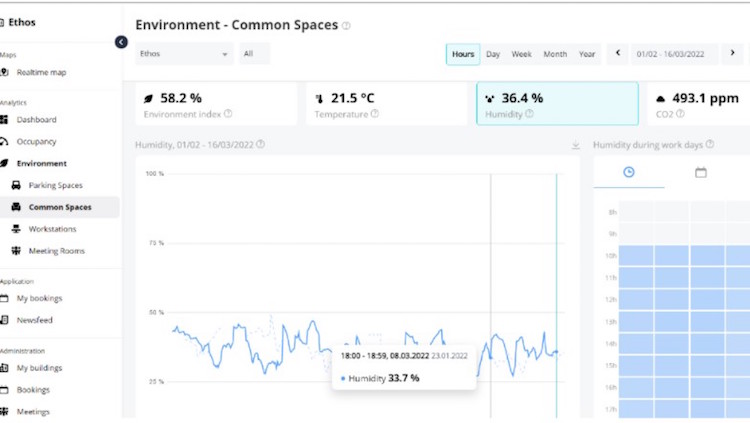 Ethos Engineering has harnessed the power of digital technology to improve the performance of the MEP building systems within its office, helping to improve its sustainability and wellness capabilities.
Ethos has devised a system of smart building sensors that integrate with an online platform. It allows continuous year-round monitoring of data, including building temperature and humidity, as well as CO2 levels.
The data-driven Internet of Things (IoT) engineering project, called The Living Lab, aims to help clients manage their buildings and enhance the occupants' wellbeing.
After collecting data within its office for several months, Ethos found from its air quality data that total volatile organic compound levels spiked during cleaning hours. To reduce the levels, Ethos changed cleaning products and allocated cleaning times according to occupation density.
Ethos is currently undergoing an assessment to achieve the WELL performance rating, a new certification recognising the real-time monitoring of buildings.
The winners of the Best Application of Technology category, alongside the victors of the other 11 categories, will be revealed at the awards dinner on 12 July at the Brewery in London.
The Digital Construction Awards celebrate best practice and reward innovation in the application of BIM and digital technology in the built environment sector.
The awards are run by Digital Construction Week, the Chartered Institute of Building, and media titles Construction Management and BIMplus.
Awards sponsors include Revizto, Bluebeam, Procore, Autodesk, Solibri and the Association for Project Safety.