The Digital Construction Awards attracted more than 120 entries, 63 of which have been shortlisted. Here, we detail the Digital Excellence in a Construction Business shortlist.
This category, sponsored by Autodesk Construction Cloud, recognises a business that has transformed, elevated, or demonstrated excellence in the way they work through the adoption of digital processes or technologies. Six entries made the shortlist.
AKT II software ecosystem 'Re.AKT' | AKT II
Until now, a core challenge within architecture, engineering and construction has been that each discipline has traditionally developed their design in isolation, without sight of everyone else's contributions.
Re.AKT breaks out of this traditional, 'siloed' approach, with the introduction of a centralised 'hybrid' workflow. The product of ten years of development, Re.AKT has been produced in-house by AKT II's 'p.art' research team. The team comprises software developers (including front- and back-end developers, coders, and database specialists) together with structural engineers, architects, and computational designers.
The system revolves around a central, translative environment that provides a live and automated exchange of 3D design information between the various articulated platforms in real-time.
Re.AKT has already been applied to multiple high-profile projects around the world, including the Marshall Building for the London School of Economics. Here it was used to optimise the initial competition and design stages and to identify the best architectural and programmatic solution. It was also used on the Google Headquarters in London, to iterate and verify the superstructure design.
BIM360 Escape the hospital | Hoare Lea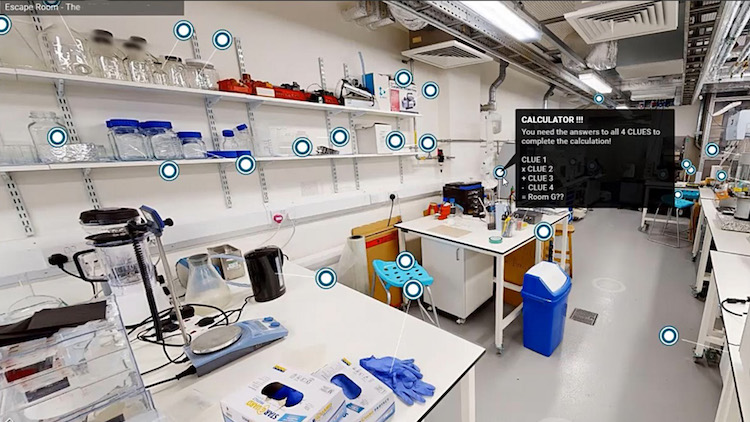 After its people reported feeling a sense of disconnection amid the pandemic, Hoare Lea devised remote BIM 360 training with a social element. Exploring social options led it to the idea of virtual escape rooms to connect its people at the same time as keeping on top of their upskilling and development.
The company used an online whiteboard called Miro to plan the exercise, then made a BIM 360 model of the 'room' to escape from. Clues were hidden in issues, linked videos, Matterport models, family data in Kinship and icons hidden in model revisions.
Creation of the training programme took just one month. Twelve teams played across three offices, giving the programme an average score of 4.33 out of 5. Hoare Lea is now looking at where gamified approaches can support other training programmes.
Digital Driven by Desire | Vinci Construction UK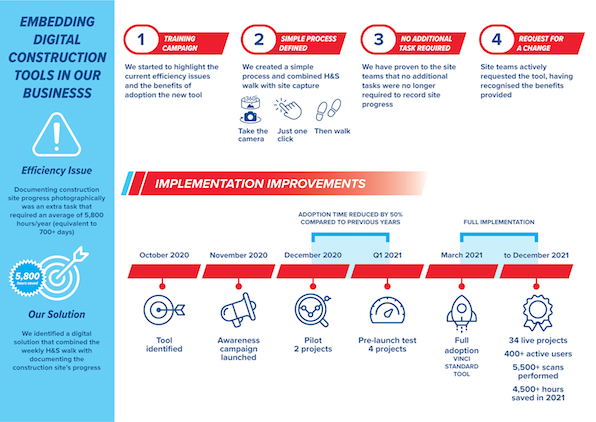 Vinci decided that simply introducing new technologies to its projects and businesses will not solve the industry's digital transformation and innovation problems. So it has focused on building a cultural shift to allow its projects to implement digital solutions that increase productivity and efficiency.
Its Digital Driven by Desire programme recognises that a digital transformation process will be effective only when every understands the need for change.
The programme operates around five key principles: Make it Personal; Keep it Simple; Make it Better; Make it Connected; and Make it Last.
Since its introduction in March 2021, the strategy has seen digital training increase by 60%, supporting adoption of technologies and hastening acceptance.
The time taken to adopt a new technology has also halved. Vinci is now sharing its strategy's concept and five main principles with the wider industry, in the hope that construction as a whole will embrace digital transformation.
SCS Innovation – Leaving a Legacy | Skanska Costain Strabag JV working with HS2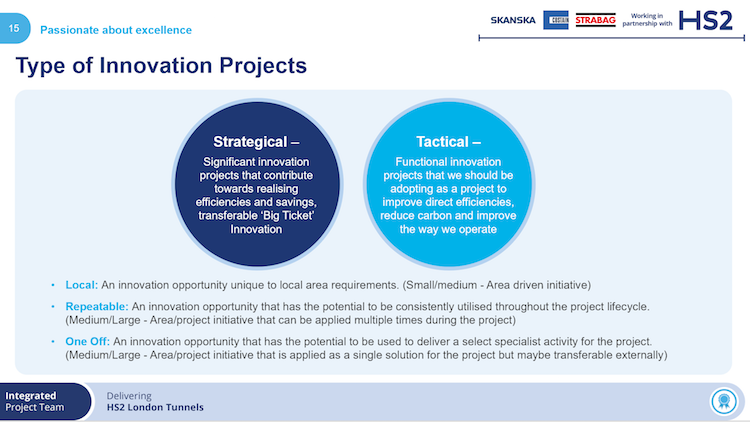 The Skanska Costain Strabag (SCS) joint venture is delivering the southern lots of the main works HS2 project. With HS2's support, SCS decided to dedicate resource and digital technology to managing innovation on the project.
SCS developed the approach from the ground up to ensure it evaluated all new ideas to determine strategic fit and the potentials savings. Structured data behind each innovation project allowed it to prioritise significant projects and manage expectations on returns.
It implemented a digital platform for collecting new ideas and sharing targeted innovation challenges. It also created an online form so to start collecting data on innovation projects at the earliest stage and assign a project sponsor.
It was launched with the construction teams by running an innovation week, providing daily challenges to collect in ideas and encourage teams to stop and think what they could do differently.
Achieving the world's first BSi Kitemark for Innovation confirmed SCS's belief that the programme is a step-change in how construction projects manage innovation. As a project, SCS has been able to unlock the highest proportion of client innovation funding of all contractors working for on HS2.
Skanska GeoBIM: The Geospatial Digital Twin for Infrastructure | Skanska with Mott MacDonald and National Highways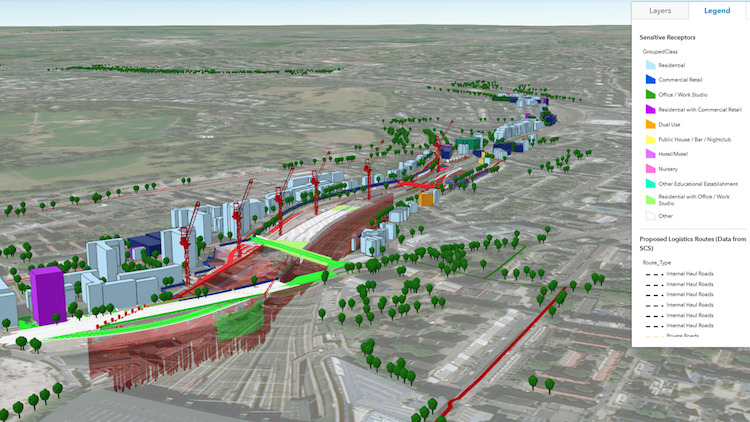 As the UK moves into the digital revolution of requiring a National Digital Twin, Skanska has recognised the need to deliver project digital twins efficiently and effectively.
But within transport infrastructure, Skanska faces challenges to enable the digital twin, including when it comes to interoperability and connecting data. The UK information mandate and the Geospatial Strategy aim to overcome these challenges, with Geographic Information Science (GIS) and BIM being two promising data sources to realise a digital twin. However, GIS and BIM are not natively interoperable at a data, process or systems level.
As a result, Skanska created GeoBIM, a format- and software-agnostic, novel, geospatial solution that integrates GIS and BIM to enable the geospatial digital twin for infrastructure projects.
It is now a fully deployed solution across road and rail mega-projects within Skanska Infrastructure and has reduced the time spent finding the single source of truth by 99%. Among other benefits, it has also generated a cost saving of approximately £100,000 per year based on 12-plus file formats that Skanska GeoBIM brings together agnostically.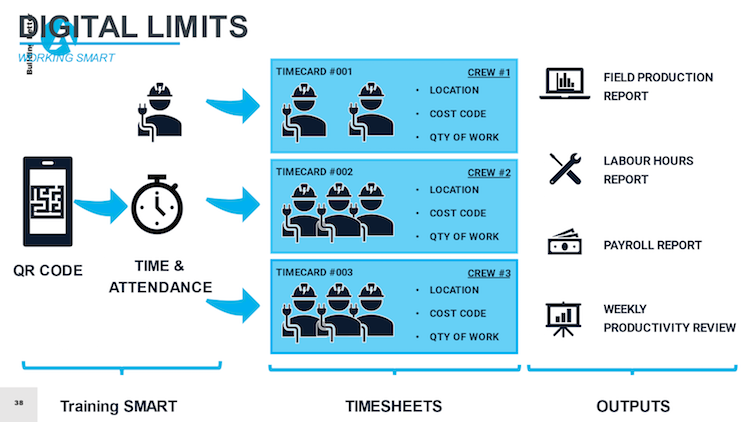 Dublin-based construction firm Ardmac started its journey to adopt Lean, BIM and other digital technologies to help streamline workflows and improve productivity. However, it struggled to identify innovations and platforms that would drive the organisation forward. After some failed projects and initiatives, it developed its Working Smart digital transformation and innovation programme.
The company aims for technology and innovation to deliver three simple goals for the organisation: "Empower Our People", "Drive Performance" and "Delight Our Customers". Any new technologies or processes have to relate back to at least one of those three goals.
Three recent initiatives aimed at contributing to digital excellence at the company include the Ardmac Smart Training Platform, which delivers consistent digital training to all new staff regardless of location. Meanwhile, its 'Digital Limits' scheme captures worker time and attendance data digitally across all sites.
And over the last 12 months, it has developed digital scorecards which allow it to measure each project consistently and rank projects against each other.
The winners of the Digital Excellence in a Construction Business category, alongside the victors of the other 11 categories, will be revealed at the awards dinner on 12 July at the Brewery in London.
The Digital Construction Awards celebrate best practice and reward innovation in the application of BIM and digital technology in the built environment sector.
The awards are run by Digital Construction Week, the Chartered Institute of Building, and media titles Construction Management and BIMplus.
Awards sponsors include Revizto, Bluebeam, Procore, Autodesk, Solibri and the Association for Project Safety.