The Digital Construction Awards attracted more than 120 entries, 63 of which have been shortlisted. Here, we detail the shortlist for Digital Excellence In A Construction SME.
This category recognises an SME that has transformed, elevated, or demonstrated excellence in the way they work through the adoption of digital processes or technologies. Six entries made the shortlist:
With 15 staff based in Manchester, BIMBox is a digital construction consultancy. Over the last 12 months, the firm has worked across more than 50 projects, leading information management, BIM, strategic support, modelling and BIM lifeycyle activities.
It has worked on a diverse series of projects, including A3 New Bailey in Salford for Bowmer+Kirkland, Cefn Caeson Comprehensive School for Morgan Sindall, Queen Elizabeth Hospital King's Lynn endoscopy facility for MTX, and Meridian Water Station in London for VolkerFitzpatrick. 
A key skill at BIMBox has been taking the complex requirements of the ISO and interpreting them into a streamlined, practical toolkit that can be easily adopted by its clients, enhancing digital transformation.
BIMBox has taken numerous organisations through the process of achieving ISO 19650 certification, including Morgan Sindall, Eric Wright Construction, VolkerFitzpatrick, Gilling Dod Architects, Lisburn & Castlereagh City Council and, most recently, SES Engineering Services and Prism Offsite Manufacturing.
This was supported by the development of a bespoke, internal-wide training programme to ensure all of our staff, including new starters.
To complete the circle, BIMBox became one of the first BIM consultancies to achieve ISO 19650 certification from the BSI in March 2022.
Project controls consultancy Cooper Moss Rutland (CMR) adopted a 4D approach to help its clients with planning and scheduling, in particular:
to increase the visibility of risk due to clashes, site logistics, temporary works, construction methodology and safety;
to increase stakeholder buy-in by increasing the ease with which they can understand the schedule; and
to maintain clear evidence of site progress throughout the project lifecycle.
4D implementation began with the planning team engaging with project management, construction logistics, BIM, architectural, digital teams and software vendors to map out technical and schedule requirements to feed into the implementation plan.
The latter addressed concerns about cyber security and hardware costs.
4D models were developed using Synchro, Trimble Sketchup, Navisworks and Adobe After Effects. CMR staff undertook significant training to become proficient with these tools.
To maintain evidence of site progress, personnel walk around the site capturing clear images from a 360° camera. Images are then stitched using AI/machine learning for bi-weekly photo reports, identifying blockers and raising early warnings, and substantiating claims with time-stamped images.
MachineMax with HS2 and Align JV
Managing mixed fleets can become complex and result in inefficiencies – and on mega-projects only more so: the fleet is often spread across several operations, sourced from different plant hire companies, tends to be a mix of different manufacturers, ages, and models, and could have third parties involved in maintaining and operating the machines.
Given HS2's green commitments, it turned to SME MachineMax (part of its Innovation Accelerator programme) to provide the consolidated view of the fleet's data via an agnostic system.
MachineMax was deployed on the South Portal project being built by the Align JV of Bouygues Travaux Publics, a subsidiary of Bouygues Construction, Sir Robert McAlpine, and VolkerFitzpatrick.
MachineMax can track an entire fleet of owned, rented, and contracted machinery – regardless of OEM, model, ownership or location. By using any available existing data source or smart sensors when required, together with next-generation analytics, a reduction in emissions has been achieved by MachineMax and Align.
Patterns in operational inefficiencies were identified, including: too much equipment onsite resulting in underutilisation, incorrect equipment used for the job resulting in lower productivity, ineffective site layout resulting in idling and excessive travelling, and sub-optimal operator behaviour. 
Nuspan Flooring has significantly increased the use of Design for Manufacture and Assembly (DfMA) processes within digital design, because feedback showed that customers found it challenging to blend the Nuspan system with modular superstructures.
The business took this feedback on board and increased its use of DfMA, so it now offers fixing areas, adapts the profiles of its slabs, and offers cantilevers for the fixing requirements of the follow-on trades. 
To give customers greater control and visibility over their orders, Nuspan has invested in a digital project management system. This was chosen because the business recognised that its offsite production processes mean longer lead times than traditional construction products. The system gives customers real-time visibility of their orders and where they sit within the production pipeline through a colour-coded guide. 
The system is not just for customers: it is used by Nuspan's design, technical, production, logistics, construction and sales teams.
Recently, Nuspan has upgraded this digital system further by adding key contract stages, allowing customers to track the status of their whole project.
Nuspan has also addressed training and the language barrier, creating a digital video as part of an installation training package, showing its customers how to engage and train their teams in a visual, digital way that overcomes language barriers.
Royal Free London NHS Capital Projects PMO reporting tool | Royal Free London Property Services, in conjunction with Royal Free London NHS Foundation Trust and Turner & Townsend
Royal Free London Property Services is a wholly-owned subsidiary of the Royal Free London NHS Trust and employs around 200 staff, and is accountable for delivering £70m of capital and backlog maintenance projects each year across the Royal Free London's 70 sites. 
Each team worked in silos using different project reporting tools, and there was no automated way to pull project data into one place to see the overall programme position on cost, schedule, risk and planned versus actual spend. Systems relied on manual entry and presented scope for human error.
The Royal Free decided to develop a programme management office (PMO) reporting tool to manage its capital programme: automated and standardised across all teams, easy for staff to use and versatile enough to allow presentation of data from project team level up to the chief executive.
The Royal Free partnered with Turner & Townsend to select the most appropriate technology for the reporting tool. They decided to use Microsoft Excel to develop a workbook as the basis of a monthly project manager's report and Microsoft Power Bi Desktop to transform the data from the Excel workbooks into visual reports.
The automation with Trust finance systems means reports can be turned around in minutes, saving eight hours per week, every month across 25 members of staff, which equates to more than £120,000 a year.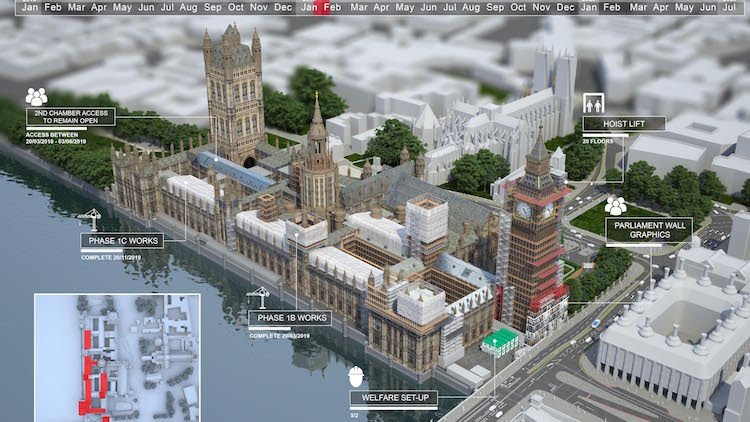 Visual 5D was established with the aim of supporting building contractors with an effective communication platform that provides detailed 3D animations of the construction schedule and site logistics for presentation during the tendering stages of a project.
Visual 5D has developed a process that uses gaming technology combined with its own software that links the start and completion dates from the programme schedule to an animated 3D model. This combination results in a "movie-style" animation that combines the best of both worlds: high-quality visual graphics with technical data that accurately reflects the construction schedule.
To develop the system, Visual 5D had to undertake a training process to bridge the two worlds from which modellers typically come:
construction, experienced with BIM software such a Revit, Naviswork and Synchro, but with no experience of creative or gaming software; and
the gaming industry, with experience of Cinema 4D or Lumion, but no experience in construction or of construction software.
In 2021/22, Visual 5D contributed to 13 winning construction bids with a total value of £3.8bn.
The winners of the Digital Excellence In A Construction SME category, alongside the victors of the other 11 categories, will be revealed at the awards dinner on 12 July at the Brewery in London.
The Digital Construction Awards celebrate best practice and reward innovation in the application of BIM and digital technology in the built environment sector.
The awards are run by Digital Construction Week, the Chartered Institute of Building, and media titles Construction Management and BIMplus.
Awards sponsors include Revizto, Bluebeam, Procore, Autodesk, Solibri and the Association for Project Safety.