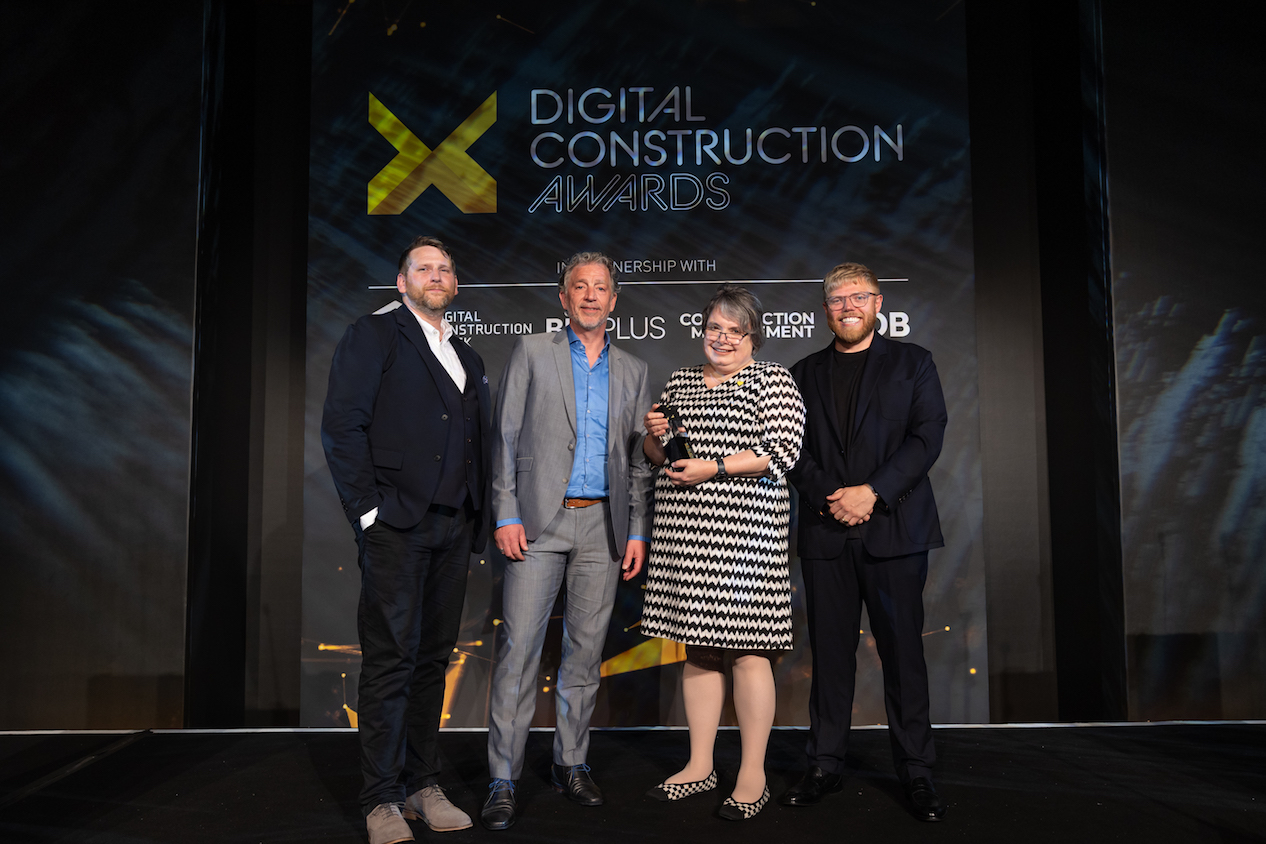 Su Butcher, programme manager at BIM for Housing Associations, project manager of the plain language guide editorial board at the Institution of Engineering and Technology, and a great many other roles, is the deserving recipient of the Digital Construction Champion of the Year accolade, sponsored by BIMcollab.
Su Butcher received her trophy at the Digital Construction Awards last night (4 July). She champions digital to non-advocates. In doing so, she challenges advocates to practice genuine interoperability and collaboration and to look outside the sector.
Category sponsor
Su mediates between manufacturers, built environment professionals and technology specialists with plain language, constant listening and questioning. She facilitates productive and inclusive conversations.
She has facilitated various initiatives as author, instigator or key participant:
A Fresh Way Forward for Product Data: State of the Nation for the UK BIM Alliance in 2018;
Digitisation for construction product manufacturers – a plain language guide for the Institution of Engineering and Technology in 2021;
BIM for Housing Associations Toolkit in 2021 and 2022; and
the Apollo Protocol white paper and Apollo Forum events this year and last year.
The shocking disclosures of the Grenfell tragedy showed it is critical for product data to travel effectively through construction to operations. In December 2017, Su voiced this concern to Dr Anne Kemp OBE, who persuaded her to chair a working group to write A Fresh Way Forward, describing the problem and advocating for change.
Taking BIM to housing associations
"She continues to push for better communication and to ask the difficult questions: Why isn't change happening? What can we do about it?"
What the judges said
Su was approached by Jack Ostrofsky (then at Genesis Housing Association), and they established BIM for Housing Associations (BIM4HAs), dedicated to educating the sector in effective information management.
The BIM4HAs Toolkit, which adapts the UK BIM Framework, has been downloaded more than 1,600 times. The community, numbering 400-plus members and 130-plus housing associations and local authorities, is collaborating to meet the requirements of the Building Safety Act, all facilitated by Su.
Following the work on product data, she was approached to write a plain language guide (PLG) to help manufacturers digitise. Digitisation, digitalisation and digital transformation are confusing terms, which many manufacturers do not understand, and they don't provide the right data to the supply chain. The PLG sets out the importance of structured data, the benefits of digitisation and a step-by-step implementation process, alongside independent advice on avoiding poor investment decisions.
Enabling cross-sector digital twins
The latest initiative is the Apollo Protocol where Su applies her communication skills to the challenge of cross-sector digital twins. Digital twin advocates in different sectors use different languages and have different priorities.
The culmination of this work has been an Innovate UK-funded series of eight collaborative events, which Sue and her colleagues devised to help technology, built environment and manufacturing specialists externalise their ideas and foster productive conversations. She is now writing the open-source operating principles and methodology for these popular forums.
She continues to push for better communication and to ask the difficult questions: Why isn't change happening? What can we do about it?
Sue said: "Collaboration in the industry sector is essential. It's about looking at the whole information journey throughout the construction cycle and for this digitalisation is very important.
"It's about ensuring that manufacturers provide product information in the supply chain to the contractors and asset managers. This is not just about buzzwords like the 'golden thread': it's about having protocols, developing a common language, knowing who owns the data, audit trails… There's a lot of work to be done and digitalisation play a fundamental role in this."
She concluded with advice to colleagues in the sector: "Step out of your comfort zone, that's where I've done all my learning."