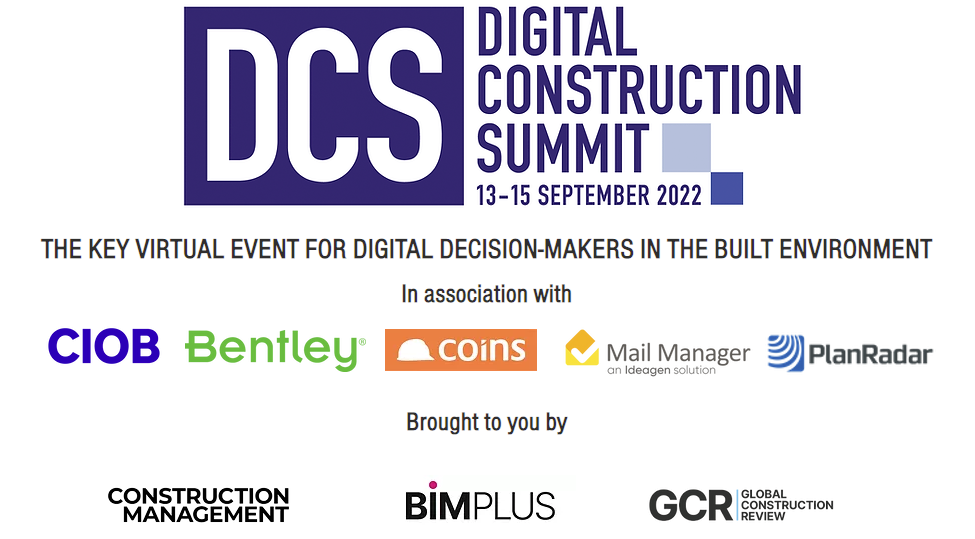 The golden thread, net zero and information management top the agenda at the Digital Construction Summit 2022. The key annual event for digital decision-makers in the built environment sector takes place on 13-15 September.
The Summit tackles key industry issues:
implementing best practice to meet the requirements of the golden thread;
the evolution of BIM to information management;
achieving net zero;
technology's role in generating productivity gains; and
ensuring the maximum impact of project information during the operational phase of an asset.
Speakers are drawn from the likes of Skanska, Keltbray, L Lynch, Southern Housing Group, Orbit Group, Scottish Futures Trust, NHS Scotland, the UK BIM Alliance and the Chartered Institute of Building (CIOB).
The Summit is run as a virtual event, with five webinars across the three days. You can register for the individual webinar sessions via the links below. Each webinar qualifies for an hour's CPD credits and is free to attend.
Digital Construction Summit programme
The confirmed speakers are:
Aman Sharma, managing director of Totus Digital and deputy chair of the Building Regulations Advisory Committee that drafted the golden thread
Jack Ostrofsky, head of sustainability & design, Southern Housing Group
Kelly Lee, building safety leader, Orbit Group
Eddie Tuttle, director of policy, external affairs and research, CIOB
Casey Rutland, vice chair, UK BIM Alliance
Fiona Moore, committee member, UK BIM Alliance
Paul Dodd, senior associate director, Scottish Futures Trust
Jacob Wardrop, commercial director, Mail Manager
Steven Sutch, director of L Lynch Plant Hire
Rob Norton, UK team lead – fire, health & safety at PlanRadar
David Mason, head of environment technical, Skanska UK
Darren Aldridge, group supply chain manager, Keltbray
Katy Dowding, executive vice president at Skanska UK and a member of the Construction Productivity Taskforce
Yan Llamas, group product marketing and design director, COINS
Louise Gardiner, head of digital estate and asset management, NHS National Services Scotland
Rachel McKay, project manager at NHS National Services Scotland
Peter Lynch, senior advancement manager, Bentley Systems
Mark Biscoe, senior consultant, Bentley Systems
Partners for the Digital Construction Summit 2022 are the CIOB, Bentley Systems, COINS, Mail Manager and PlanRadar.
The Summit is brought to you by Construction Management, BIMplus and Global Construction Review.