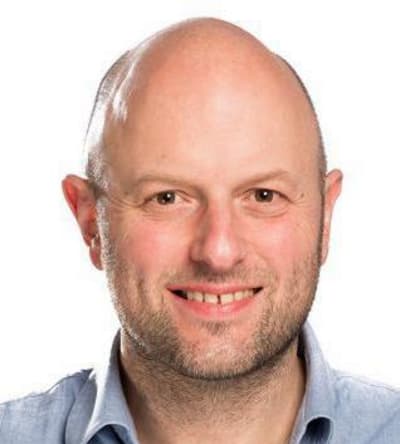 'No digital transformation can be complete without ensuring that those interacting with it are on board, from the executive level right down to the grass roots.' James Albiges, general manager – network and communications, Zen
James Albiges, general manager – network and communications, at digital services provider Zen, outlines some key steps to take businesses forward in the digital world.
There's one common mistake that organisations make when undergoing digital transformation: they see the process as a means to an end. But rather than a project that lasts a finite amount of time, digital transformation must be viewed as an ongoing journey designed to drive change and improvements in business performance through the more efficient use of processes and technology.
The issue is particularly prevalent within the UK's construction industry. According to our report, Bricks, Mortar and Digital Transformation, nearly half (44%) of UK construction companies surveyed claim to have completed their digital transformations, while nine out of 10 (87%) believe their transformation will be completed in under five years. This suggests that construction companies have not fully understood how their businesses, and the industry as a whole, can benefit from digital transformation.
That said, the industry should not be disheartened, as by implementing a few key steps, construction businesses, small and large, can drive their digital transformation forward.
Implementing the technology that works best for you
Of all the technologies required for a successful digital transformation, 5G (57%) and wi-fi (56%) are seen by those surveyed as having the biggest positive impact on operations. Reliable connectivity ensures that lines of communication always remain open, helping to improve efficiency and productivity, as well as reducing costs.
Contractors face severe challenges in meeting deadlines, on budget, particularly when project design is amended frequently, or onsite challenges don't allow for a particular specification to be deployed. On large-scale projects involving multiple stakeholders, digital reliability is crucial when it comes to robust file sharing, documenting and controlling at all stages of the project.
As 4G coverage has improved and the costs have come down, key opportunities for the construction industry have emerged. These include establishing connectivity onsite quickly and securely, using 4G as a robust backup to fixed-line connectivity, and remote site connection for locations where fixed infrastructure may be lacking – increasingly we are seeing 4G being used as a "rapidsite" solution, connecting sites in days rather than weeks and months.
Looking ahead, while 4G is the reality today, some believe that the advent of 5G will dramatically improve capacity and decrease latency, enabling businesses to do even more over the same connection. However, it is important to really understand the technology before getting carried away with all that it might achieve. A technology partner can provide the expertise of understanding and highlight the real value, as well as possible limitations it may have and will provide strategic advice on implementing a suite of technology that will work for your individual business needs.
Ensuring you get both skills and culture right
No digital transformation can be complete without ensuring that those interacting with it are on board, from the executive level right down to the grass roots. Every organisation has a unique business culture – based on its behaviour, attitudes and ethos – that characterises the way it goes about its daily operations. A company's business culture is central in shaping how it reacts to change, including the adoption of new technologies.
With this in mind, it is essential that organisations make sure their business culture is compatible with digital transformation. The two go hand in hand. In fact, nine out of 10 (89%) businesses surveyed which had undergone a digital transformation agree that cultural change is needed from within to make it a success and that initiatives like training and upskilling will help drive it.
This means construction firms should go further than just implementing a short-term team to oversee an initial programme. Instead, they should aim for a progressive culture and continue to embrace the latest digital software as technology progresses. After all, it is a continuous process and an ever-evolving journey.
Digital transformation goes hand in hand with boosting workplace culture in that it can enable staff to work remotely on a range of devices. Empowering employees with flexible hours and the ability to work outside of the office is an important step towards a happier workforce. According to meeting solution provider PowWowNow, for example, many workers today say they would rather have flexible hours than a pay rise. A partner can support by demonstrating the value digital brings and making sure any transformation is aligned to the organisation's overall strategy.
Making wise investments
The costs associated with digital transformation can be significant, although a phased approach can help manage this, but importantly, the returns can easily justify these costs given the efficiencies that it can facilitate. While an injection of capital can be required in the short term before a return on investment can be seen, two thirds of companies surveyed noticed a reduction in costs thanks to the new technology introduced as a result of a digital transformation.
A focus on strategy, technology and internal culture will allow the construction industry to embrace digital transformation, enabling the increased use of digital support solutions from design simulation and virtual learning to 3D printing, modularisation and robotics. However, going it alone can be a disruptive process that has a knock-on effect on policies, processes and procedures. It can also prove expensive, with failed projects costing an average of $655,000 (£496,761) to the bottom line.
Luckily, much of the stress associated with the backend to fully support these solutions can now be outsourced to trusted partners, allowing internal teams the time to think about delivering maximum impact.
That said, there seems a startling lack of awareness of this within the construction industry. Just one in seven firms (14%) surveyed understand the importance of having a good technology partner to enable the process – meaning many risk making simple but costly mistakes.
Construction firms that go the extra mile to find the right partner will be rewarded with a tailored approach that works best for the size of the business, a clearly defined strategy and a specialist team with target-centric goals.
Find out more about developing the blueprint for future digital transformation projects by downloading our white paper here.