Andy Boutle is head of BIM at Kier Construction, engagement co-lead at the UK BIM Alliance, and part of BSI's B555/8 standards committee that is specifically developing UK guidance to the ISO 19650 series and shaping UK annexes. Here he talks to BIM+ about Kier's progress on BIM and digital – and responds to comments about jargon in ISO 19650.
Hardly had 2020 got underway than you find yourself furloughed in the initial stages of the pandemic. Tell us about that.
Difficult decisions had to be made, for us, others in the industry and further afield. It was personally frustrating as I love what I do, but it was understandable when the country went into lockdown at the start of March. Critically, our operational BIM resources were kept in place to support projects across Kier.
I think the nice thing was being called back [to work] and seeing a more focussed message on the importance of having data at our fingertips – trusted, reliable data, both at a project and a business level. If anything, [the pandemic's impact] has only helped us to accelerate what was already in plan – our digital strategy for the next three years – and pick out some of those really business-critical items to prioritise and deliver over the coming years.
What were the initial business-critical elements that needed tackling?
As unexciting as it may sound, standardising internal document management across the business is incredibly important. Historically our business units have had subtly different approaches to document management: we were aware of it and had been engendering the need to standardise for a while – [covid-19] really drove home the point that standardisation and consistency is only positive.
This ties in with BIM's role in the strategy aiming to standardise information management at a project level. One of our critical activities is aligning with ISO 19650 and the UK BIM Framework – we're on programme to deliver that midway through next year and to migrate our BIM Kitemark certification accordingly.
We're also in the process of rationalising our software stack (the tools that we're using, around information management, BIM, field tools, etc.): we're bringing that all in centrally and trying to rationalise. It not only benefits us, but also our supply chain and our clients because we're asking them to interact with the same tools consistently, whether they're in Scotland or the south of England.
The other business-critical element was agile working, using the likes of Microsoft Office Teams and SharePoint and some of the clever collaborative tools that we can get from there. Meetings have been more effective and less time has been lost to travelling.
The pandemic's impact has only helped us to accelerate what was already in plan – our digital strategy for the next three years – and pick out some of those really business-critical items to prioritise.– Andy Boutle, Kier Construction
Tell us more about your digital strategy.
The aim of our digital strategy is to support our overall construction strategy, which has technical excellence at its heart: this means we are adopting next generation methods and technology and promoting the adoption and use of data, including BIM.  Ultimately, we aim to drive internal efficiencies, improve quality, reduce risk and support better decision making to continually improve project delivery to our clients. We are focused on improving record keeping to meet the emerging Building Safety Bill and 'the golden thread'.
My role supports the adoption and embedding of this strategy and showcasing examples of best practice across our construction business – and also working with clients and other stakeholders to discuss our approach.
The digital strategy is mobilised into the following workstreams: BIM; internal document management; project and business reporting; safety, quality and progress monitoring; agile working supported by Office 365; and people.
The digital strategy was created through liaison with colleagues across the whole of our construction business – asking them what they wanted from a digital perspective. A review of the responses highlighted the common answers, and those formed the key targets of the strategy.
The managing directors within our construction business were also asked to nominate a digital champion in each of their businesses.
As you'd expect, most are the BIM leads for their business unit, but refreshingly some aren't: we have a couple of examples where an operational person, say, a project manager has been nominated.
I have 21 colleagues who have BIM-specific roles across the construction business – and that number includes six who are now in permanent roles having completed Kier's digital construction apprenticeship (a UK first when it was launched in 2018).
How are you winning over Kier's staff, supply chain and clients to BIM and digital?
Kier Construction has been using Operam Academy's web-based courses around information management and ISO 19650, and staff have typically embraced this because the content is tailored to specific roles, so nobody has had to sit through training sessions that aren't relevant to them.  
With so much disruption over the past year, it's entirely understandable that completion rates aren't quite where I'd like them to be, but over the coming months they should be. We've had some really positive feedback, people saying: "I learned a lot", and "the content was well delivered".
Our BIM specialists support and upskill project staff as part of their day-to-day responsibilities, helping to embed information management practices and gain the most out of the various technologies deployed, both internally and with our supply chain.
If there are tools that we're asking supply chain to engage with, we're reaching out to get a bit of feedback from them: if we were to move to this tool, have you got any experience, do you have any burning feelings one way or another?
We've conducted a really rigorous review of software applications. We've invited a long list of software vendors to come and demonstrate based on the predefined capabilities that we know we need to deliver. Stakeholders from across the business sit in on the demonstrations and score them. We analyse results including non-functional requirements, then boil it down to a shortlist. We consider whether we need to launch a mini-trial and maybe involve clients or our supply chain. So we've approached it objectively to give us a final selection.
What was really interesting is when you when you look at some of these tools, some are trying to do a bit of everything while others do one or two things really well. And the challenge for us is working out that if we go for the best in class across all criteria, how do we actually connect the data from different technologies if we need to? And what's the process to get information from one to the other?
Also, can we semi-automate or automate? And could we actually go for the second-best-in-class [if it's better at interoperability]? It makes you realise the importance of driving open standards and getting consistent information and then plug-in the technology in as you go, rather than proprietary mapping all the time.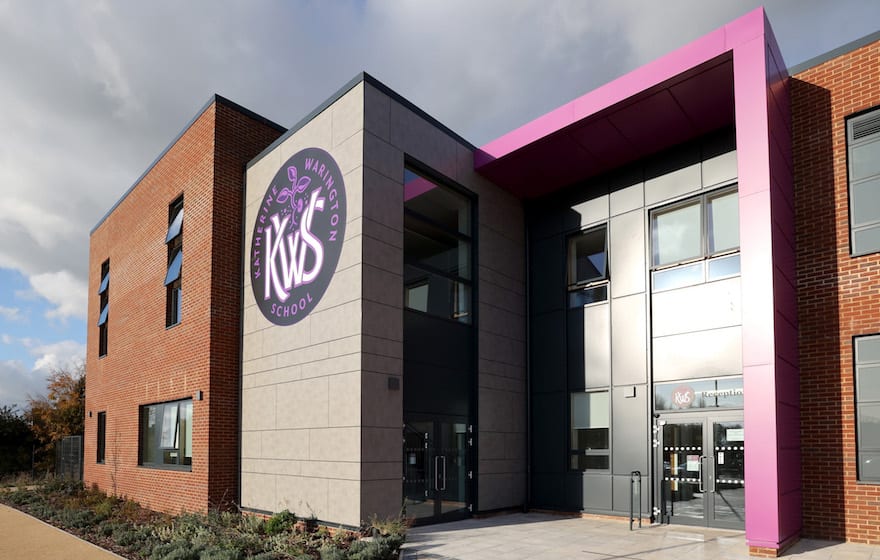 The Katherine Warrington School in Harpenden: an exemplar BIM project for Kier Construction
Is interoperability one of the key questions asked of any new tool?
Absolutely. We've always known that's important, and we've tried to drive open standards to facilitate interoperability. Helping and supporting our supply chain with data delivery aligned to IFC and COBie is a real focus for us, because it's key to us getting the value out of the information when using multiple software tools.
The Centre for Digital Built Britain BIM Interoperability Expert Group I am involved with aims to help educate, upskill and facilitate easier adoption of open standards, as well as maturing some of the standards and schemas ahead.
The challenge for BIM and digital construction is providing clear evidence of the benefits derived from it. How are you dealing with that?
Just from picking up from feedback from some of our projects, we're improving information, how it's shared across teams, the quality of it. That leads to better outcomes, because people are making better-informed decisions.
We like to think we're reducing risk, and we are noticing a bit of improvement on programme. We're starting to see some tangible successes. The challenge is to work out how to properly measure and benchmark, which can be tricky. Our reporting workstream of the digital strategy, which is delivering a 'data warehouse' capturing information from our commercial and operational systems, should make analysis much easier ahead.
Delivering Kier's digital strategy isn't Boutle's only focus: he works one day a week for the UK BIM Alliance as an engagement co-lead, and he is part of BSI's B555/8 standards committee that is specifically developing UK guidance to the ISO 19650 series and shaping UK annexes. The UK BIM Framework's guidance on received some criticism: https://www.bimplus.co.uk/opinion/iso-19650-bim-standard-jargon-free-enough-richard-/
What's your response to Richard Saxon's comments on the jargon in the UK BIM Framework's guidance on ISO 19650?
We need to listen to feedback, whether it's challenging or supportive. The Alliance responded to the article and we are engaging with a few others who have aired similar views to bring them into the guidance committee to help develop further guidance. It's important that we listen and develop the guidance around that feedback, but also steer ahead as a collective.
Main image: 104480548 © Zerbor | Dreamstime.com