Three post-graduate students at the University of Stuttgart have developed a system for using intelligent drones and materials to build a dynamic canopy that shades according to the sun's changing position and people on the ground.
The concept was developed by Institute for Computational Design master's students Miguel Aflalo, Jingcheng Chen and Behrooz Tahanzadeh, who describe their system as "cyber physical macro materials".
To demonstrate the system, they had drones put lightweight carbon hexagons on metal masts in a Stuttgart park.
The panels had embedded sensors, telematics and magnets that helped them stick to their neighbours. The idea was to create a building system able to continually reconstruct itself as requirements changed.
A drone placing its payload into position
In one of the first attempts to apply the "Internet of Things" to a building system, the drones and panels communicate with each other, and also with the people on the ground who benefit from the shifting canopy.
A video of the system in action can be seen here.
In the words of Jingcheng, their thesis envisages "an agile versatile canopy autonomously moving through a large public space according to the position of the sun, providing the occupants with shade or actively rebuilding itself to influence the occupants while at times retreating entirely to nearby rooftops … in defiance of traditionally lethargic building processes and regulations".
The Institute for Computational Design has been the source of a number of intriguing projects in recent years. Last year, GCR reported on a somewhat similar project to suspend robot-fabricated hexagonal cells from supporting columns, which was demonstrated in the Victoria & Albert museum's Pirelli Gardens in London.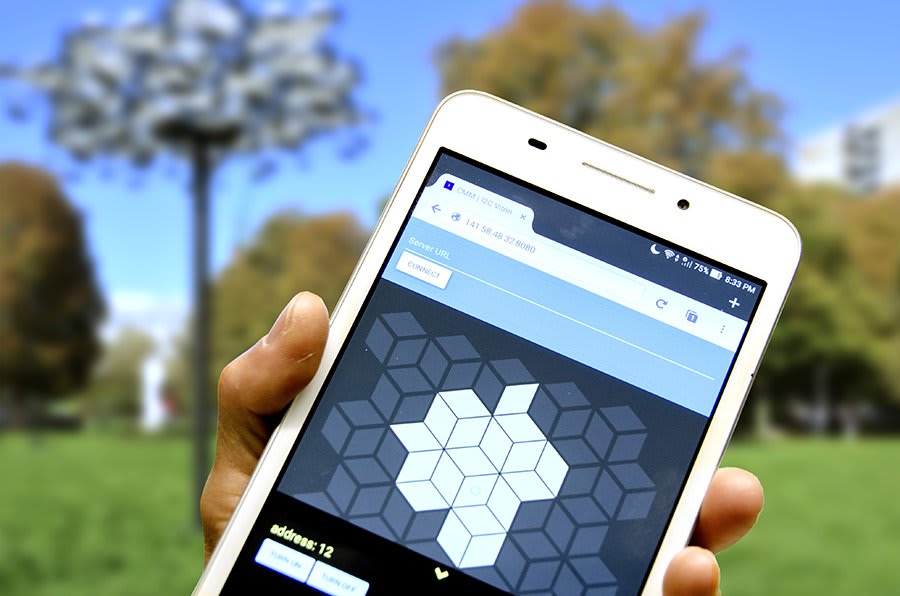 There is, naturally, an app for that …