Facade maker Solinear is using its 3D printers to make components for protective face shields, needed by the emergency services during the Covid-19 crisis.
The York-based company is printing the crescent-shaped clamps which wrap around the face shields, holding them together. They are printed using 100% recycled PETG plastic, with assembly of the visor and elastic strap fitted by others (see diagram below).
The face shield design was created by Spanish 3D printing specialist Hanoch Hemmerich and is being distributed to companies around the world. Solinear used diagrams, instructions and a 3D model, supplied as an STL file (a format native to the stereolithography CAD software created by printer manufacturer 3D Systems), before starting production of the clamps.
Solinear welder Elliot Headley came up with the idea of using the company's 3D printing capability, working with design manager Andy Moore. 
How the clamps are fitted around the visor to form the face shield
The facade manufacturer's director Tom Dwyer said: "We will do all we can to assist in the effort to stop the virus spreading further so putting into practice Elliot's brilliant idea and Andy's considerable understanding of 3D printing we will scale down regular manufacturing and begin production of components for face shields immediately."
Solinear says its 3D printers will be dedicated to fabricating clamps for face shields for as long as required. Although capacity has been reduced, as the business adheres to strict government directives, manufacturing of its architectural louvres and brise soleil also continues. When the lockdown is lifted, installers will be deployed to sites to fit systems.
Dwyer added: "Solinear would like to reassure clients that orders will be fulfilled, however, patience and understanding would be appreciated in this unprecedented situation. We are monitoring the Covid-19 situation daily and acting accordingly – the safety of staff, clients and the general public are of paramount importance at this moment in time."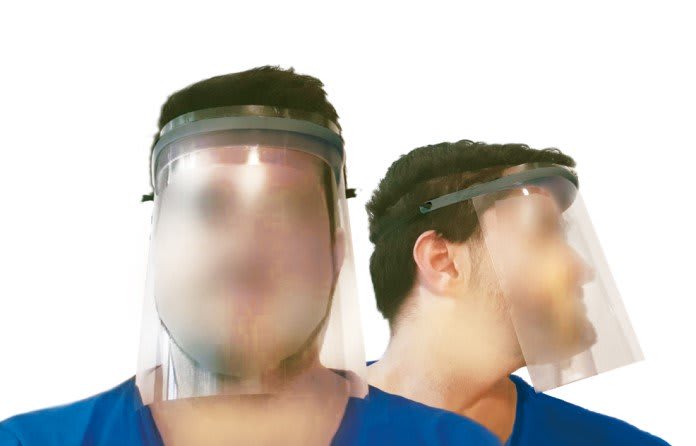 The completed face shields held together with the clamps