Two north east-based companies – contractor Howard Russell Construction and architecture practice Edwards Architecture – have become the first companies to gain BIM certification as PAS1192-2 compliant through a new service offered by Ocean Certification.
Newcastle-based Ocean offers certification services in sectors including construction, manufacturing, higher education and social services, and cross-cutting standards such as ISO9001 in quality management systems, all overseen by the United Kingdom Accreditation Service (UKAS).
Ocean is now the third accreditation organisation to have has entered the market offering Level 2 BIM certification in the UK: both BRE and Lloyd's Register offer a certification service, with two companies being accredited under each scheme so far.
Speaking to BIM+, David Robinson, managing director of Ocean Certification, described the new accreditation as an "uncredited certification" for PAS 1192-2 as there is not yet a UKAS accredited standard, nor is one planned.
Ocean Certification is auditing BIM standards in conjunction with ISO9001, and Robinson believes that certifying BIM this way is a natural step: "Through certifying ISO9001 we were already assessing design changes and data transfer so this seemed to be a natural progression," he said.
Although prices vary dependent on number of staff and management systems, along with the complexity of the applicant's business, Robinson estimates the cost for a medium-sized company of gaining ISO9001 and PAS1192-2 accreditation is around £5,000 over three years.
The length of audit depends on several factors, but will usually take around three to 10 days in the first year followed by annual reassessments lasting three days.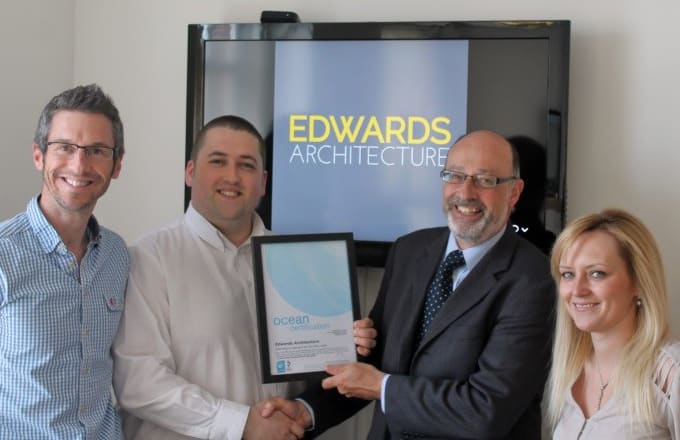 Certified: (l-r) Russell Edwards, md, Edwards Architecture; Andrew Bowkett, BIM manager, Edwards Architecture; David Robinson, md, Ocean Certification; Sarah Sabin, architect, Edwards Architecture
Although Howard Russell and Edwards Architecture's achievements mean that there are now just six companies in the UK with any form of BIM certification, Robinson believes that this number will rise rapidly as the government's April 2016 deadline approaches.
He said: "More companies will realise this is something they need to do as the deadline approaches. We have had quite a lot of interest from our existing clients and have half a dozen who are looking to take PAS1192 integrated with ISO9001."
"They [the companies taking accreditation] want to make a public statement and show that they are independently certified," continued Robinson.
Andrew Bowkett, senior chartered architectural technologist at Edwards Architecture, told BIM+ why the company decided to become certified: "The practice set a goal in 2015 to achieve ISO9001 accreditation. A major achievement for any SME. It became clear that the both the quality assurance and BIM processes are heavily interlinked and in creating these systems we wanted to ensure that our practice quality was based upon the BIM process as well as our staff and quality management system."
"So we looked for a certification body that could offer UKAS accreditation for our combined quality assurance and BIM systems. Ocean Certification are Newcastle based with experience in providing ISO accreditation to architectural practices.
"After our initial consultation, they identified how combined the systems were and, as UKAS have not issued a specific PAS1192-2 accreditation, added the requirements to our ISO9001 compliance. PAS1192-2 is a key document and affects many of the architectural processes and for us, was key to our overall quality service."
Craig Muldoon, pre-construction manager and BIM champion at Howard Russell, said: "Having now experienced first-hand the benefits of using BIM for both client and contractor we find it hard to believe that more contractors are not pushing this within their organisations.
"All our staff are fully on board and we are also driving forward change by extending our knowledge further down the supply chain and actively encouraging subcontractors to get BIM ready. This will allow the whole project team to integrate more effectively and use BIM as a primary tool on future projects." 
The other BIM-accredited companies are AEC3, a consultancy run up by BIM Task Group member Nick Nisbet; M&E designer and project management consultancy EDC; architect BDP; and Interserve.
More companies will realise this is something they need to do as the deadline approaches. We have had quite a lot of interest from our existing clients and have half a dozen who are looking to take PAS1192 integrated with ISO9001.– David Robinson, managing director, Ocean Certification