John Ford reviews a year in the life of industry foundation classes and COBie.
If you're not interested in the life-fulfilling world… of industry foundation classes (IFC) and COBie… look away now.
Before I go into the exciting developments in IFC and COBie, which only a few may understand, I would like to do a quick 101 on the subject of IFC for those that are willing to learn more. I am mindful that our industry is evolving faster than people can keep up with and going off on a technical tangent doesn't help others to learn and develop their knowledge.
101 introduction
It surprises me today that the vast majority of people, nine years after the government's construction strategy was published mandating COBie, don't realise that the government didn't just mandate COBie, but they mandated IFC as well.
This fact, that IFC is COBie and COBie is IFC, has been the tune I've been banging my drum to for nearly a decade now, so that clients, contractors and consultants can truly understand what COBie is all about.
The figure below illustrates how IFC (as a schema) is needed for the translation of project data to make its way to COBie in the spreadsheet format, because COBie is a subset of the whole IFC schema (it doesn't contain everything but contains a lot of the data found in "Coordination View", only with the geometry and NA relationships stripped out to support the model view definition's [MVD] purpose).

Many think of IFC as the file they click on in computers, or import into their 3D modelling tools. That is another subset MVD, typically the Coordination View in something called the ifcSTEP 21 format: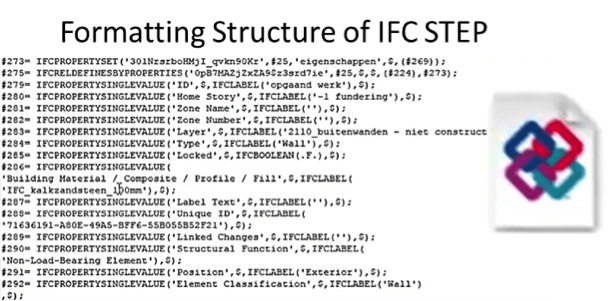 and it's the IFC translated STEP file you are clicking on.
But you could share in the rarer, less compressed ifcXML format too: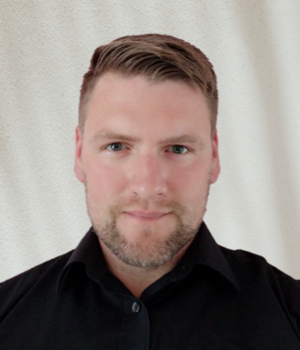 It surprises me that the vast majority of people don't realise that the government didn't just mandate COBie, but they mandated IFC as well.– John Ford,
Galliford Try
There are other types of formats like the newer, semantic-WEB technology ifcOWL, but that's a topic for another day. Suffice to say, ifcSTEP is the format we all typically use to import/export IFC translated data. And it's the MVD that determines what IFC translated data is in that format.
So don't fall into this very large confused circle, its easy to do, but life becomes easier when you understand this principle. Lack of understanding of what COBie is, it's purpose and how it's driven by IFC are three of its fundamental barriers today. The next is the lack of native support by our design authoring, data collection and CAFM platforms.
Future of COBie and IFC
So what does the future hold for the misunderstood duo, COBie and IFC? Well… 2020 has already been a busy year for both and I want to share some of the exciting developments for all you IFC-loving/aspiring people.
Last year, the Centre for Digital Built Britain (CDBB) started a project to investigate the issues around information exchanges, under the banner of "interoperability" whereby various individuals contributed to the BIM Interoperability Expert Group (BIEG) Report, providing evidence on what the barriers were for interoperable exchange and what could be done to improve it.
The results of a public consultation on the BEIG Report were also published this year. One of the main recommendations was that IFC and COBie needed more support if it were to remain the foundation of the government's digitally-driven construction strategy.
As part of Construction Innovation Hub, CDBB is developing a programme of work to address the recommendations and enablers identified in the BIEG Report. Emma Hooper, Nick Nisbet and I contribute to the BIEG programme, working in the IFC and COBie work stream that will address the report recommendations.
BuildingSMART certification programme for COBie
 Many claim to be experts on the subject of COBie, but the opposite is true, and yet most are still in influential positions giving poor advice and instruction that result in anything other than COBie or value.
BuildingSMART international, as part of its professional certification programme has released a COBie-certified professional exam to help separate the professionals from the sciolists. The exam isn't easy and will challenge the most knowledgeable on the subject, but it will help provide confidence to individuals and organisations being guided on COBie that their instructor has substantial knowledge on the matter and is providing the right message.
IFC receives a new candidate update 4×3
IFC4 has had a further extension update in 2020 to 4.3, however it's still up for candidacy while supporting documentation receives updates.
Building on the powerful spatial infrastructure support of IFC4.2, 4.3 is showing great potential to remove the long-standing argument "IFC doesn't support infrastructure." We will have to see if an update comes to the "Reference View" MVD so that the big design vendors don't have an excuse for not supporting IFC 4.3.
The next big challenge could be: "My design tool doesn't support IFC."
COBie to receive a polishing
It's been five years since the COBie 2.4 standard was published, and now a proposal has been put forward to bring COBie under BuildingSMART International oversight to help drive the next version of COBie to 2.5. The principal objective of the update is to lean out the standard and fix minor errors present in version 2.4.
Here's a short video about the project: Facility Management Handover – COBie 2.5 Approved Activity Proposal.
BuildingSMART releases its 2020 and beyond technical roadmap
Some exciting updates came out of BuildingSMART technical roadmap. My personal favourite is the new approach to MVD, the Information Delivery Specification (IDS).
The IDS concept is fascinating and could significantly enhance the exchange information requirements as defined in ISO 19650 with digital, machine-readable versions that any client (appointing party) or main contractor (lead appointed party) could use to define project-specific requirements that computers can autonomously QA-check for structured digital outputs.
So there you have it, the most eventful year for IFC. One day we will reach that utopia of IFC: the one where it's invisible to the average end-user but works. Until then, knowledge is power.
Useful links
John Ford is BIM & digital delivery lead at Galliford Try.
Image: 130701064 © Stepanenko Oksana | Dreamstime.com