Construction is increasingly turning to virtual reality and augmented reality, says Dr Dragana Nikolic, lecturer in digital architecture at the University of Reading. But what's best for your project?
A recent study predicted the use of virtual reality and augmented reality among CAD users will increase 140% over the next five years. Are we on the brink of another digital revolution?
There is a definite upward trajectory of firms adopting immersive technology for tasks such as design reviews and for making more effective design decisions, it's pushing them to engage in a different kind of conversation.
However, the industry is in the early stages of exploring and fully understanding how to use immersive reality and it is a long way from being standard practice. It's still an add-on rather than at the core of working practice.
Headsets such as Oculus Rift, HTC Vive and Hololens have been grabbing the headlines, but which is best for construction?
In my view, HTC Vive offers a much-improved user experience compared to the earlier releases of Oculus Rift developers' kit. The industry has really latched on to HTC Vive, based on its ability to integrate interaction devices and with a compelling immersive graphical experience.
However, assessing the best VR solution should really be about finding the right tech/task fit, based on the specific use case. A key question is how the user wants to interact with information. VR headsets offer complete immersion, with a 360-degree view and a high level of visual fidelity. AR does not require the same level of immersion and instead offers access to digital information overlaid onto a view of the real world.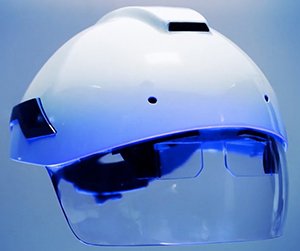 A Daqri helmet
AR can be run on an integrated headset, such as Daqri Smart Vision, or Hololens, as well as on smart phones or tablets, and that integration with existing gear arguably gives it the edge on construction sites.
Companies such as Igloo Vision and Soluis install projection-based environments, or "caves", in offices where teams of people can experience a model together. Are there advantages to that approach?
It has its place for certain tasks. We often see project team members become instantly more engaged with a model and when talking to other team members about it, in a cave. A dynamic discussion is created by the environment – people walk to information, point to objects in the model, use tools to demonstrate, or measure things, they ask questions and come up with alternatives.
People tend to discuss and question information a lot more when viewing it collectively in a cave-like VR environment compared to more traditional design reviews using PDF drawings, or 3D rendered images of the model.
What are the limitations of these technologies?
All have a few glitches that prevent them from wider implementation. AR still has issues mapping 3D geometry and data over reality. If you want to have users walking around a site wearing AR goggles, it requires real-time updating, which means faster processing and the use of sensors, markers and other gear to map the environment.
An Igloo BIM cave
VR caves have space constraints, there are limitations on where an environment can be placed and how easy it is to bring people to it. VR eyewear gives you the freedom to view a model anywhere at any time, without being tied to the physical environment.
More people are now leaning towards the headset-based approach which is perceived as more portable, and cheaper, despite the clear drawback of limiting the number of people who can engage in a review of the model.
Will using VR speed up design?
Yes, studies carried out a few years ago showed an increase in the number of problems that could be defined with the model, or the design, by interacting with an immersive environment, compared to using drawings.
What will the technology be capable of in 10 years?
I'm hoping it will be a lot more present, with many leaders in the industry starting to use it, that should have a "pull" effect on other players wanting to stay ahead of the game.
One can only imagine how the technology will have improved by 2025, given the pace at which new gear is released every year. Manufacturers will get rid of cables and reduce the clunkiness of headsets to make the technology more invisible to the user, therefore it will interfere less with their experience.
Dr Dragana Nikolic was talking to Stephen Cousins