Scanning hard-to-reach, overhead or "limited access" spaces has historically posed many challenges for those working in the construction sector. Stuart Cadge, from leading indoor mobile mapping specialist, GeoSLAM, explains how innovations in mobile mapping technology are paving the way for a new dawn in surveying.
Architects, project managers and surveyors are constantly under pressure to finish projects on time and within budget. Not surprising, considering that most contractors anticipate that up to 30% of their projects will be subject to costly delays. This issue is not limited to large-scale construction schemes, as similar constraints affect smaller building renovation projects too.
But creating a dynamic "digital twin" of a building's features throughout a project's lifecycle can help stakeholders remain up to date with a scheme's progress, enable problems to be spotted early on, and speed up the decision-making process should alterations be required.
Once a 3D scan of an asset – whether complete or part-finished – has been conducted with a handheld, lightweight mobile mapping tool, project teams can generate highly detailed 3D models and 2D plans. These digital representations of a project can then be updated, re-scanned and interpreted at any stage in an asset's lifecycle.
Now, 3D mobile mapping technology has gone one step further. New mobile mapping tools use Simultaneous Localisation and Mapping (SLAM) technology, providing the ability to rapidly scan even difficult-to-reach places such as multi-level spaces, large multi-room hotels or enclosed basements.
The speed and non-evasive nature of mobile scanning also allows for the surveying of occupied premises, such as live construction sites, or in-use buildings surveyed for renovation or redevelopment.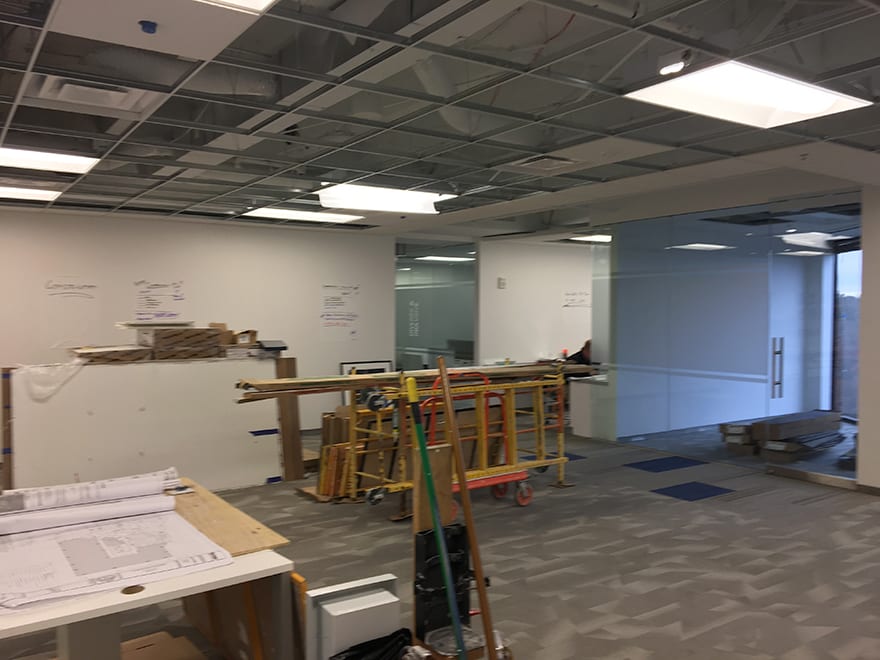 The high ceilings in Turner Construction's offices were problematic for traditional scanners
The model of the suspended ceiling voids
Construction projects routinely require a series of surveys and the subsequent creation of a model. One such recent example involves Turner Construction, the US-based global multinational construction services company which employs more than 5,200 people and completes 1,500 projects every year worth in the region of $10 bn. 
The firm embarked on an extension project of its Atlanta, Georgia, office, and the latest mobile mapping tools offered a welcome alternative to traditional yet more cumbersome survey methods.
Before works were able to begin on site, the Turner Construction team needed to conduct a survey of the suspended ceiling voids. However, no previous 3D model of the space existed, and as a result, Turner was tasked with surveying the notoriously difficult space from scratch.
Due to the building's high ceilings and the limited space available in the void to manoeuvre equipment, traditional scanners would have struggled. However, thanks to the incorporation of SLAM technology, the Turner Construction team were able to put a GeoSLAM ZEB-REVO to use and complete a scan in just 10 minutes. Weighing just 1kg, the ZEB-REVO was deployed on an extendable pole into the ceiling void to capture scan data easily while overcoming the location's relative inaccessibility.
The ZEB-REVO scanner completed the scan in a fraction of the time
Unlike conventional methods of surveying, which can often take a great deal of time, the ZEB-REVO can be quickly and effortlessly moved without the need for time-consuming set-ups. It is also able to mitigate occlusions (object shadows), saving time on the overall modelling as the team already had a complete picture to work from – rather than having to interpolate between shadows that are usually seen in terrestrial scanning.
If traditional techniques had been used, it would have taken more than eight hours to complete the scan – 48 times longer than by using a ZEB-REVO. Added to that, surfaces had an average measurement accuracy to within two centimetres – more than sufficient for modelling the data in a BIM model.
The accuracy of the mobile data collected allowed for a full MEP layout to be built in just one working day, showing features all the way down to under four centimetres.
Time and budget constraints will always pose challenges for those working on construction projects, regardless of their role or level of seniority. But, if the past few years have proven anything, it is those who choose to harness the latest digital technologies who will be rewarded with significant cost and time savings across the board.