Gleeds' global CEO, Graham Harle, has warned that construction firms could lose business to IT giants and must be ready for major changes over the next three to five years.
Harle has been with the consultancy giant for 24 years, taking the CEO role last year.
Speaking to Construction Manager, Harle says: "The industry is changing, and we need to be at the heart of this digital transformation."
"One of my biggest worries is an Amazon or Microsoft going to see one of our clients, setting up a laptop, and doing for them in 24 hours what it may take us six months to do.
"With the tech investment in the built environment, the growth of artificial intelligence, it's going to be possible to automate the optimised design and construction for any given project. They will be able to feed in planning policy, client requirements and automate the whole thing. That's what we have to be ready for."
He points out that currently there are 800 built environment software apps in development in the UK, which aim, in some way, to automate the development, design, and build process. Artificial intelligence (AI) will play an increasing role.
"The big tech giants are moving into our sector. We've seen Oracle buy Aconex. Amazon, which is now the largest real estate developer in the world through its data centres and distribution hubs, is hoarding built environment data."
Partnering with tech giants
Gleeds has first-hand experience of the technology giants, delivering the new global HQ for ARM in Cambridge, Microsoft's new HQ in Prague, and working with Amazon across Europe. The strategy now for Harle is to "insulate our business", as he puts it, from these unprecedented challenges from the tech sector. And part of that strategy is data.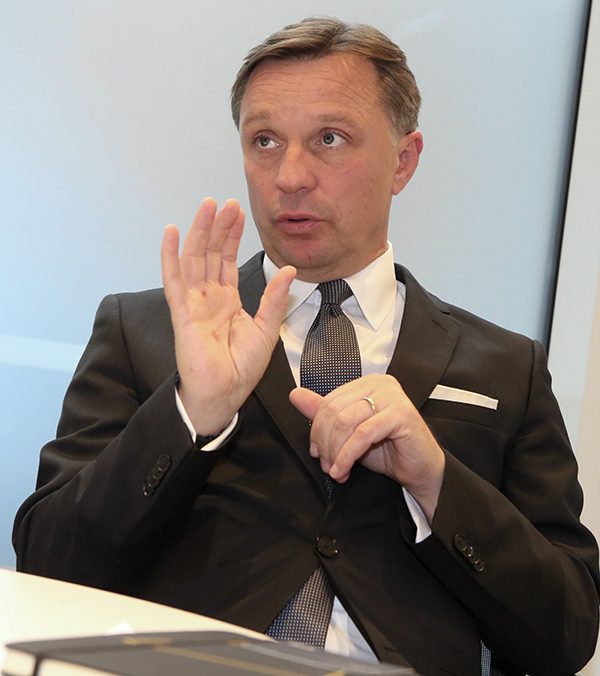 Graham Harle: "Data is the new oil"
"Data is the new oil," he says. "The challenge is to find it, mine it and refine it. We are involved with $300bn of construction work every year. So we have the data. Now we have to refine it, which means commercialisation of the data. This is where AI comes in. Can we take the data from, say, an office project, analyse everything that went right and wrong, so that next time we have the optimum design, programme and cost?"
But Harle acknowledges that Gleeds is not big enough to do everything by itself. "We're not an IT company so we are looking to partner with a tech giant to harness built environment data," he explains. "Amazon spends more on R&D than the entire turnover of the world's biggest real estate firm, CBRE [£16bn]. We can't compete with that so we have to partner with them." 
Focus on digital
In the meantime, Harle is making sure Gleeds' staff and new recruits are up to speed digitally. The consultant has recruited an AI specialist from Nottingham University, while another four are doing master's degrees in data.
"We've taken on an extra 40 graduates this year – on top of our regular intake – with a focus on digital," Harle says. "Around a quarter are from non-built environment courses, such as business studies or geography, who we put through a master's degree at Reading, and they have been brilliant for us.
"Youngsters are frustrated if anything by pace of change in our industry. When you compare our industry to the likes of KPMG and PWC, where they have an average age of 27, they are focused on the bright young things. They are used to working on screen. 'Why print off drawings?' they say."
Harle is a huge advocate of BIM. "We are using its potential across all the BIM dimensions – 3D, 4D, 5D, 6D," he says. "We use it for logistics and clash analysis – it can make construction far simpler. Our QSs use CostX software, linked to Revit, to take quantities off the models."
Last year, Gleeds launched a BIM project management app, Frame, which Harle describes as a BIM Level 2 toolkit. "We gifted that to the industry because we wanted to make a statement about how the different members of a project team can collaborate through BIM," he says.
Harle reckons a "high proportion" of Gleeds' projects are now working to BIM Level 2, including all its Department for Education and Scape projects. "We're also starting to see the private sector come on board," he says.
"Educated clients like Hammerson and Landsec are seeing the asset management and lifecycle benefits of BIM, and lot of funders and REITs are also taking an interest.
"They're also warming to the benefits of modularisation – chiefly speed and reduced risk," he adds.