The concrete sector's BIM journey is progressing at different speeds; precast specialists are embracing the technology, but it's early days for the RC frame sector. Will Mann reports.
BIM's relationship with concrete to date is a tale of two halves. While BIM use on reinforced concrete frame projects has been limited, as CM's research with Trimble shows, the precast sector is quickly discovering the technology's benefits.
"Precast is perfectly placed to exploit BIM," says Matthew Butcher, environmental and technical officer at British Precast. "Precast firms are working in a controlled factory environment, which is ideal for the principles of design for manufacture and assembly."
"The government is prioritising use of offsite manufacturing, and now wants a 'platforms' system of standardised components, while major clients like Heathrow are also moving in this direction."
BIM software house Trimble sees exciting digital possibilities for the precast sector. Business manager Ismail Makda says: "Digital construction can facilitate the workflow between different stakeholders on a project. An architect can send their 3D model to the precast firm, who can create a highly detailed model with all the embeds, reinforcement and so on, while the engineer can use the model to assess the structural characteristics, such as wind loading."
FP McCann became the first precast specialist to achieve BIM Level 2 accreditation with BSI, two years ago, and completed its first BIM Level 2 project last year, a warehouse job at the Daventry International Rail Freight Terminal (DIRFT).
"The shift to working in a data-rich 3D environment has meant significant additional work, training people in new software and developing components with embedded data," explains senior technician Colin Mackenzie. "Benefits have included clash detection, for example, allowing steel frame issues to be highlighted early, and quicker design."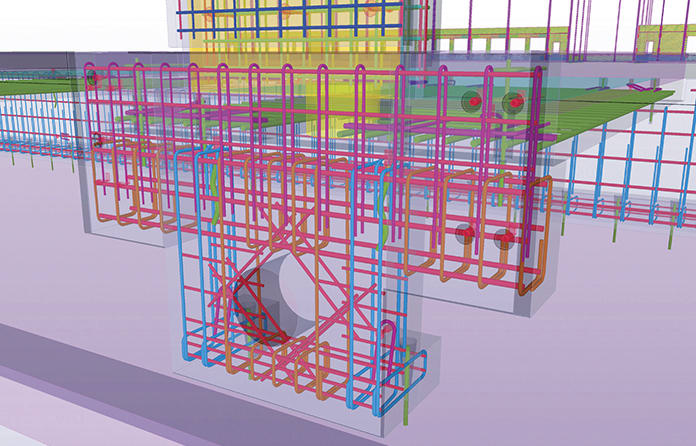 FP McCann used Tekla to custom design bespoke precast units for DIRFT
The company typically works with the architect's 3D model and Mackenzie says federated models are rare. "We generally work at LOD [level of detail] of 4 or 5," he says. "More recently, we have started receiving BEPs [BIM execution plans], where the LOD and LOI [level of information] have been specified for various project stages." 
On the DIRFT scheme, Mackenzie adapted Trimble's Tekla software to speed up design of bespoke precast units.
"There were, for example, 77 T-wall sections required, of which 30 were bespoke," he explains. "Each one would have taken two hours to model individually. Instead, using the custom components editor in Tekla, I defined possible parameters for the bespoke elements. Then, when the designers began work, they could define the unique requirements of each unit, such as different dimensions, fixing positions.
"Working this way, we designed each unit in just two minutes. The total modelling took less than a week."
Mackenzie says FP McCann's greatest gain from BIM adoption has been the parallel development of internal production processes.
"Using the embedded data in our Tekla software, we have been able to transfer information to lasers allowing quicker and easier mould set-up," he says. "Additional investment in data driven mesh/rebar machines, adopting simpler reinforcement configurations, will accelerate rebar cage fabrication. On box culverts, we've reduced cage fabrication time by 50-60%."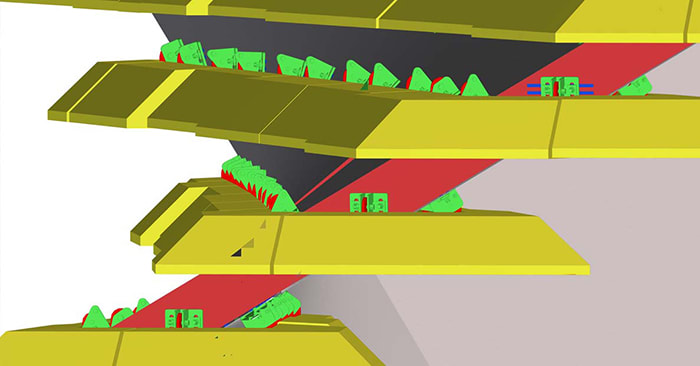 Techrete used Tekla to model the positioning of 2,400 concrete planks at the V&A Dundee

Creagh modelled three concrete cores for HSBC project
The next step in FP McCann's BIM transformation is coordination with logistics. "Software firm StruSoft has supplied us with their Impact system, which links with our modelling data, and allows our planners to assign units to casting beds in the factory and then link up with deliveries to site," Mackenzie explains.
Meanwhile, Creagh is also seeing advantages from implementing BIM across its business. Connor McMahon was project manager on the company's Sheffield HSBC project, where Creagh was brought in by main contractor BAM with just 16 weeks' notice to deliver three concrete cores.
Each one was 34.5m tall and comprised 17 precast sections, consisting of flat walls, "C-shape" units, boxes, stairs, landings and capping slabs. The largest sections were 8m by 4.6m across and 2m high, weighing around 27 tonnes.
Creagh modelled the cores in Revit to LOD 5 then worked collaboratively on the design with other project team  members.
"The model became an interactive tool, so we could visualise the product on the project virtually, before the prefabricated component is cast in the factory and arrives on site," McMahon says. "Creagh uploaded data drops to the common data environment [CDE] used on the project, so this provided Bam with evidence of how the precast cores had been developed." 
He says a rise in productivity has increased Creagh's trust in BIM: "We can work quicker, with more accuracy on cost build-up for estimates, reduced lead times, and improved timeframes during the critical path process.
"We are seeing better quality control, with a reduction in remakes and miscasts, plus we can be sure of ordering the exact quantities of cast-in components. BIM has promoted more sustainable and lean manufacturing processes internally."
Precast firm Techrete used Trimble's Tekla package on the V&A Dundee. "As there were no straight external walls, the challenge of designing, manufacturing and installing the 2,400 precast concrete panels, which brought the geometrically complex design to life, was recognised at the beginning of the project," explains Makda.
"Therefore, BIM was used throughout the project, with every precast plank modelled by Techrete. This allowed the design team to search the model, zoom in and spin the plank around to ensure it fitted the design."
While the V&A Dundee has been a showcase for BIM, Makda feels there is still "work to do to enable external stakeholders to collaborate more effectively through digital construction". There is a culture of retaining information they consider sensitive, he says, but BIM is about "openness and transparency".
Mackenzie believes there needs to be more drive from clients for BIM to be fully implemented. "We currently find that while there is intent, it is not necessarily followed through with full adoption," he explains. "We have worked on three projects where the client wanted BIM Level 2 protocols, but the schemes did not end up being managed that way."
Some questions also remain over product data formats. British Precast says it is continuing to work with the Construction Products Association on its Lexicon concept, the plan for a single data standard across all industry product categories.
Precast objects in the NBS National BIM Library are mostly limited to infrastructure products. FP McCann, for instance, has uploaded pipes, rings and manhole covers. However, Mackenzie says there is "limited demand" to extend the provision of standard components across other product groups.
Meanwhile, British Precast has created Environmental Product Declarations (EPDs), with life cycle assessment data, for several product groups, which will allow greater sustainability scrutiny through BIM. "Designers will be able to call up EPD data from all products on a project using the BIM model, and obtain up-to-date environment assessments on those materials to inform the specification," explains Butcher.
Top image: Creagh modelled three concrete cores in Revit to meet a 16-week delivery date on its HSBC Sheffield project