Hayley Miller, head of construction at the Cabinet Office, has challenged the industry to start using the government's BIM framework on new projects as soon as possible and without waiting for the 2016 mandate to kick in.
In a keynote address at the Talk Construction conference this week, she said that BIS was "training up departments to roll out BIM Level 2 on future projects" and urged the industry "to adopt the Task Group's protocols with your clients – whether mandated or not – to assist with that uptake".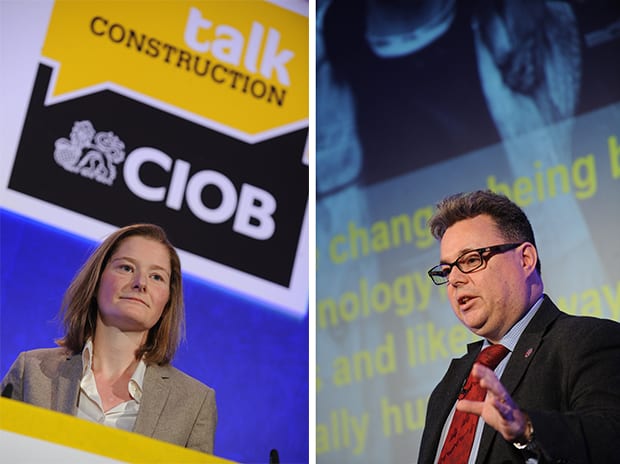 Hayley Miller (left): "train up departments"; David Philps: "Business as usual"
Meanwhile, David Philp FCIOB, head of BIM of implementation at the Cabinet Office, asserted that in five years Level 2 BIM won't exist as a concept because its working methods will be "business as usual". 
But he also acknowledged teething problems, agreeing there was a danger that BIM models could be over-burdened with too much data.
"The 3D model can be a light tool with other information [such as manufacturers' data] indexed off it. We need to include the right level of information at the right time, for the entire life cycle of the asset." He added that further guidance on this issue would be published by summer 2014.
Miller's address focused on progress towards the goals set out in the Government Construction Strategy 2011, which set a target of a 15-20% reduction in capital costs of government projects by 2015.
Miller, a former RAF officer, also discussed the trial projects piloting three new procurement methods as part of the 2011 Strategy: Integrated Project Insurance, Two Stage Open Book and Cost-led procurement.
She said that government would take recommendations from the trial projects and then agree "next steps" with departments to roll them out.
She also said that the Cabinet Office would soon be improving the "granularity" of project pipeline data to give more insight into what was happening in specific geographical areas, and making more effort to build up a complete picture of public sector spend, covering departmental, agency and local authority forward plans.