BIM is set to be the focus of the second AEC Hackathon to be hosted in London following last year's inaugural hack. The event, organised by Innovate UK, the Future Cities Catapult and the Knowledge transfer networks (KTN), will challenge hackers, coders, architects, contractors and anyone else to take on BIM Level 3.
Simon Hart, built environment programme leader at Innovate UK, explained to BIM+ that the aim of the event is to incorporate the BIM Level 3 concepts into the ongoing government work programme and into Innovate UK and the Future Cities Catapult.
He said: "We want to see how advanced the UK's tech skills are for developing Level 3 BIM and the challenges related to it like Smart Cities, Machine Intelligence and Data-as-Infrastructure."
Innovate UK is challenging participants to creatively explore BIM Level 3 by joining IoT, city data and BIM models to develop and encourage Level 3 understanding and activity. Teams can create an app, site, API, video, animation or project demonstrator.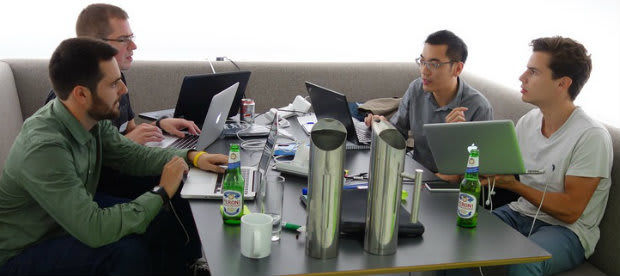 Team Gapath0n working late into the night at the 2015 AEC Hackathon London
The challenge will focus on real applications for Level 3 BIM, said Hart: "BIM Level 3 is a complex concept to explain, especially as it has more to do with digital technology and intelligent systems than construction. We want the AEC Hackathon teams to explore real applications to tell the story of digital built Britain."
Alongside this challenge the Future Cities Catapult will be asking participants to investigate retro BIM-ing by creating an interactive BIM model of the venue that pulls in live sensor data from devices in the building, virtual reality and data models.
The event, which is free to attend, is open to all. Hart hopes to attract a varied range of skills.
"Everyone who has an interest in the best built environment in the world should come along," he said. "We want to see everyone from architects, designers, coders, gamers, IoT, Future City experts and Infrastructure professionals.
"The idea of the event is to throw together a mix of skills and industries with a broad built environment focus. Last year we had a huge range of skills, from Ruby-on-Rails, Python and Unity to graphical artists, social scientists and even a world famous music composer."
The event takes place over the weekend of 8-10 July at the Urban Innovation Centre in London's Clerkenwell, the home of the Future Cities Catapult. To apply click here.
We want to see how advanced the UK's tech skills are for developing Level 3 BIM and the challenges related to it like Smart Cities, Machine Intelligence and Data-as-Infrastructure.– Simon Hart, Innovate UK