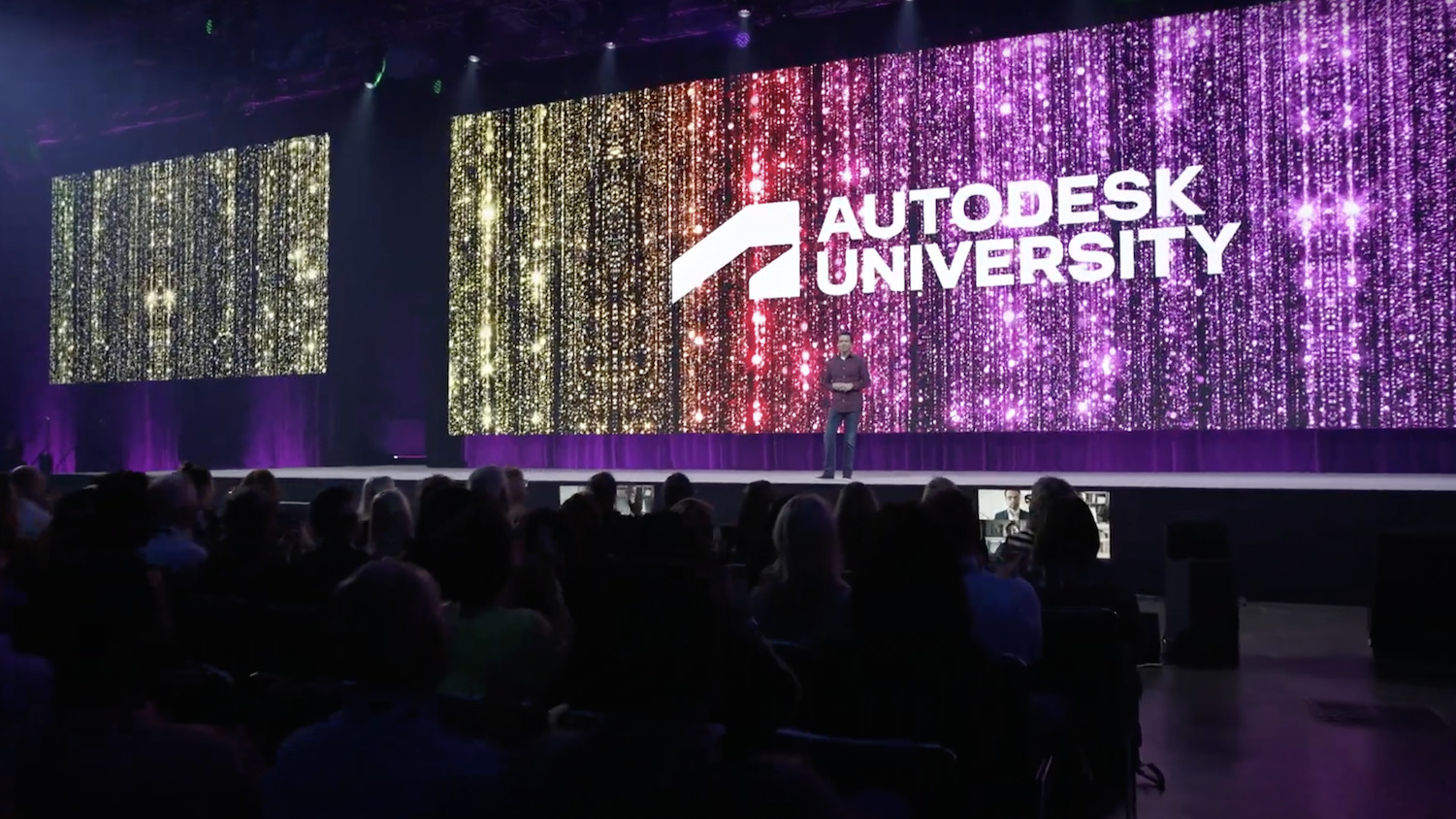 Each year Autodesk runs its expo of new product launches and best practice: Autodesk University (AU). This year, after two remote years due to covid, AU was once again a face-to-face event held over three days in New Orleans at the end of September.
We asked two attendees, Autodesk executive vice-president AEC design Amy Bunszel, and Andrew Dobson, partner at architecture practice Purcell, to share their reflections.
Andrew Dobson: How technology can preserve historic architecture
This was my first AU. As a partner and architect at Purcell, specialising in historic building repair and alteration, I presented a class on Historic Buildings BIM, with reference to my work as lead architect for the refurbishment of Big Ben.
It was an exciting event with lots to learn from my colleagues and peers. New Orleans is a fantastic city full of culture and history. Staging AU in such a vibrant centre of regeneration seemed fitting.
Using technology to promote long-term sustainability
"What most excited me about Autodesk's cloud vision is the potential for greater data analysis."
Andrew Dobson
I've always been interested in technology, and it's been hugely beneficial to my work. It gives my practice a competitive edge and means we can offer more to our clients. I have used BIM since 2006, finding ways to make stone-by-stone models in Revit, or capturing repairs and significance data in the model to inform how we approach alterations. And also to capture useful data for the next time the building is repaired or altered.
With historic buildings, it's important to think long term – 100 years and more into the future. A great building needs looking after to last a long time. But historic buildings need to be flexible to different usages to keep them commercially relevant and help ensure their survival.
This practice seeks to improve long-term sustainability. Buildings contain a huge amount of embodied energy. If a building lasts hundreds of years and is capable of adapting to different usage over time, it's going to use a lot less energy in its lifetime than a new building lasting 20-50 years.
I'm learning about Spacemaker, an Autodesk company. I I see the potential for this tool to help us analyse how estates of historic buildings, like universities and country houses, use energy, and what we can do to lower their carbon emissions. Reducing the running costs to ensure their survival in a low-carbon future, so that they remain viable.
Collecting data in the cloud
Aligned with my work, what most excited me about Autodesk's cloud vision is the potential for greater data analysis. If we capture data about work on a historical building, can we use as-built data to inform what repairs it will need in 50 or 100 years?
Hosting a digital twin of a historic building in the cloud has the potential to evolve between multiple design and alteration projects and managing the building day-to-day. It's amazing to think that one platform might be able to host all this data, accessible to designers, facilities managers and other stakeholders so that they can get access to the information that they need, not just during design and construction, but in day-to-day maintenance in the future. That's why I was pleased to see the extension of Autodesk Tandem's digital twin to now monitor facility operations too.  
I'm also really excited by VR. For us, as well as design and client engagement, this also allows us to look back in time. What did the building look like when it was first constructed? How did it feel to be within a historic space at different stages of development? How has the building responded to changes over time, and how can this help inform proposals for the future?
This is an exciting time to be an architect. Technology and sustainability are two huge opportunities to help build a better future and look after our historic buildings for the benefit of future generations.
Amy Bunszel: It was great to be back
"We want to help teams who design, build and operate the built environment to collaborate better."
Amy Bunszel
AU is one of my favourite professional highlights every year. It always gives me a great opportunity to meet customers, partners and colleagues. And it allows us to give our customers insights into what innovations are coming down the line.
This year's action-packed event, hosted in New Orleans for the first time, was no different. It was a joy to get together physically for the first time in three years, and share our architecture, engineering and construction (AEC) industry cloud vision.
Digital transformation has given us the tools we need to communicate and collaborate better. With increasing complexity in the built environment, it has become even more of an imperative.
Digital transformation can be challenging and raises many questions. For example, how can the industry engage the electrical engineering community in the BIM process to design for a future of renewable energy? Can design and engineering teams share data without relinquishing any intellectual property? Can owners and operators optimise their assets and reduce future costs?
After AU, the answer for all three is: yes!
We introduced our three industry clouds: Autodesk Forma, Autodesk Flow and Autodesk Fusion. Autodesk Forma, our industry cloud for AEC, will connect processes through a unified data environment. We want to help teams who design, build and operate the built environment to collaborate better. We designed Autodesk Forma cloud to do just that. It will also extend the BIM process into planning and early-stage design by introducing AI and automation to achieve better outcomes.
With the debut of Autodesk Forma, we are making investments into cloud collaboration and coordination to optimise design workflows, detect issues early in the design process and speed up project delivery time, as well as achieve better project outcomes.
We are also increasing the value of BIM for owners and operators. This includes extending Autodesk Tandem's digital twin to monitor facility operations, collaborating with iOffice and SpaceIQ to enable building owners to make better decisions.
Finally, recognising the importance of electrical engineers in the BIM process, we announced a new strategic partnership with Schneider Electric. Together, we're developing an electrical engineering design solution that integrates directly with Revit. The product will simplify electrical design, analysis and equipment sizing with real-time calculations in a single BIM platform.
In fact, there were more announcements at AU than I could cover in one article, but a full breakdown of all our news can be found here.
Listening to our customers
At Autodesk, we know that feedback from our customers is what makes our products better. A common request has been to improve interoperability with Revit and facilitate better project collaboration and reduce inefficiencies. We have delivered on that, I'm delighted to say.
At AU, we announced several new integrations and partnerships, including with Epic Games and Rhino – all of which will help connect Revit with other industry-leading tools that our customers love, and put new capabilities in the hands of Revit users.
It was great to see that everyone was excited about the new functionalities and improved user experiences of Revit.
Our announcements are set to shape the future of the AEC industry and help plan, design, build and operate a more sustainable world. You can catch up on any announcements or events from AU and register to watch the sessions on demand.