A revolutionary 3D printer that "grows" objects from resin has been demonstrated by a Californian start-up at the TED (Technology, Entertainment and Design) conference in Vancouver. 
The printer, which was inspired by a scene in Terminator 2 where liquid metal grows to form any shape, harnesses light and oxygen to continuously grow objects from a pool of resin.
Instead of printing objects layer-by-layer like a traditional 3D printer, a shape is formed by projecting light through an oxygen-permeable window into a reservoir of UV curable resin. The build platform lifts continuously as the object is grown.
By intricately controlling the levels of lights the resin can be forced into complex shapes.
Dr Joseph DeSimone, CEO and co-founder of the printer's developer, Carbon3D, believes that this technology will allow 3D printing to move from creating prototypes to actual components. "Current 3D printing technology has failed to deliver on its promise to revolutionise manufacturing," he says. "Our Continuous Liquid Interface Production (CLIP) technology offers the game-changing speed, consistent mechanical properties and choice of materials required for complex commercial quality parts."
DeSimone also pointed out some of the issues with current 3D printing: "Existing 3D printing, or additive manufacturing, technology is really just 2D printing, over and over again. As a result, 3D printed parts take many hours, even days, to produce and are mechanically weak due to their shale-like layers."
While speed is dependent on various factors, according to the printer's designers, CLIP is 25 to 100 times faster than traditional 3D printing. Carbon3D describes parts printed with CLIP as more like "injection-molded parts" that have "consistent and predictable mechanical properties".
The company has received $40m of banking from venture capitalists including Sequoia Capital who they have partnered with. Jim Goetz, Carbon3D board member and Sequoia partner, said: "If 3D printing hopes to break out of the prototyping niche it has been trapped in for decades, we need to find a disruptive technology that attacks the problem from a fresh perspective and addresses 3D printing's fundamental weaknesses.
 "When we met Joe and saw what his team had invented, it was immediately clear to us that 3D printing would never be the same."
Carbon3D hopes to have its product out commercially "within a year".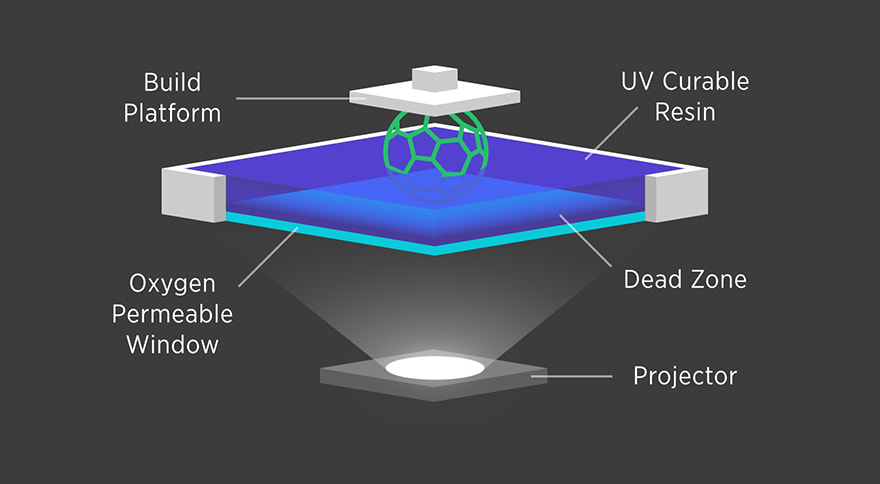 The continuous liquid interface production technique