Initially I see the application of 3D printing in projects requiring complex shapes while using traditional materials such as concrete. As the technology matures I think the opportunities will extend beyond that and be more broadly applicable.– Guglielmo Carra, Arup
BIM+ speaks to the designer of Europe's first 3D printed house designed to be dismantled and recycled.
A prototype printed one-bedroom house that can be dismantled and re-used will be unveiled next month by Arup and CLS Architetti at Milan's design festival, Salone del Mobile. 
The team aims to demonstrate that 3D printing concrete technology is now advanced enough to produce flexible and sustainable buildings, quickly and affordably.
The prototype house is currently being printed on site, in Milan's central square, Piazza Cesare Beccaria, home to the Cathedral. The one-storey home will have a living area, bedroom, kitchen and bathroom and covers an area of 100 sq m.
A robot from Cybe Construction is being used to print the walls – the roof, windows, doors and fit-out will be completed as soon as the concrete has been fully consolidated. Italcementi, one of the world's largest cement suppliers, is providing the base mix for the concrete used during the printing operations.
Arup, working with CLS Architetti on the design, has provided structural engineering and materials consulting services. The house aims to move away from the "make, use, dispose" model used by the construction industry which accounts for 60% of all raw materials consumed in the UK alone*.
Arup, a knowledge partner of the Ellen McArthur Foundation, has used lessons from its innovative Circular Building, constructed from fully re-usable components. The house will be disassembled after Salone del Mobile and reassembled in a new location.
Guglielmo Carra, Europe materials consulting lead at Arup, said: "The construction industry is one of the world's biggest users of resources and emitters of CO2. We want to bring a paradigm shift in the way the construction industry operates and believe that 3D printing technology is critical to making buildings more sustainable and efficient. It creates less waste during construction and materials can be repurposed and reused at the end of their life." 
Luca Stabile, Italy building practice leader at Arup, said: "We believe 3D printing will contribute to breaking the conventional barriers in engineering and architecture. The use of new technologies alongside a new digital approach to the built environment will be instrumental to creating even more complex multi-storey 3D printed buildings."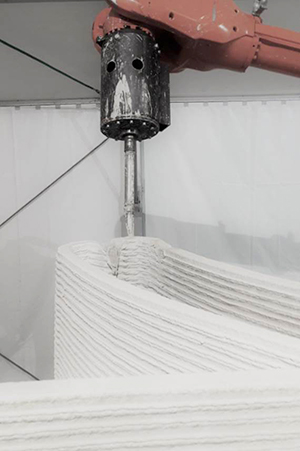 BIM+ caught up with Guglielmo Carra to find out more about the 3D printing progress.
Is the concept of the circular economy gaining traction in construction?
Yes, the circular economy is gaining traction in the construction industry. This is not surprising as the concept focuses on maximising the value of assets, increasing efficiency and minimising externalities in production and construction.
However, the adoption of circular economy principles by the industry will take time. That's why it is essential to increase awareness of these principles amongst stakeholders throughout the buildings value chain, as well as amongst institutions and governments.
Technology development and process innovation will be key enablers in applying the principles of the circular economy to construction, particularly when it comes to efficiency in construction. 3D printing is one key process that will facilitate the implementation of circular economy principles in the construction industry.
Where do you see printing technology for construction going?
I think 3D printing will be a valuable additional option for certain types of projects and applications alongside current well established construction processes, offering design freedom to engineers and other built environment professionals.
Initially I see the application of 3D printing in projects requiring complex shapes while using traditional materials such as concrete. As the technology matures I think the opportunities will extend beyond that and be more broadly applicable.
How far away is it before it becomes a more mainstream production method?
I believe there are a number of factors that will slow or accelerate adoption of such technology in the near future. First, construction regulations do not specifically take account of such a construction technique currently. This suggests that 3D printed projects in some countries will require a longer approval process. Regulations need to evolve to embrace the acceptance of 3D printing – which is proving to be comparable performance-wise to other construction methods.
Wider public acceptance and support will accelerate the process and that is dependent on a better public understanding of 3D printing. At present there are few examples globally of buildings constructed using 3D printing. Therefore people may not fully understand how a 3D printed building looks and how structurally sound it is.
That is why at Arup we are keen to make a full-scale prototype to showcase the technology and emphasise its utility, its structural soundness and its aesthetic possibilities.
Finally, before 3D printing becomes truly mainstream I think there needs to be some development of the performance of the robots used in the printing operations. The robots will evolve to allow for even larger buildings and taller multi-storey buildings to be made.
Is factory-made housing still a more viable option for modernising housebuilding?
I think in-factory prefabrication allows building construction to speed up and be more efficient in certain circumstances. However, I believe that 3D printing will bring to the construction site the same precision and speed in execution while being as efficient as factory prefabrication.
In addition, 3D printing allows the creation of any shape without slowing fabrication and without changing production and assembly lines, as would happen with factory construction.