Marek Suchocki, global business development executive at Autodesk, considers the opportunities and challenges presented to the construction industry by the government's levelling up plans.
Much has been made of the UK government's plans to 'level up' the country and 'build back better' after the disastrous economic impacts of the pandemic. The Build Back Better policy paper, published at the tail end of last year, outlined three core pillars that will underpin these plans for growth:
Infrastructure – record investment (around £100bn in capital spending plans) will be made in broadband, roads, rails and cities, with a view to stimulating short-term economic activity and driving long-term productivity.
Skills – reforms in technical education will look to better align the post-16 education system with employer demand, underpinning productivity growth with high-quality skills and training. There will also be steps taken to improve the apprenticeship system for employers, for example by enabling the transfer of unspent levy funds and allowing employers to front-load apprenticeship training.
Innovation – better access to finance will look to help unleash innovation, including reforms to address disincentives for pension funds to invest in high-growth companies. In addition, the Help to Grow: Digital scheme will help 100,000 SMEs save time and money by adopting productivity-enhancing software, transforming the way they do business.
All of these measures confirm that digital transformation and innovation are the keys to accessing high-quality, more sustainable infrastructure across the UK. For the construction and engineering industries, this is an exciting time, yet best-laid plans will fall short if we don't have the tools and skills to support them.
Working together for data-driven success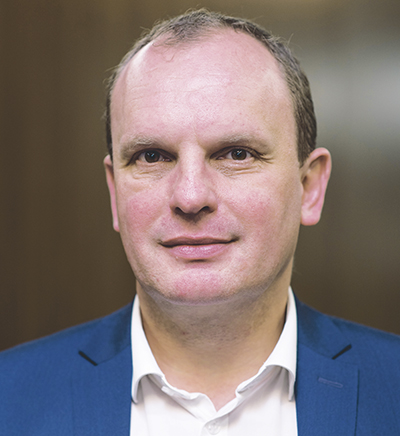 "Becoming more technology- and data-driven is irrelevant without the skills in place to maximise it."
Marek Suchocki, Autodesk
Mike King, executive technical services director at Robertson Group, one of the UK's largest family-owned construction, infrastructure and support services businesses, says that working together as an industry is the only way levelling up plans can be fully achieved. "There needs to be collaboration on a scale that I don't think we've experienced within our industry," argues King. "We need to break down some of the traditional barriers that prevent us from being as collaborative as possible in how we work with fellow tier one organisations and SMEs in the supply chain."
To this effect, it is difficult to understate the importance of a joined-up data strategy and information sharing in ensuring projects meet expectations. UK construction professionals that we surveyed suggest that companies with bad data strategies are more likely to see poor decision-making, leading to poor outcomes – such as more safety incidents, missed schedules and rework issues, all of which could delay or halt the progress of the levelling-up agenda.
The new Building Safety Act outlines the importance of maintaining a golden thread of information, from design through to operation. Having systems and processes in place, such as a common data environment (CDE) to receive, and then manage and maintain, project data will be critical for compliance.
King points out that digital tools, from 3D design to BIM, will be key to securing contracts and investments, with local authorities given the opportunity to bid for levelling-up funds. He also argues that these same tools can help local communities visualise and get on board with regeneration and investment in their areas associated with levelling up, "articulating the outcomes to communities and planning authorities alike".
Tackling the skills issue
However, becoming more technology- and data-driven is irrelevant without the skills in place to maximise it. The skills shortage affecting the construction industry is well-publicised, with the most recent Office for National Statistics data revealing an alarming 48,000 vacancies to be filled. Exacerbating the issue is the fact that there is a shortfall not just of numbers, but also of capability and digital readiness.
There needs to be a skillset shift across construction to deliver these plans on the ground and meet regulatory and environmental needs. However, it is also crucial that we attract more young, talented professionals and give them access to the new digital tools and new technologies they thrive on, as well as being trained on the more traditional software that is still so prevalent.
Prefabrication and productisation
One trend that has promised to improved productivity and cost-efficiency in construction is the increased adoption of prefabrication and productisation. Prefabrication methods have been successfully utilised at times during the pandemic to facilitate quick and reliable construction of emergency buildings like hospitals, but they have a role in longer-term projects too.
However, traditional construction processes, particularly in procurement, are not designed to enable the use of prefabrication. Indeed, 26% of owners and 24% of contractors see procurement processes as a blocker to widespread adoption of innovative construction techniques such as offsite manufacturing.
Changing the status quo to incorporate these innovations will require owners – the government in the case of public sector – to request it specifically and engage the market early. Fortunately, the government's Construction Playbook included several comply or explain policies that should help to encourage prefabrication in the public sector, including adopting manufacturing-led solutions, investment in innovation enabled through digital, automated and quality planning processes.
Furthermore, longer-term contracts and pipelines are encouraged to invest in skills, people and the required innovation.
Ultimately, the levelling up agenda represents an enormous opportunity for UK construction, with the potential to supercharge projects and infrastructure investment across a wider breadth of the country. It can also serve as a catalyst for firms to fully embrace digital tools and data-driven practices, as the efficiencies from this will be key to achieving the government's lofty ambitions.
This, in tandem with the new Building Safety Act, means broad behavioural change is needed, as every part of the supply chain will have a role to play in maintaining a golden thread of information for each project. The time is now to put in place the skills and processes that underpin the built environment for the next generation – I'm confident that we, as an industry, are up to the task.