Contractor Lakehouse is one of four UK organisations that are coordinating with partners across Europe to create a suite of BIM-enabled tools and cloud computing platforms that aim to dramatically reduce the energy performance gap in new build and refurbishment projects.
Funded by the European Commission's Horizon 2020 programme, the €6.4m Built2Spec project aims to develop easy-to-use tools to record energy performance, and also a management platform to coordinate results that can be fed into a BIM model. 
The project participants are spread across Europe. The University of Nottingham is creating an airtightness test that uses air pulse technology to test air-tightness with no need to seal and vacate a building, while the Building Services Research and Information Association (BSRIA) is creating a hand-held thermal imaging tool.
The National University of Ireland Galway is developing smart building components that use embedded sensors including radio-frequency identification (RFID) to measure performance. The French air quality analyser manufacturer Blue Industry and Science will be creating an air quality tool that can monitor chemical pollution in real-time.
The full list of participants, including universities in Spain, France and Switzerland, is available here. 
All of the forthcomign tools aim make the process of recording energy performance easier and faster, so that recordings can be taken during the build rather that just when the project is complete.
Simon Green, head of sustainability at Lakehouse, which is providing construction advice and will be carrying out live testing of the systems developed, explained that faster and more accessible testing of buildings while they are being built will help to close the energy performance gap.
"Testing buildings as you go along should result in a building that performs better," said Green. "It should also make compliance easier and hopefully these tools will make construction quicker.
"One of the problems is that, previously, new technology has been difficult to apply in the field – we're setting out to change that," he added.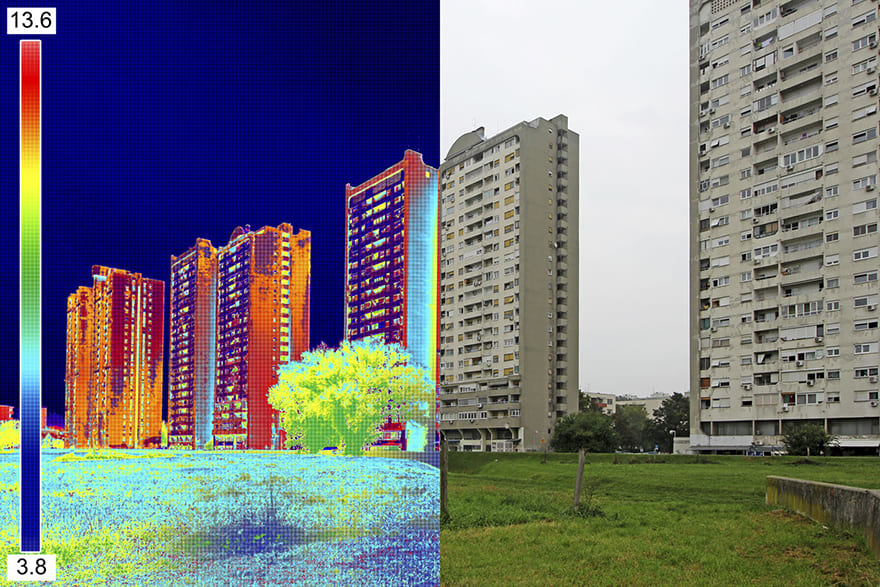 The research projects aim to close the performance gap of buildings (Getty)
All the tools will be connected to a virtual construction management platform, which is being built by British tech company VRM Technology. This software will collect and share all project data, from initial design to delivery, and will be BIM-enabled so that information can be taken from and added to a BIM model.
Green says that this software is the most interesting part of the project: "One of the elements of the project is creating these tools that will make recording energy performance easy and cheap. However, the really intelligent bit is bringing them all together.
"A virtual management platform is being built by VRM to manage all the different tools, and this will be able to integrate with BIM as we are extremely keen on integrating performance into build programmes," he continued.
To ensure that a building is built to designed standards of energy efficiency, a project would not be able to progress past defined points without meeting energy performance targets: "We envisage there having to be an electronic sign off to say that a project has achieved its anticipated performance targets at various stages throughout the build," he said.
Green concluded: "This project has huge potential to revolutionise the way we deliver energy efficiency in Europe. At the moment, there's a risk of a big performance gap between the energy rating of a building and how it actually performs. This project aims to accelerate R&D successes into the market and into people's homes in a way which will help meet national and European carbon targets far more effectively.
"With the roll-out of smart metering across the UK by 2020, there's a big opportunity to think much more holistically about how our buildings perform. This can help us make real headway not only on energy efficiency but, crucially, also on fuel poverty."
At the moment, there's a risk of a big performance gap between the energy rating of a building and how it actually performs. This project aims to accelerate R&D successes into the market and into people's homes in a way which will help meet national and European carbon targets far more effectively.– Simon Green, Lakehouse