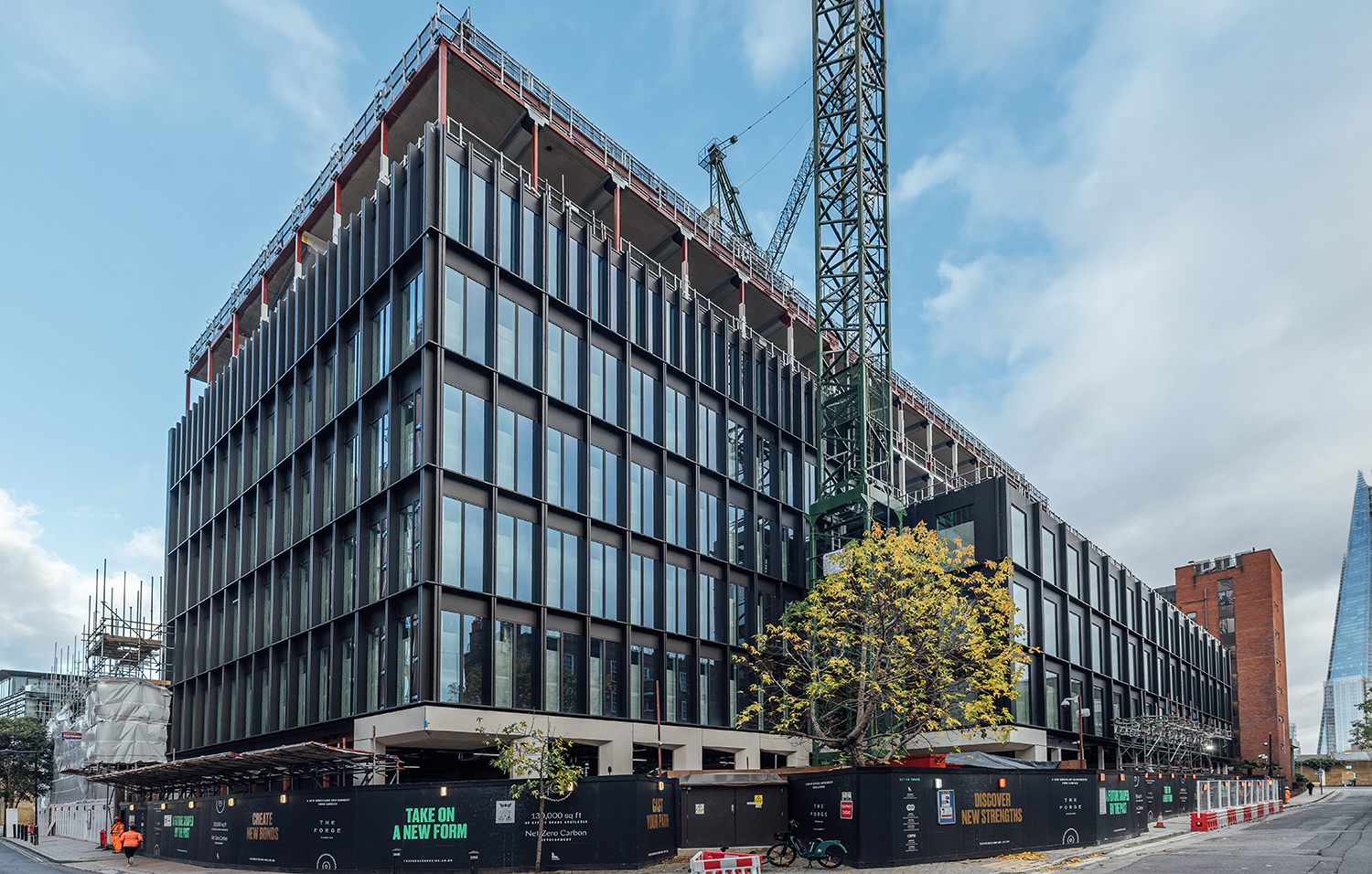 The Forge, Landsec's pioneering platform DfMA project, was the star performer at this year's Digital Construction Awards. How will the developer apply lessons from the scheme? Head of design innovation Neil Pennell explains to Will Mann.
These are busy days for Neil Pennell. The head of design innovation at Landsec is chair of CIOB's Building Clients Group, sits on the Construction Productivity Taskforce. He's also focused on completing works at The Forge, Landsec's net-zero office scheme in Southwark.
The project has won acclaim for its use of 'platform' design for manufacture and assembly (DfMA) – where a 'kit of parts' approach is applied to key building components. Pennell says interest in the project has been "amazing".
"I've given tours to a wide range of client organisations, because the Construction Playbook talks a lot about platform DfMA, and this is one of the only 'real life' examples," he explains.
The Forge project team
Client: Landsec
Architect and engineer: Bryden Wood
Manufacturing and assembly manager: Mace and Sir Robert McAlpine
Building services: NG Bailey, Hotchkiss, Hall & Kay
Unitised cladding: Aluprof
Structural steelwork: DAM Structures (part of Severfield)
Lifts: Kone
Prototyping: Easi Space
Pennell is digesting the learning from The Forge, the data collected and how to apply that on future projects.
"Logistics is one key issue," he says. "Our core aim is building faster. If you can speed up installation of certain packages, then you need more products coming to site quicker."
"This is where construction managers come in. On traditional projects, a lot of responsibility is delegated to the trades. But with modern methods of construction (MMC), logistics is more important. You need to know about telematics, workflow optimisation and just-in-time deliveries.
"Because, as you compress time on a project, more and more things that weren't critical become critical. You must actively manage that through continuous dialogue with the supply chain."
On The Forge, Landsec wanted a 'manufacturing and assembly manager' – or 'MAM' – as its construction partner. The role went to Mace and Sir Robert McAlpine. Pennell expects the developer will use the role again on future projects.
"The MAM has to be looking at what's happening in manufacturing locations, while understanding the assembly process on site. It's an integrator role that demands the ability to reprioritise and be flexible," says Pennell. 
Platform DfMA worked extremely well for some packages on The Forge, Pennell explains. "We found cladding installation was very quick. Building services too. We think the M&E supply chain has a lot to gain from platform DfMA through early input into the process, due to the level of contractor design involved. If the different services can be integrated together and co-ordinated with the structural design, that removes a lot of project risk.
"The structure is key. Designing in BIM means high accuracy. And if you can build a structure that's really accurate, then the services and other packages will follow. Clashes and associated rework are avoided, and you don't have specialist trades trying to make things fit on site with angle grinders."
Besides BIM, work at The Forge features a tranche of digital tools. These range from material tracking with QR codes to 360-degree photo capture with automated progress reporting. During the concrete pours, IoT sensors monitored the strength, using live data from wireless sensors monitored by AI, which helped reduce strike times. Pennell expects more IoT technology to be incorporated on future platform projects.
"As you compress time on a project, more and more things that weren't critical become critical."
Neil Pennell, Landsec
"All the data collected from The Forge is being analysed by researchers from Cambridge University to look for opportunities to increase productivity," Pennell adds.
Landsec is supporting the Construction Data Trust, which will help the industry benchmark productivity. "You will be able to check what is the norm for installing unitised glazing or steel beams, for example, and then test yourself on your own project," he explains. "Contractors have this information from their own projects. But they have only just started to share it, so benchmarks can now be developed from the anonymised data."
The Forge is scheduled to complete by early 2023. However, the project programme has not been immune from the effects of Covid-19, supply chain delays and resource shortages.
Faster, safer and greener
"Our data shows that delivery of DfMA packages can be faster, safer and greener. We've reduced the amount of steel used in the scheme by 18.4%, compared to benchmark levels, and concrete by 13%, with 40% GGBS content in the floor slabs. Overall, we reduced embodied carbon by around a quarter compared with the design signed off at planning stage.
"The Forge aspires to be the first commercial building constructed and operated in line with the UKGBC's net zero definition. Therefore it is on course to achieve a NABERS UK 5-star rating."
Landsec is growing its pipeline of mixed-use and residential developments. But Pennell says the platform principles and learnings from The Forge are transferrable to other building typologies.
"What we need now is more market maturity," he says. "If the public sector goes for big programmes using platform DfMA, that will give the supply chain confidence to invest in the manufacturing capability and skills needed."