Academics and futurists are predicting air taxis and buses, space hotels, aquatic highways, underground and undersea cities and "self-healing" infrastructure will become the norm by 2069.
In a report, Samsung KX50: The Future in Focus, the president of techUK, Jacqueline de Rojas, and the director of engineering and education at the Royal Academy of Engineering, Dr Rhys Morgan, suggest rocket travel in space will get us from London to New York in 40 minutes, Quidditch-style aerial sport matches will be played in stadiums around the world and the daily commute will take place in the sky via drone-style air taxis and buses
The report was commissioned to mark the launch of Samsung KX, a new "experience space" at Coal Drops Yard, London, celebrating 50 years of tech innovation. Among many predictions are aquatic superhighways comprising a subsonic tube transport system, which will be created as a sealed tube system that is travelled using pods, enabling connections between the UK and mainland Europe as far as Scandinavia in under an hour.
The authors also predict air taxis and buses, or "high power drone-copters", international city-to-city travel involving reusable rockets, entering near-space just outside the upper atmosphere, travelling at just under 20,000 miles per hour, getting us from London to New York in under 30 minutes.
Also envisaged is living and working underground in "earthscrapers", an inverted skyscraper burrowing downwards for many storeys into the ground that will be able to withstand earthquakes.
President of techUK and co-chair of the Institute of Coding, de Rojas, who co-authored the report, said: "The next 50 years will bring the largest technological changes and innovations we have ever seen in our work and leisure. The Digital Revolution, just as the Industrial Revolution did 250 years ago, is challenging all our assumptions about how we shall lead our future lives. We can expect to be connected to everything, and everything we do will be assisted by digital technology."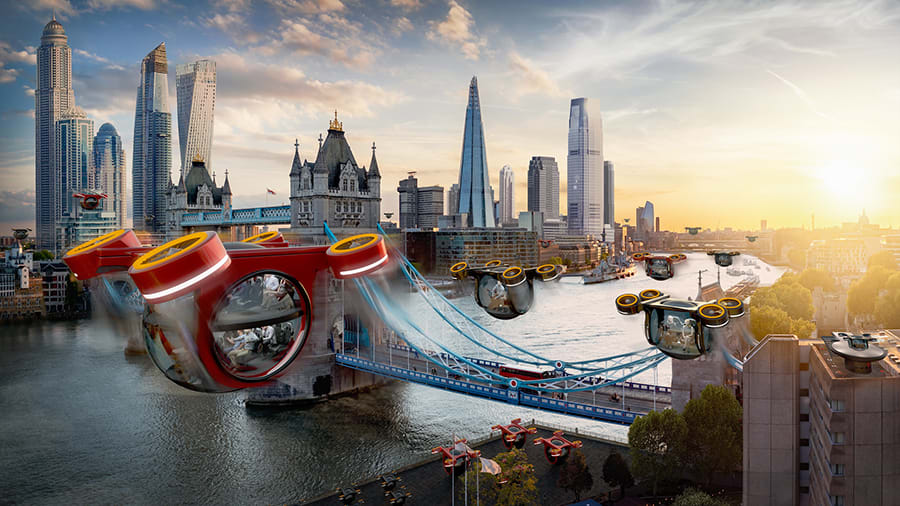 Air taxis are predicted to become commonplace by 2069
Dr Morgan believes cities will no longer be clogged by traffic jams and that new rapid-transport technology will allow us to arrive in Edinburgh less than 40 minutes after leaving London.
He says: "In 50 years' time, your daily commute to work will be unrecognisable – assuming anyone commutes to work then, by no means a certainty in our interconnected future.
"There'll be no more utilities companies digging up the road to repair pipework. Our bridges, tunnels and other infrastructure will be continuously monitored by embedded sensors, constantly checking the condition of the structure. As defects and cracks emerge, the material will start to self-heal by employing bacteria that live in a dormant state spread out within a concrete structure.
"When rainwater or moisture seeps into cracks in the structure, the bacteria 'awake' and start to feed on the water-concrete particle mixture, excreting limestone or other insoluble materials which fill the cracks. This saves further degradation of the structures and prevents their collapse. With self-healing infrastructure, robotic building systems and autonomous vehicles, there will be no more need to close vast sections of roads for repair."
Professor Dale Russell, specialist adviser to innovation design engineering at the Royal College of Art and visiting professor at Central Saint Martins, says: "The future is up, down, underwater and in space. The coming years will have to bring about completely new strategies to deal with sustainability. For example, there could be giant climate-controlled cities enclosed in domes that help to regulate temperature and minimise wind turbulence between vast skyscrapers.
"The giant anthills of Namibia could become a model for buildings of the future. Their design allows cooling currents of air to regulate the temperature within, even under the hot African sun; we may use the same principles to design the skyscrapers of 2069."
She adds: "Down is an equally credible direction for the cities of the future. Instead of skyscrapers, imagine 'earthscrapers', like an inverted skyscraper burrowing downwards for many storeys into the ground. Urban sites like this are planned already, such as Underground Science City, 80m below the surface in Singapore. It will house 4,500 people in an earthscraper, with underground developments for retail parks, green city infrastructures, highways, train lines and channels for air-conditioning pipe work."
Russell also suggests floating cities and underwater cities will become established as new ways of living: "We are not daydreaming here. All these technologies already exist. Many of these concepts are already in the planning stage. The city of the future is on its way, and will be with us by 2069."