A Revit plug-in that enables architects to automatically generate residential layouts to fit building masses is due to launch in the Autodesk App Store next week.
The prototype tool was developed by software innovation firm Matterlab in collaboration with Make Architects to accelerate the production of feasibility designs based on basic client, site and council requirements.
The automated process could shave one or two days off the typical design process, spread over several weeks, its creators claim.
David Flynn, director and co-founder of Matterlab, told BIM+: "Residential architects typically spend significant amounts of time laying out flats and trying to get the unit mix right within a mass on site. We figured out that there is a logic to the process and partnered with Make to 'download' some of their knowledge into code and build a tool."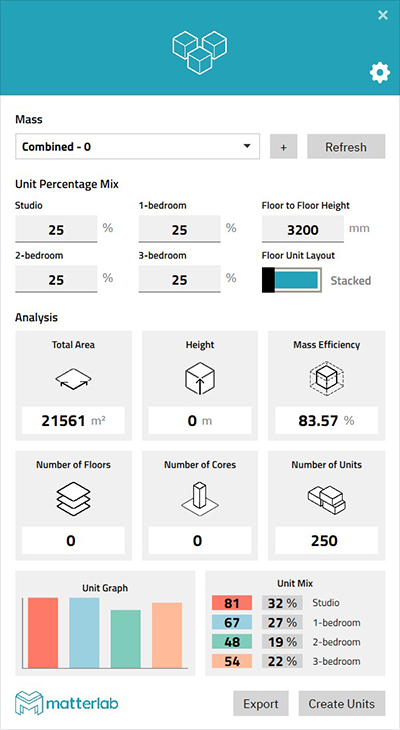 Matterlab's plug-in aims to accelerate the assessment and reassessment process
Although there are other volumetric generative design tools on the market, Flynn says the intention was to create a no-frills plug-in that users can drop into their Revit workflow without having to access a separate interface.
Designs for residential projects often follow a similar pattern: an architect will generate multiple volumes to represent the building then manually fit in flat units to generate floor layouts and a total unit mix.
The mix often does not meet the client brief or council requirements straight away, so the process repeats again and again using different masses and unit layouts until a solution is reached.
Matterlab's plug-in aims to accelerate the assessment and reassessment process, giving users a high level interface to alter the mass then instantly recalculate the unit mix and floor layouts in Revit.
Units can either be stacked, for example all one and two bed flats aligned on top of each other, or randomised to create multiple layout options for architects to print off, assess and sketch over.
The tool in the App Store will adhere closely to residential parameters followed by Make on its projects, but the plan is to add regular updates to provide additional functionality and options for different types of apartment block.
"With Make everything is built around a linear corridor, with well-spaced-out cores and four different flat types: studios, one, two and three bed units," says Flynn. "In future we want to really respond to the way residential architects work, incorporating things like affordable housing, low density, high spec apartments on the top floors, secondary service cores and more complex masses. We will be updating it every few weeks with new features, so it will grow into something that's very useful." 
The intention is also to develop a more complex tool that would progress the design further and support modular construction methods for schools, hotels or residential units.
"We're partnering up with some companies on their kit of parts to understand how they put buildings together offsite, and plan on using the same kind of tech to produce drawings faster," says Flynn. "If you can break down masses and start to panellise them, put in WC units, kitchen units etc. it would be very powerful. We haven't brought the two ideas together yet – it will probably be towards the end of the year."