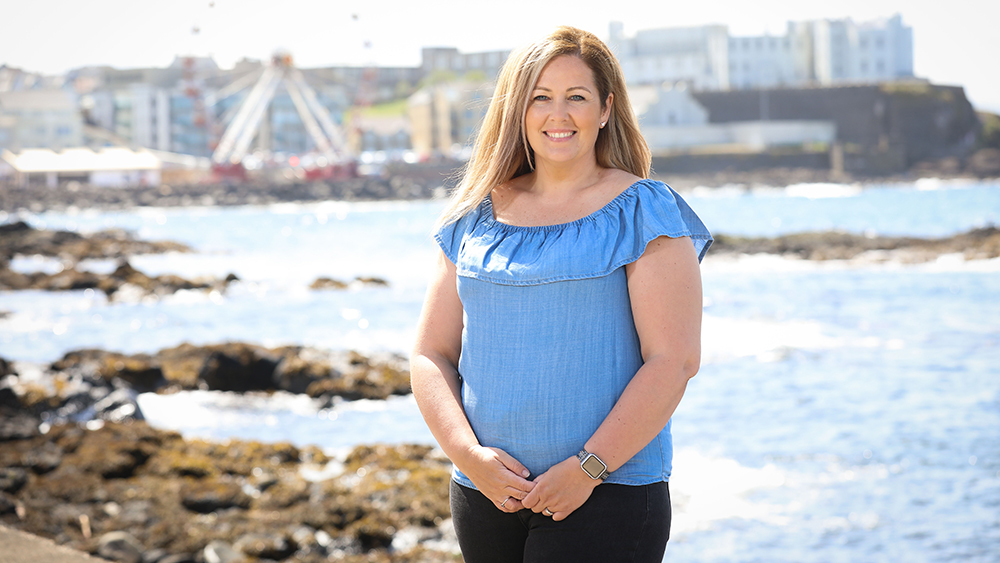 Melanie Dawson, a former director of digital construction for a leading construction group, has set up her own BIM & digital construction consultancy, Origin7. Denise Chevin caught up with her to hear more about a ground-breaking roads project, why we need to talk more about BIM and net zero and getting more than just good record keeping from the 'golden thread' process.
After studying architecture at Queen's University Belfast and BIM & Integrated Design at Salford University, Melanie Dawson found herself a perfect fit as a natural problem solver working in design management for a local construction firm. Since 2016 she has been making her mark as a leader in BIM, working with companies to drive forward adoption of BIM from strategic and project level, latterly at Graham Construction, becoming its director of digital construction.
In August 2020 after spending months at home like the rest of the world raising her young family and home schooling, Dawson decided that working for someone else and the extensive time spent travelling was no longer what she wanted to do. Instead, she took the leap and set up Origin7.
Any interesting projects you are involved with?
I work with the most amazing clients all at different points in the digital journey, I work on so many varied and interesting projects it's hard to choose. A lot of what I do is strategically focused, so I provide leadership and guidance.
For example, with one of my clients, they are well established in BIM processes, my role there is to lead and connect the delivery team to optimise BIM ways of working and adoption of smarter technology, always with an eye on value add and smart investment. The team do an excellent job and most of the ground work, freeing me to do the blue sky thought leadership digital direction setting.
My ethos for Origin7 in year one was to say yes to everything, to try things that were not in my normal comfort zone and to partner with others to make this happen. A great example of this in action is the Digital Construction Live Conference I am currently working on with Weir Events, which takes place in September. Thankfully Sarah Weir is doing a great job organising everything and I can bring the digital construction know-how and connections to the event, www.digitalconstructionlive.com
'My ethos for Origin7 in year one was to say yes to everything, to try things that were not in my normal comfort zone and to partner with others to make this happen.'
Melanie Dawson, Origin7
At a project level, one of my most interesting jobs is for Amey Roads Northern Ireland (ARNI) which is delivering DBFO2 which is an extensive Motorway design, build, finance and operate contract spanning 30 years. I am working with them to help implement BIM processes specifically around the asset management phase of the project.
The 30-year contract for the ARNI team is already about half way through so started before BIM was well known or used. The team there are already doing some excellent work and using some advanced technology solutions, my role is to streamline the structure and flow of the information to align with ISO 19650-3.
The contract involves them managing Northern Ireland's biggest road network, which has been generating a huge amount of information based on planned and reactive maintenance and inspections. They see BIM as vastly beneficial to help manage this ever-growing data set.
I've been working with them to produce a BIM manual that explains simply how to apply the ISO 19650-3 principles to the project. Confident in the work completed so far by the team we are hoping to get audited against the standard by BSI this year. It's been a challenge – dealing with legacy data across multiple systems which we had to link into one coherent picture and interpreting the standards, which are more of framework than a prescription. At the end of the 30 years, the project goes back to the Department for Infrastructure, as does the dataset, so it is critical we get this right.
It was announced that you have joined the Get it Right Initiative (GIRI) – can you tell us about your involvement?
GIRI has been designed to improve the quality and efficiency of construction projects by eliminating errors and involves a wide range of construction companies, who pay a membership fee to fund the work.
I was approached by a few months ago to chair the technology working group. It's early days but for me it's about using information to improve quality, and using tech to improve the quality of the information and final product.
Currently we're framing our three or four core objectives and will use those to put a plan together for next year.
What's changed in the industry in the past 12 months?
Everyone wants everything faster. Clients may have had a three-year plan – that's turned into a three-month plan. The adoption of digital processes used to be a nice to have, whereas now digital transformation has become a top priority, even for those firms that were more traditional in their way of working. Having to work remotely has brought into sharp focus the need for information to be much more accessible and open.
The Digital Construction Live 2021 conference is taking place virtually featuring keynote speaker and performance expert Olympian gold medallist Ben Hunt-Davis who will share insights into how businesses can use process and innovation as a winning strategy. For tickets and more information about Digital Construction Live 2021 
What are your thoughts on recent government initiatives like the Construction Playbook?
I read through the Construction Playbook – BEIS's recently published blueprint for the transformation of construction, whose sole purpose I think is to refocus people. The principles include promoting modern methods of construction and joining that up with the BIM to get real synergy. But I think it's missing a trick in terms of reinforcing the benefits of BIM in terms of the zero-carbon agenda too.
When we were talking about BIM in 2011, there was always an objective to reduce waste by 33% and I think the industry needs to be reminded of that.
Another area that we really need more clarity on is the role BIM will play in the delivering the 'golden thread' as part of the new building safety agenda.
Having information for record keeping does of course help safeguard against claims, in the event that in three years' time something goes wrong, however I am much more interested in the digital value of the information and using information to add value, using it for predictive analysis and anticipating the future, not just a record of the past.
Is there any particular technology you are getting excited about?
Not necessarily tech as in one piece of kit, but what's interesting me is the solutions that are focused on that end piece, the handover at the end of a project, and the in-use side of things.
For a long time I've been an advocate of whole lifecycle BIM. We shouldn't just be focused on the first part. But there was always a gap at the end of the design and build phase, just before we hand it over to the next phase and asset management.
Thankfully we are seeing lots of development and technology solutions development on this front – I'm particularly impressed with Zutec, which provides a platform for asset management and software that simplifies the handover of information, both in terms of helping to supply the right information and getting it all in the right format.
I have always been a big fan of Apple tech too, I recently downloaded the 3D scanner app on my phone which is very impressive. Simple to use, intuitive and fast, everything good tech needs to be.