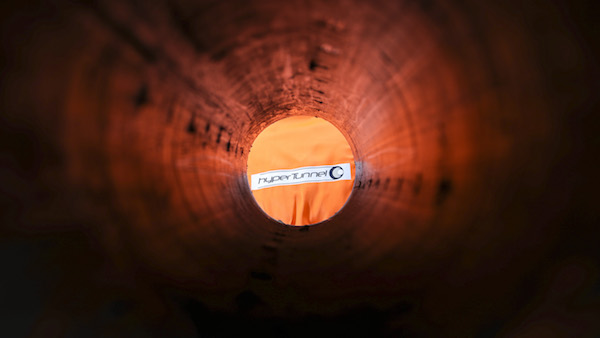 Network Rail has engaged a tunnelling and underground construction technology start-up, HyperTunnel, to test the use of digital twins, robotics and 3D printing to provide non-disruptive tunnel construction, enlargement and repair work.
Under the R&D contract hyperTunnel's suite of repair products and services will be trialled for the maintenance and improvement of the UK's regional railway infrastructure, which includes approximately 650 tunnels built in the Victorian era. Project delivery is well underway, with the completion of a large-scale demonstrator due soon.
UK-based HyperTunnel is developing new methods of tunnelling that enable them to be built faster, with less risk, and in a more economical and environmentally friendly way through the application of technologies that have been proven in other industries. These include digital twins, robotics, 3D printing and digital underground surveying, supported by AI and VR.
HyperTunnel's process
HyperTunnel has revealed only a few details about its process
Part 1: preparation
Proprietary geological survey techniques facilitate visualisation of the geology interfaces and obstacles
Creation of digital twin supporting VR and BIM technology
Part 2: construction
Structural assessment and validation using complementary inspection techniques
Tunnel construction using AI, machine learning and swarm robotics
Part 3: excavation
Safe excavation performed by remote workforce
Simple recycling of spoil without need for processing
Option of simultaneous sprayed concrete layer
Part 4: completion
Custom lining dependent on final application
BIM model and digital twin facilitates asset sign-off
Enhanced life-cycle management through IoT monitoring and predictive maintenance
David Castlo, network technical head (mining and tunnels) at Network Rail, said: "Our large portfolio of Victorian tunnels requires increasing levels of work to meet the needs of the railway network. However, we want to reduce the level of disruption to our passengers, so we are constantly searching for new approaches to enlarging or repairing tunnels that reduce the length of time a tunnel will be closed to trains."
Patrick Lane-Nott, director of engineering at HyperTunnel, said: "We are delighted that HyperTunnel's application of the latest technologies will provide Network Rail with new methods of repairing and enlarging tunnels that see only very minimal tunnel closures. Details of our various unique methodologies are still largely under wraps. This collaboration will allow us to demonstrate more widely the time- and cost-saving benefits of our processes, as well as the safety and environmental advantages."
The HyperTunnel concept was devised by businessmen Steve Jordan and Jeremy Hammond in 2018, both with backgrounds in the energy sector. They realised that a reimagining of the established tunnel-building process would be necessary to sufficiently reduce the cost of tunnels for a tidal energy project. HyperTunnel's intellectual property also includes modular approaches for the maintenance, repair, monitoring and enlargement of tunnels.
HyperTunnel has converted a former oil well in the North Hampshire Downs into an outdoor learning and testing environment, complete with a laboratory.