Drone technology could make the days of road closures or hazardous topographical survey work a thing of the past, says Ian Tansey, managing director of ProDroneWorx, as he explains Highway England's newly minted plan for autonomous and connected plant.
Last month Highways England published its 15-year roadmap for connected and autonomous plant (CAP) – a vision in which the use of CAP techniques will become standard industry practice by 2035.
A digital revolution in the construction industry could dramatically increase productivity and save billions of pounds, while radically reducing disruption to the public and slashing the number of fatal building site incidents.
The introduction of CAP technologies will bring significant benefits across all construction activities. It has been estimated productivity improvements achieved via CAP could exceed £400bn by 2040.
The roadmap brings together nine workstreams to deliver success by 2035. This includes elements from legislation, regulation and policy to a common data platform that will support data sharing, automated design and construction.
The nine workstreams are as follows:
Legislation, regulation, policy: Legislate and regulate to facilitate CAP. Support testing, approval and certification. Transform contracts to encourage CAP.
Finance, business and investment: Understand the benefits of CAP. Drive investment in autonomous technology and collaboration.
CAP training framework: Understand the skills gaps and how to fill them. Establish training and engage with society to deliver a skilled workforce.
Ubiquitous connectivity: Deliver the communications standards and infrastructure that will meet the demands of CAP.
Remote survey and operation: Develop technologies that will support live digital twins and the remote operation of plant.
Autonomous plant: Establish capability levels for autonomous plant. Drive a technology programme that will deliver these capabilities.
Algorithms in autonomy: Deliver the intelligent control systems that enable autonomous operation. Develop and implement virtual validation capabilities to test them.
Interoperable telemetry: Develop tools and standards to share the telemetry data required to deliver autonomous and co-operative operation.
Common data platform: Establish and populate the national asset registers that will support data sharing, automated design and construction.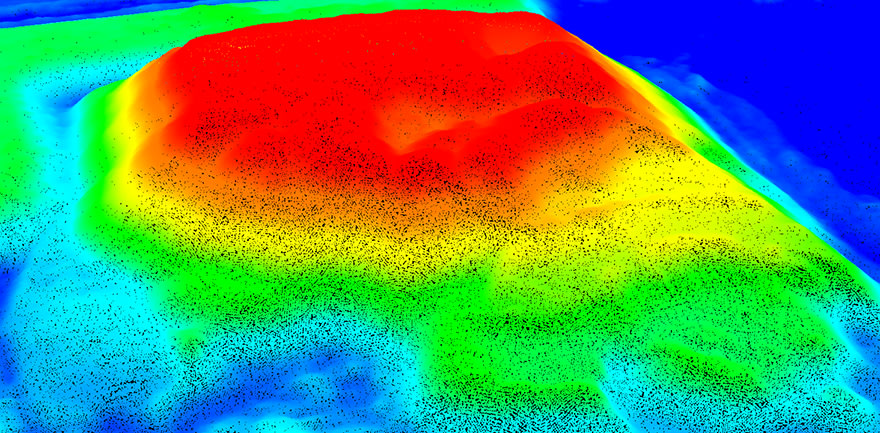 ProDroneWorx used a fixed-wing drone (below) to provide survey grade accurate 2D and 3D digital data to monitor earthworks on the £1.5bn A14 Cambridge to Huntingdon improvement scheme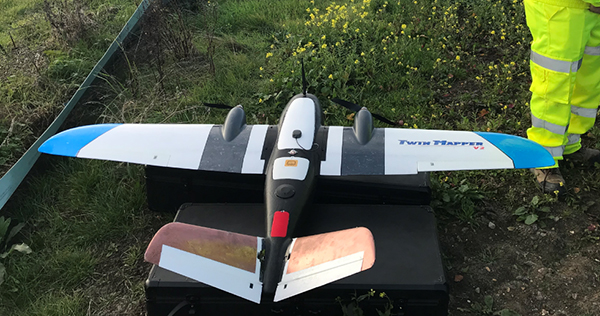 The continued use and development of drone technology in the construction industry forms a big part of this digital revolution, providing the data required for the creation of live as-built registers (digital twins) and forming part of the Roadmap's 'remote survey & operation' workstream.
This workstream will support the development of technology required to minimise human involvement in designing and construction sites and monitoring their evolution.
Site operations should ultimately automatically monitor and measure progress so that as-built data is created in real time to support real-time updates to the (automated) design process. 
ProDroneWorx worked on the £1.5bn A14 Cambridge to Huntingdon improvement scheme, providing survey grade accurate 2D and 3D digital data to monitor earthworks and compare the as-built versus design to establish project progress. Utilising fixed-wing drones, ProDroneWorx safely captured the required data in two days without implementing any traffic management systems or road closures.
The digital data outputs created using drone technology and photogrammetry/LiDAR will improve the digital management of road projects while providing deeper data insights, better collaboration on projects, improving data deliverables while reducing costs and risks.
Drone technology can be used within road construction to:
provide topographical information to populate design models;
digitise existing asset data;
monitor the progress or as-built of upgrade works;
provide detailed insights into motorway scheme progress across large areas;
reduce lane closures by surveying large areas quickly and cost effectively;
support asset management at the completion of construction.
A digital representation of a road construction project can be regularly created to keep pace with changes onsite and used to:
help surveyors, engineers, designers, project managers and senior management understand progress related to the design models;
manage earthworks with cut and fill volumetric measurements;
enable progress monitoring of the project at all stages of construction against the design models and as-built;
carry out quality assurance checks of construction materials used onsite;
integrate and use the high resolution imagery in BIM;
combine aerial video with 3D animation/augmented reality for masterplanning, community engagement, internal planning, marketing, health & safety, planning applications and project concept;
use digital outputs in virtual reality (VR) or combined with BIM.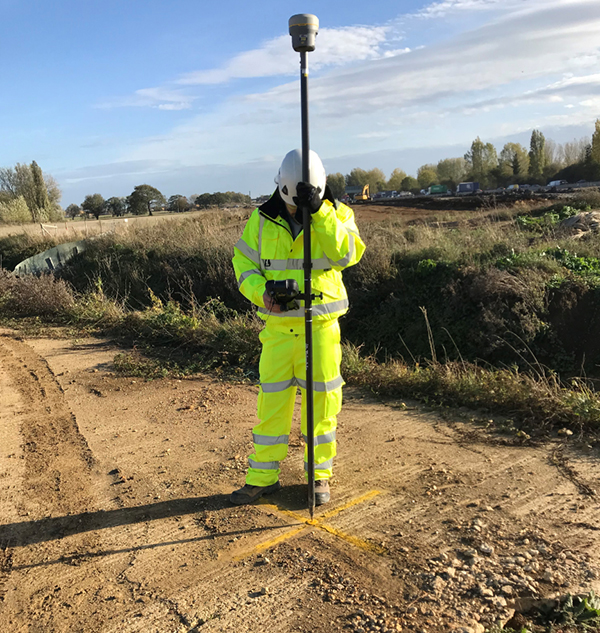 Drones can surveyors and engineers understand progress related to the design models
A key benefit of using drone technology is that the data can be overlaid into BIM, CAD or Geographic Information System (GIS) software in different file formats, including dwg, dxf, xyz, las, laz, obj, kmz. This makes integration of the 2D/3D digital data into workflow processes straight forward.    
Highways England will establish and populate the national assets register to support data sharing, automated design and construction.
The common data platform is a pillar that supports the feasibility of CAP. It will be used to manage the digital outputs from a drone and other surveys as a large amounts of digital data will be collected on the motorway network.
These platforms can be used to store, manage, share and analyse digital data. They could allow multiple users within a company to analyse the data e.g. cut and fill calculations, compare the as-built vs design over various time periods, site diary, include annotations.
Managing data within a common data platform has many benefits:
it improves team collaboration and workflow on projects;
it creates a digital record of project in time;
design models can be imported;
it gives the ability to compare the as built over multiple time periods and against design models;
data can be digitally shared within the company and with contractors;
it improves communication with the stakeholders on works to be carried out.
We think the days of road closures or hazardous topographical survey work could be a thing of the past with the adoption of drone technology. Having a digital representation of the UK motorway network gives us the ability to accurately measure, monitor, forecast output rates together with improving capacity to control and plan the considerable demands of project logistics and vehicle movements.
ProDroneWorx provides the construction and infrastructure industries with survey grade accurate 2D/3D digital data produced from RTK/PPK drone technology and terrestrial 3D laser scanning for land assessments, surveying, earthworks, planning proposals, project design, progress monitoring, inspection and 3D animation/augmented reality of assets/projects. We use a variety of different sensors attached to drones, including RGB cameras, thermal imaging and LiDAR.