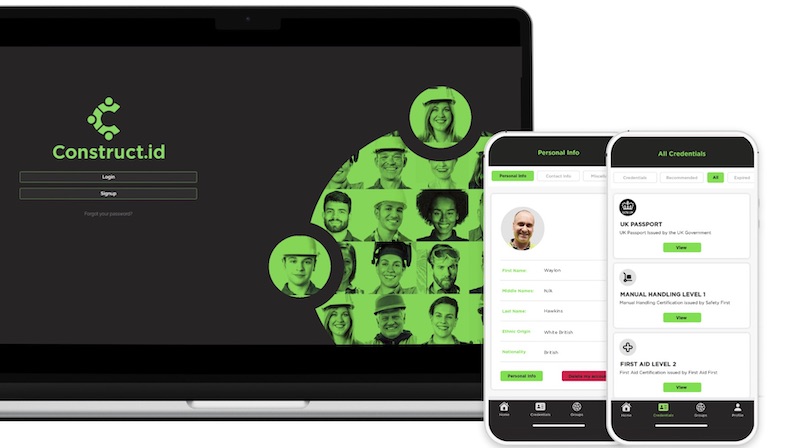 Pagabo and Construct.id are aiming for all skilled workers attending a Pagabo-procured project to be registered on the platform by the end of 2023.
Pagabo will offer the platform first to the 94 contractors on its new Medium Works Framework. It will then introduce it to all existing construction frameworks retrospectively, and add it to new framework terms and conditions from April.
Construct.id is a digital platform that works as a unified data source for worker ID checks. It shows information such as worker identity, qualifications and skills and right-to-work on a single digital platform.
The Construct.id platform allows contractors to set site standards across their supply chains. It also allows subcontractors to gain greater visibility of these standards and of their workforce. They can also receive notifications when credentials have expired.
The platform is designed to address issues including modern slavery, data silos, lengthy onboarding, fake credentials and a lack of digital standards. Other partners of Construct.id include Willmott Dixon.
Jason Stapley, chief procurement officer at The 55 Group, Pagabo's parent, said: "Our frameworks are designed to create competition and ensure the most suitable supplier is assigned to each job. But in some areas of the construction industry, consistency and equally high standards are needed.
"Through Construct.id, our ecosystem will now be better positioned to tackle shared issues such as modern slavery, data duplication and digital transformation."
Gerard Toplass, group CEO at The 55 Group, added: "We must reform the construction industry, using data to make us stronger, faster and greener – supporting key motivations such as removing modern slavery, improving the wellbeing of skilled workers, increasing productivity and achieving net zero."
Martin Ward, co-founder and MD of Construct.id, concluded: "Having Pagabo on board as an early adopter of Construct.id is a big step in the right direction for the construction industry."